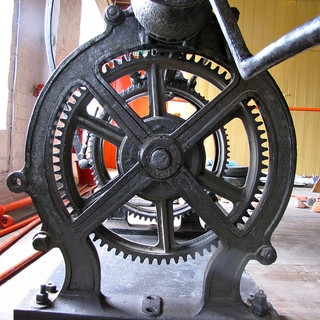 Years ago I worked with someone who frequently used the phrase "ratchet it up!".  I remember one particular meeting when we were discussing new skills, knowledge and methods his team would need to learn and adopt in order to successfully install and implement a new set of software programs which would, if used properly, revolutionise the way his team currently did their work.
During the discussion Bill (not his real name), kept reminding us that it wasn't just the importance of the new software that needed to be discussed, but also the need to "ratchet up the skills of his team"!
He was completely right of course.  As the old adage goes, 'garbage in, garbage out' – if his team weren't appropriately trained and re-skilled, then the new software would be as useless as if it had never been introduced in the first place.
But the real message from this little story is my appreciation for Bill's foresight.   Too often, when new processes, software, skills etc are required it's often assumed that people will acquire the knowledge through a process of osmosis, and to some degree this view may be correct; but often, even though we may pick up new skills 'on the job' this only allows us to learn to the extent that our co-workers have the required knowledge or it relies on our dedication in being prepared to pick up the relevant book.
Unfortunately though, this situation will leave us in the classic situation whereby we fail to realise what we don't know!  It's a challenge because if we don't know that we don't know, why would we go looking?!  And yet, even if we were the best at what we did, we still wouldn't know all there was to know about our particular field of interest.
I find the idea of not knowing that we don't know quite interesting.  It puts us in the unfortunate position of imposing limiting beliefs on ourselves without even being aware that we are doing it.
Sometimes our limited knowledge comes to light when we make a mistake and suddenly our awareness is opened up to new ways of thinking, doing things and new possibilities.  It's important to recognise therefore that when we make a mistake, that it is usually unintentional.  For clarity, here's the definition taken from thefreedictionary.com:
An error or fault resulting from defective judgment, deficient knowledge, or carelessness.
A misconception or misunderstanding.
To understand wrongly; misinterpret.
To recognize or identify incorrectly.
It's interesting that there are three themes coming through from these definitions.  They are that mistakes arise from:
Our judgements or perceptions
Our lack of knowledge or skills
Our beliefs
But making a mistake is (hopefully) not cataclysmic!  As we all know, whilst we might feel contrite at having made a mistake which made us feel or look stupid (in our opinion), learning from our mistakes is how we grow, open our perceptions and become better at the thing/s that we mis-judged.  In other words, we had succumbed to being a victim of not knowing that we didn't know!  Now we must move beyond this and actually take on board the required learning.  Denis Waitley tells us that:
Mistakes are painful when they happen, but years later a collection of mistakes is what is called experience.
But let's get back to Bill's ratchet.
It's kind of ironic in the context of a mistake, because Bill was trying to ensure that by increasing the skills and knowledge of his team that mistakes could be avoided.  However, the real difficulty he seemed to face when arguing his point was the entrenched belief of other participants of the meeting that anything other than rudimentary training would be required and that indeed, the process of osmosis would be sufficient.  The real mistake here is this belief, perception and judgement.  In other words, failure of the management team to recognise that which they didn't know and the need to do something about it.
Intentionally or not, we can all be guilty of the same behaviour.  This can range from simple things like failing to find out if the train timetable has changed with the onset of a new season to passing judgement on a person because of the way they look; or making only superficial efforts with an assignment and then receiving a C- grade or worse to remaining entrenched in our point of view regardless of information to the contrary.
It's worth making the effort to expand our knowledge, skills and perceptions for many, many reasons.  On a superficial level, by expanding our knowledge and skills base we become more valuable within the work place and can therefore negotiate a higher rate of pay.  For example we could learn a new language, learn new computer skills, or improve our communication skills all of which would be valued by an employer with a need for these skills.  The rarer these skills, the higher the premium an employer will pay to secure them (you!).
More significantly however, demanding more of ourselves in terms of challenging our beliefs and perceptions allows us to understand ourselves on a deeper level and better equips us to make the right choices, to push ourselves in areas where we identify that our judgements are questionable or to show greater patience with those whose opinions differ from our own.
But in short, it comes down to making an effort!  We always need to accept that we don't know all the answers, that sometimes our judgement is flawed (maybe always, there are always many ways to look at the same problem) and that we should be humble enough to seek out and accept help which will allow us to grow and thereby modify our view of the world or accept other viewpoints.
Inevitably though this requires work.  Whether it's learning new academic or traditional skills or undertaking some self-analysis, commitment will be required to achieve the end result.  It should be expected that the process will be challenging, difficult and sometimes painful, but, with new skills and knowledge comes greater opportunity and benefits, which, in the end, can only ratchet up your world!
So what do you think?  Is it always worth learning new skills, stretching ourselves and opening our world a little more?  Have you had any great or poor learning experiences?  Please leave a comment to let us know!
Photo: Stuart Caie