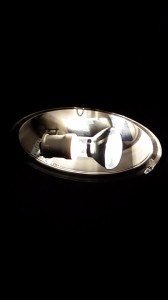 Have you ever noticed how you stop noticing things?  It's almost as if we become blind, both to the physical and non-physical things.
I noticed this a few days ago, when, for whatever reason I became aware of the naked bulb in my kitchen.  I don't remember how or when it happened, but the glass shade that belongs over the bulb got broken and, weeks later, it still hasn't been replaced.  I had, to all intents and purposes, become blind not only to the physical appearance of the naked bulb, but also to the need to replace it.
This got me thinking about other things that we need to change but inadvertently don't see, even though this may be causing us some kind of pain (physical or otherwise) or is more apparent (to others) in our tangible environment.
Part of the reason for this I guess is that we fill our lives to such an extent that it clearly is impossible to remember to notice everything.  On some level though we are prioritising those things which are important to us, or, more likely, we are prioritising those things and/or people which are demanding something from us.  But how often do we actually take the time to consciously consider that we are noticing the right things?
But noticing the 'right' things isn't always easy to do of course, particularly if those things have an emotional charge and we would actually rather not deal with them, despite knowing that once we have processed our thoughts and feelings we will be able to move on with our lives more authentically and calmly.Continue Reading