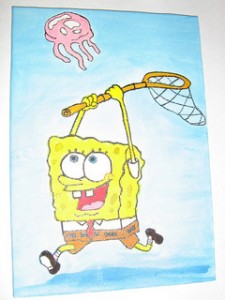 Today I'm taking a light hearted look at being ready to strike out on our goals.
Quite often this is the most difficult step for most people to take because they know only fear.  Fear of failure, fear of success, fear of the unknown.  But whoever we are and wherever we live, these fears are something we all experience…or maybe not…!
"I'm ready, I'm ready…",  sings SpongeBob Square Pants, the happy little guy from the popular cartoon series of the same name.  If you've never seen the cartoon, then this little animated sponge character is the most happy-go-lucky creature!  He's always willing to help, always goes the extra mile and is always willing to give new things a go!  He works hard and plays hard and his favourite activity is jelly-fishing!
On the negative side though, Spongebob is also naïve and has a childlike outlook.
But, there's a lot we could learn from this character's way of life, because we often feel that we are ready to make a change, we talk about making the change, we challenge others to make the change with us, but, when it comes to stepping out, we freeze.Continue Reading