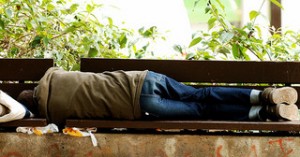 I've read that there is good evidence to support the premise that if you give to others in some way, it will enhance your own wellbeing, as well as the wellbeing of the receiver.  On a purely common sense level, I have to agree with this because I seem to experience gratification when I give to someone and particularly so if I give to someone who I am very unlikely to see again (in other words, (s)he will have no way of repaying me).  I can float through the rest of the day when I feel that I have been kind and so the positives for me far outweigh the gift given.
I'm not sure what the science or psychology is behind this personal reaction (and really, I'm not that concerned to understand it), but I am the first to admit that I feel so much better about myself if I've been able to help in some way as opposed to the other option where I feel guilt for neglecting to help when I know I probably could have done so.
But I wonder how far we should take kindness and giving.  This quote from Joseph Joubert:
A part of kindness consists in loving people more than they deserve.
Clearly expects that giving and enacting kindness should go much further than just throwing a few coins in a charity bucket or offering to help out an elderly neighbour.  Indeed, if Joubert is to be believed, then we should overlook any perceived transgressions of the receiver and just take kind action anyway.
This seems doable say, when dealing with friends and family members who, now and then, may upset us, although we know that in a few hours/days whatever the issue was will be resolved or just drift away, and so showing kindness by giving some kind of support is still possible.  For example, when a child has been particularly difficult, maybe with crying or tantrums, it's still possible (and required) that a parent should rise above the immediate situation and provide the appropriate care and kindness to the child.
But surely this is more difficult with those we don't know?  Our view of the person or organisation we feel we should help will be skewed by our own perceptions, those ideas and beliefs brought about by poor experiences, hearing bad things from others or just because we may not feel the cause is worthy.  In any event, according to Joubert, we should offer kindness anyway.  How many of us can truly say that we would offer kindness in such circumstances?
I was also pondering how I would feel if I offered some kindness or support and that offer was refused.  I guess it depends on the circumstances, but while preparing this blog I was about to experience this situation first hand.
In common with most, if not all cities and towns around the world, the city in which I work has a number of people living on the streets.  Whilst I recognise that for some this may be a life choice, for most it isn't and it is only through some kind of misfortune that they have found themselves in such circumstances.  In any event, whether through a life choice or not, homelessness poses a problem for most societies.
One day this week I was walking into the city to pick up some lunch and noticed a homeless man.  At the time, I did nothing and felt the ensuing guilt for not offering some kindness and so, the next day when I saw him again, I offered him some money, but he refused it with a brisk "I don't take money!".  I was taken aback and immediately apologised for any offence I'd caused.  He then offered me a "Have a good weekend" and walked away.
How did I feel afterwards?  Well, a few emotions; I hadn't wanted to offend and I felt embarrassed that I had caused a negative reaction in the man.  I also felt contrite.  When discussing this with a friend later, he was sympathetic and also reminded me that it takes a little 'moral courage' to make such a gesture.  I agree with this observation since anything that appears out of the ordinary to most people is often viewed negatively, and needless to say, there were a number of onlookers who watched the exchange with "curious interest".
But there was something else.  As I returned to my work, I found I was unable to comfortably put the money back in my purse.  It just didn't feel right.  But then I was reminded of a charitable presentation that was to take place in my workplace that day, and so I went along, placing my donation into the collection box before sitting to watch the presentation.
The presentation was excellent, the charity represented very worthy and doing excellent work.  I enjoyed the presentation enormously and was full of admiration for the people who give their time and expertise to help those less fortunate.
So, was my equanimity restored?  Sort of.
My donation to the charity was passive plus I received something in return (a presentation and a cake!).  I was many people removed from those who will ultimately receive the benefit of my donation and consequently the experience was comfortable for me (although not so for the charity volunteers I imagine).
In contrast, giving money or some other type of gift to a homeless person is usually preceded by a moment of trepidation while I coax myself to step outside my comfort zone.  The experience is more immediate, more emotional.
Both situations have their place of course and neither one is better or worse than the other.  In the end, the importance is in the gift, the giving and the kindness we are able to offer through the gift.
But I guess what I've learned from this experience is that if you want to experience the natural high that occurs when you offer a kindness, then the closer to the action you are, the better the experience.  You need to be in the thick of the action, actively contributing to the outcome you wish to see.
And is this not true of life?  To fully enjoy and engage with life's experiences you must be a partaker not an onlooker.  By all means learn through reading, watching and listening, but then get fully involved with the things that spark your interest and heighten your emotions and in doing so you will enhance your wellbeing greatly.
Have you had any experiences with offering help which was refused?  Or, the opposite of being able to offer kindness which ultimately left you feeling happier?  Please share your experiences, I'd love to hear about them!
Photo: pedrosimoes7