Stonehenge
Welcome to the third visit of our Bucket List Challenge to Visit 12 UK Cities in 12 Months and this time we're in Salisbury and Stonehenge.
On the 5th of January we set off on a day-trip to Salisbury, a city of about 40,000 inhabitants situated in Wiltshire. Salisbury has an extremely rich history, not least, Stonehenge which stands just a few miles North. Obviously we could not visit Salisbury without including a visit to this renowned World Heritage site.
As it's January, we expected the weather to be cold and overcast…and we weren't disappointed! Dressed up warm and prepared for the weather, and a Bad-Hair-Day, we set off for the 100-mile outward journey, which was easy and uneventful.
As we approached Stonehenge I felt an increasing feeling of excitement, and even though I was hoping to see 'The Stones' from the road as we approached, the landscape was giving nothing away.
Stonehenge has a brand new Visitor Centre (opened in December 2013) which is sleek and modern. The car park was already busy when we arrived at about 10.15am on this cold January morning, which gives you some idea of how popular this monument is. We were told (via the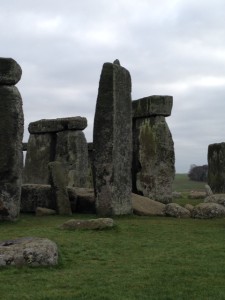 free audio) that Stonehenge receives around 1 million visitors a year and if our experience was representative, then it's clear that people come from all over the world to visit.
From the Visitor Centre we were taken by small, regular buses to The Stones. It is possible to walk up to The Stones, but since it was so cold, damp and muddy, we decided the bus was the best option.
The Stones are immediately visible from the drop off point, and you are encouraged via path markers to switch on your audio tour as you enter the 'park'.
The Stones are striking in appearance and this is further enhanced by use of the audio which helps to bring the story of their existence to life. However, despite many years of research, there is still no agreement on the reason for their existence. Some believe that they were magic or had powers of healing, others believe that the Stones are sacred and still others believe the Stones are a primitive calculator for plotting the movements of the sun and planets. In a lot of ways, this disagreement only adds to the mystery and appeal of the place.Continue Reading