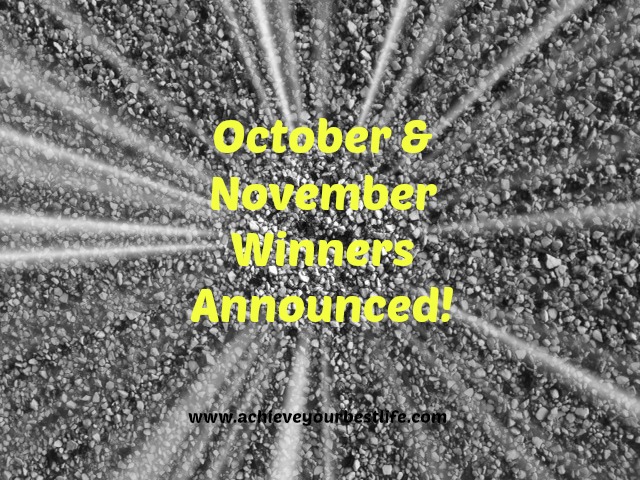 …and the winners are…
Irene Thomas and Alison Bone!
Congratulations Irene and Alison, you are my October and November winners!
Your prize – Switch by Chip & Dan Heath is waiting for you to claim, so don't waste any time, email me from the email address you used to sign up and let me know your postal address and your prize will be winging its way to you!
You have 14 days to claim your prize, so don't delay!
It's easy, just hit the 'reply' button from any email I've sent you, let me know your postal address and that's it!
Alternatively you can email me direct at Nicola@achieveyourbestlife.com with your details.
I can't wait to hear from you!
~ 0 ~ 0 ~ ~ 0 ~ 0 ~ ~ 0 ~ 0 ~ ~ 0 ~ 0 ~ ~ 0 ~ 0 ~ ~ 0 ~ 0 ~ ~ 0 ~ 0 ~ ~ 0 ~ 0 ~ ~ 0 ~ 0 ~ ~ 0 ~ 0
Don't forget, my FREE monthly prize draw ends on 31 December 2015, so there is just one more prize up for grabs! For your chance to win, just sign up using the form below (it's free!)!
*Prize Draw Rules
You must be subscribed for the my Newsletter by the 29th of the month in which the draw takes place in order to be eligible for that month.
As long as you remain subscribed, you will automatically be entered into subsequent months' draws.
One winner will be drawn at random on the last day of each month and will be announced on the website.
Winners will need to claim their prize within 2 weeks by contacting me with their postal address details via the email address they used to subscribe.
Any unclaimed prizes will result in a second and final draw after 2 weeks of the original draw. Again winners will be announced via the website and claims must be made within 2 weeks using the subscribed email address.
This promotion will run for 12 consecutive months. The final draw will be held on 31st December 2015.
No correspondence will be entered into.