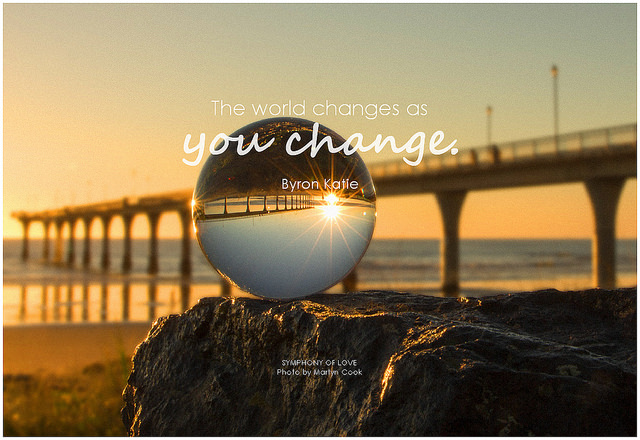 How are your thoughts treating you right now? Are you, generally, thinking pleasant and happy thoughts or are your thoughts more inclined to stray towards the negative aspects of your life and circumstances?
It appears that we're hard-wired to think negatively, sort of a survival instinct from days gone by.  But nowadays, we help this along with a media soup of negativity under the guise of 'news'. It's not unusual to arrive at work and the main topic of conversation will be the latest catastrophe to happen in the world or what happened on the soap opera last night (which is generally negative)!
Now I'm not for a moment suggesting that the bad things that happen in the world aren't worthy of your thoughts and your empathy in certain circumstances, but why, in such a wonderful world are we continually bombarded with bad news, but spared the joy of good news?!
But anyway, that's sending me off on a ranty-tangent, so let's get back to the point of this blog.
The problem of course is that thinking negatively can become a habit that plays out into habitual negative attitudes. We all know of a Negative Nelly or Debbie Downer (it's not all women by the way!) who you'd probably do our best to avoid, but what if we're just as critical of others' plans and aspirations?
When it's us being negative though we probably think of it as offering helpful advice, but it can be useful to actually stop for a moment and hear the words we're saying….
"I know someone who went there and they had their wallet stolen…."
"My friend's got one of those, it wasn't much good and she returned it…"
"I tried that, but to be honest it's not all it's cracked up to be. I think yoga is for people with very supple bodies."
Do you recognise any of these, or similar, as useful advice you've offered?
But there's another aspect to passing on these 'helpful' comments, and that is that we are actually saying them to ourselves too. That's right, we are creating a belief around the negative comment (thought) that, over time and with enough repetition will become embedded in our minds.
Now maybe that's not particularly important for the odd negative comment, but the trouble is that by-and-large our default setting tends to be in the negative zone. Taking this into account, to what extent can this thought process curtail your life and make your life experience smaller than it could be?
If you think I'm exaggerating, then keep an ear open to your running daily commentary, both inward and outward and then decide whether your thought patterns could do with an overhaul!
Using Affirmations To Change Your Thoughts
I've written about my successes with affirmations previously, and they continue to be an important part of my personal growth toolkit.
Making regular use of positive statements about yourself and your circumstances are an effective way to counter the regular, daily tirade of negativity. It's important to understand however, that this is not an easy, or even quick fix. Our thought habits will have been with us for many years (if not a lifetime) and so making a change requires sustained work and effort, but, the results can and will be life-changing!
My best successes have come about by writing out my affirmations on a daily basis. Whilst this may seem time consuming, it actually only takes ten to fifteen minutes a day. (It could be much less than this, it just depends on how many affirmations you want to work on!)
Here's an example of an affirmation I'm currently working with:
I am neat, tidy and organised!
This little phrase has been with me for quite some time and I believe that my heightened awareness and positive intention is slowly working. In fact, sometimes people compliment me on how organised I am!
I could, of course, talk at length about how this just isn't true about me, but, I'm not going to allow myself the luxury of the negative this, that and the other that are still not working. That's what my brain would like me to do. It would love for me to berate myself for all the things I haven't achieved yet, rather than offering praise for how far I've come in the direction of achieving this goal (affirmation).
Do you recognise your own negative tendencies in that last paragraph? We're often too quick to pick up on all the things we're not doing, being or achieving rather than noticing the improvements we've made, how far we've come and how our skills have improved.
And this is the point of affirmations.
Here's quick guide to setting up and working with a few positive affirmations:
• Think of an area of your life where you'd like to make improvements
• Try not to set yourself up for failure at this point, so choose something fairly straightforward, for example, eating x pieces of fruit every day, or thanking three people every day
• Now think of a positive statement that affirms that you (already) do this
For example…
• I enjoy eating five pieces of fruit every day
• It's so easy to find three people to thank every day!
You will want to tailor the affirmation to best suit your needs.
Now find a way to work the affirmation into your daily repertoire. This could be by sticking reminders on your fridge door or the bathroom mirror. You may prefer to repeat them to yourself throughout the day (you may need reminders to do this), or, like me, you may have designated quiet time to write out our affirmation(s).
Whatever method you choose, it's important to keep up with the practice so that eventually the affirmation becomes your dominant thought on the subject.
And that's it…easy peasy!
Of course, the success lies in the doing, not in the reading about, so you will need to give this a try if you're really looking for improvements! Don't expect immediate results (although you will notice that your affirmation will pop into your mind at odd moments!), but keep with the 'work' and in the long term you will see the actions quietly seeping into your behaviour.
Using Visualisation to See Your future
To support your newly created affirmations, it's helpful to mentally create a picture of yourself having already achieved the outcome you want. So, you could see yourself enjoying a juicy orange (is your mouth watering?!) or thanking the shop assistant who helped you find just the jeans you were looking for.
This may seem like a pointless exercise, after all, the orange could be dry and sour and the shop assistant could be surly, but that misses the point of the exercise. By working on a positive visualisation you are more likely to carry out the action in expectation of a positive outcome. In other words, it's not about the orange or the shop assistant, but about how you approach the activity in question.
There's significant evidence to suggest that visualisation works to improve our prospects of achieving anything we put our mind to. For any of you who have seen the film Rush, starring Chris Hemsworth as James Hunt, you will have seen his character mentally rehearsing the race. He mentally rehearses the actions of gear changes and hears the noise of the engine and the crowd as he crosses the finish line to win the race long before he actually achieves the success.
Similarly, athletes mentally rehearse their races, they feel the muscles they will use, the energy they will expend and the noise of the crowd, long before they put their visualisation into action.
Surely if it's good enough for James Hunt and the likes of Will Smith, Oprah Winfrey and Arnold Schwarzenegger, then it's worth a punt to help us create the life we want?!
I'll be honest with you here and admit that I find visualisation more difficult than affirmations, although I keep at it! I think this has a lot to do with having to use our imagination to create the kind of outcome we would like. But, if we've never experienced it, then how do we know what it looks like? But that's the beauty of visualisation, you can make it look any way you want! Just make sure it's a positive and happy outcome.
In a world where we claim to want to be happy but where negativity is the popular pick, any tools that can help us achieve a better outcome in our lives are good for me. I'm pretty much happy to try anything once, assess its impact and then make a conscious decision to keep it in my toolbox or discard it. Affirmations and visualisations are two such tools that have turned out to be hugely beneficial for me and I would therefore recommend that you too look into adding them to your 'happiness toolbox' to see how things might work out for you!
Good luck!
Photo: Symphony of Love