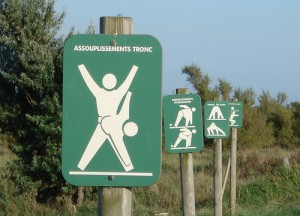 How is your exercise routine? Are you a regular, up and out every morning pounding the streets or hitting the gym? Or maybe your workout routine could benefit from a little more oomph?! Whichever workout routine you subscribe to, I've no doubt that you are gradually seeing the results of your efforts. If it's the former, then you're seeing your body become leaner, more toned and stronger with the added benefit that your stamina is improving along with your flexibility and probably also your eating habits. I'm guessing you're also feeling more energised and experiencing a more optimistic view of the world.
And how about the latter? Is your body becoming a little podgier in those difficult to control areas? Your stamina may be less than desirable and running for the proverbial bus leaves you huffing and puffing like a steam train! Your energy levels have decreased and so you find yourself reaching for high calorie energy boosting foods and so the cycle of podginess continues. It doesn't paint a great picture, does it?!
For most of us, we probably exist somewhere between these two 'extremes'. In order to maintain a semblance of a balanced life, we don't plan to spend hours at the gym or running regular marathons. However, without a structured health and fitness plan, we have a tendency to start and stop our fitness goals, so our progress becomes bumpy and uninspiring.
Physical exercise is a great analogy for how we live our lives, because exercise, or the lack of it, becomes visible over time, in the first instance to ourselves (if we're prepared to acknowledge it) and then externally to everyone else.
The description of an exercise routine provides a great analogy for our lives, and particularly our philosophy on life and the actions we take on our personal development, taken in the widest sense of the words.
Our philosophy on life will cause many things to happen to us, whether that turns out to be good or bad. Thus if we choose not to exercise our body or our brain, then the relative parts will become flabby and less effective than they could otherwise be.
The problem is that as a species we would like an easy life! We would love to stay in our comfort zones, but at the same time we would like our bodies and brains to be toned. Although, to be honest, what would be the point of this? If we have no intention of stretching ourselves beyond our current existence, then what would be the point of taking ourselves outside our comfort zones to a different kind of existence?
In answer to this, I'm going to suggest that although you may be, for the most part, happy with your current level of development, existence, success (you may use your own pertinent word here), there is at least one thing (but probably more) that causes you to feel dissatisfied. And this is the reason you need to move out of your comfort zone. This could relate to any (or many) areas of your life eg, financial, relationships, health, fitness, organisation, intellect, fun time, relaxation etc. The list isn't exhaustive as I'm sure you could add many more areas which might warrant closer examination.
Let's consider a specific area which affects all of us: our personal finances.
In a culture of instant gratification, finances can really take a battering! At first, nothing is visible internally or externally. It's acceptable to live from pay day to pay day, spending all or nearly all of what we earn to fund a lifestyle that we believe we deserve (we work hard!). In time this may be further extended to paying for items on credit cards or loans, which, gives us the lifestyle we desire, but at a cost to our future selves.
Contrast this with those who prefer to live well within their means, saving modest sums regularly so that when it's time for a big purchase they will be able to pay upfront. Their lifestyle may not be as extravagant as their neighbours, but, it's not noticeably less desirable either.
Now, advance 10 years.
Whilst each of these imaginary couples appear to live similar lives, with the addition of time, the differences become very apparent. Couple one are limited in their choices – for holidays, cars and furnishings, but more importantly, in their choices for career and lifestyle. Without the continuous receiving of a regular and sufficient salary, their world would crumble. Their debt levels have risen to the extent that each month is a struggle to make the repayments and additional purchases are now a thing of the past. Life has become stressful with limited choices.
Couple two however, have a lifestyle which they can comfortably sustain. Their savings are now sufficient that, if they wanted, they could reduce their hours or change jobs to a less demanding role, freeing up time for more leisurely activities. Their needs, which are moderate, are easily met by the amount of income they generate through salaries and passive means.
In some ways, this is the story of the tortoise and the hare, where slow and steady wins the race every time. Superficially this may be true, but we need to be a bit more aggressive in our approach than the steady tortoise whilst curbing our keenness to win the game at any cost like the hare.
Instead it's important to strike a balance and make steady and improving progress over time. After all, as we all know, if we just keep doing the same things over and over, even if they are good things, we will inevitably be standing still. Our bodies, finances, relationships etc need constant tending in order to get the best from them.
So, what can you stretch a little today that will make a small improvement? Make this action a priority and then follow up with more and improving actions on a daily basis. In the end it's the small but consistent improvements which will count, which is far easier than trying to catch up when it's too big and too late!
What do you think?  Is this a good way to make progress or do you prefer short, sharp blasts of activity?  Leave a comment and let us know!
Photo: sanchom