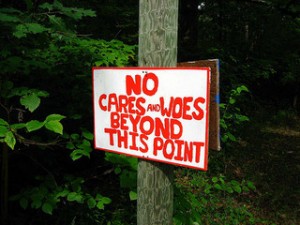 If we worry, we don't trust;  if we trust, we don't worry.  Worry does not empty tomorrow of its grief, but it does empty today of its joy.  James Kurtz.
These are worrying times, if the media are to be believed.  There are wars waging around the world, we've witnessed some catastrophic airplane losses in the last few months and world finances still appear to be precarious.
Of course, these are macro-worries, but what about our personal micro-worries?  Unstable or unsatisfactory relationships, job concerns or dissatisfaction, health issues, etc the list can be endless.  So is it any wonder that worrying becomes almost a pastime for so many people?  And then, of course, along with worrying comes the tendency to complain.  This is a tricky one: should we tolerate or disapprove because in some instances complaining is a form of emotional release, particularly when seeking the support of friends or family?
I think it becomes difficult to deal with complaining when someone has a need to continually cycle through the same complaints without making any serious attempt to either improve the situation by adopting coping strategies, changing behaviour or circumstances, or being willing to take the support offered and gaining from that experience.  In this situation it's almost as if the intention of the complainer is to infect others with negativity.
But let's get back to worry itself.  Are you a worrier?  How does that make you feel?  Tired, stressed, overwhelmed?  The negative effects of worry are well known to science and in particular the effects it has on our wellbeing, but of course knowing this doesn't really help us deal with worry.  In fact, it probably gives us something else to worry about!  So instead of dwelling on the negative effects of worry, let's take a look at some possible ways to reduce or deal with the worry we experience.
Can't Sleep?  Do Something Else
Dale Carnegie offers a suggestion to cope with worry if it keeps us awake:
If you can't sleep, then get up and do something instead of lying there worrying.  It's the worry that gets you, not the lack of sleep.
If you've ever lied in bed worrying about something then I'm sure you understand the way the night time somehow manages to make our worries much bigger than they really are!  It's as if our worries combine with our dreams to become nightmares from which we don't seem to be able to find any sensible solutions.   The dilemma grows and becomes unmanageable until we reach a point where we can feel physical pain.
So is Carnegie's solution worth trying?  Well I'm inclined to think that it probably is, although it's not something I've tried, probably to my detriment.   I also think that it's true that it is the worry that gets to us rather than the lack of sleep, although the lack of sleep certainly sits heavy with us the next day.
Unless and Until…
One of my personal techniques for dealing with worry, particularly worry which is beginning to bubble up from within but has no firm footing in fact is to remind myself of the mantra:
Unless and until.
I use this mantra to remind myself that I should just keep going with my original plans unless and until something happens that requires that I take some kind of action.  This can sometimes be difficult to do, especially when there's been some kind of trigger to my worries, but, on balance it's usually the best option as continuing with my plans has two benefits:
 I make progress on whatever I had planned that day, so don't feel even more overwhelmed with all the things I haven't done, and,
It takes my mind off whatever is bothering me and so helps to calm my mind.
This Too Shall Pass
Sometimes we have to remember that our circumstances, and by definition our worries are not permanent.  So whilst this saying has no real practical application, it can help in keeping things in context.  I first heard this saying in Jane Austen's 'Pride and Prejudice' when Mr Bennett tells his daughter Elizabeth that 'this too shall pass' in reference to his worries about his younger daughter when she elopes with Mr Wickham.  So, if it's good enough for Mr Bennett, it's good enough for me!
Maintaining the Context
There's a famous quote by Mark Twain…
I've had lots of worries in my life, most of which never happened.
In this context, worries become almost foolish and from my own experience, I can fully accept that this is true!  Quite often, the worries I have fizzle out to absolutely nothing and instead I'm left feeling tired and drained for having expelled so much energy on maintaining the imagined vision of what might have been.
How often has this happened to you?  Was it worth the energy expelled?
Move, Dance, Sing!
If all else fails, and we just can't reason the worries away, sometimes we just need to move ourselves and what's better than dancing and singing?  Here's the perfect song… enjoy!
What's your best strategy for coping with worries?  Please leave a comment and let us know!
Photo: Peter Blanchard