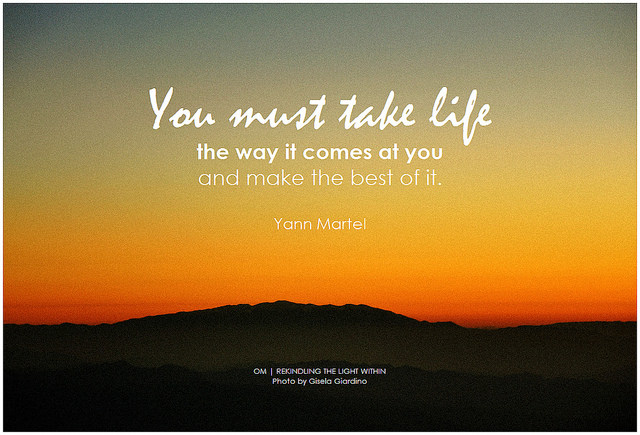 Being 100% responsible for our own life is one of those statements which, if asked, we would probably answer in the affirmative. After all, how could we not be 100% responsible for our own life? That would be a nonsense! But unfortunately for many , this response is actually incorrect.
Because being 100% responsible for our own lives would mean that we would have to accept that our current circumstances are exactly what we've made for ourselves and our future lives are completely within our grasp and are subject to our own plans. This means, regardless of what life has thrown at us or will throw at us in the future, we still have it within ourselves to create the life we desire.
It's a tall order, because on the one hand it releases us to be who we really are and allows us to aim for the things we want, knowing that if we want it badly enough to do the work, then those things can be ours. However, on the other hand it places us in a position of knowing that we can no longer blame other people or circumstances for the life we live even if we don't like it.
And it's this last sentence that causes the biggest problem for most people because acceptance of this statement requires that we change and grow and for some this will require significant growth, but more than that, it will require a significant amount of self-awareness. So, in other words, it's going to be difficult!
Following are a few examples where the 'it's not my fault' belief determines the outcomes…
Example 1 – not looking for constructive feedback

Will has been overlooked for promotion in work…again. He's not happy about this at all and becomes moody and sulky with his colleagues. Furthermore, his disappointment has resulted in non-existent motivation and so his work is beginning to suffer. In exasperation, his boss calls him into her office to try to clear the air and get things moving again. Will is defensive and the conversation does not go well, resulting in a strong outburst which Will later regrets.
Example 2 – not moving on/dwelling on events

Jennifer has been involved in a car accident which wasn't her fault, however, there were no witnesses and the other driver refuses to acknowledge that they are at fault. Aside from the physical pain Jennifer is feeling as a result of a whiplash injury, she also feels very angry towards the other driver for refusing to accept responsibility.  Despite repeated efforts to sort things fairly with her insurance company she ends up losing out financially and feels so aggreived that she tells anyone who will listen!  In time her friends grow bored with the story and begin to avoid her.
Example 3 – not giving clear instructions and/or boundaries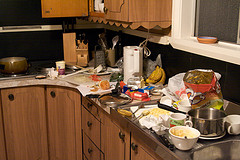 It's happened again! You've arrived home, late, from work to find that your children have gone out but have left the kitchen and living areas in a mess. In less than 45 minutes your parents will be arriving. Angry and frustrated you fire off a number of irate text messages to your children chastising them for being thoughtless and selfish.
The problem with all these examples is that we are allowing our behaviour to be driven by an emotional reaction to a set of circumstances. Circumstances that, despite being unfortunate, are not improved by an emotional outburst. For many people, there is a belief that these reactions are justified, that we are 'just wired that way', or that our reactions somehow manifest outside of ourselves and we believe we have no means to resist and control our subsequent behaviour.
This of course isn't true, but it can be very difficult to move beyond this standpoint until we begin to observe and critically appraise our own behaviour and reactions objectively. But how do we do this? After all, in the heat of the moment, it's human nature to react, rather than stop, think carefully about what we want to say or do and then take measured and objective action! Indeed, if we are in a potentially dangerous situation, then quick reactions are a must to ensure we remain safe!
But ultimately, we are mostly not in life and death situations and consequently if/when we react impulsively, these reactions can often seem out of character and confusing to the person on the receiving end. Furthermore, the likelihood is that having vented our anger, frustration or upset, we will probably end up feeling guilty or stupid once we've calmed down enough to judge the situation rationally!
Taking Control
So what can we do to slow our reactions and thoughts sufficiently so that we will be able to respond to situations and circumstances in a manner that is consistent with the person we are striving to be?
Being able to control our emotions so that we avoid saying or doing something that in the immediate moment, or in the longer term could result in hardship or difficulty is a skill which, there's no doubt, could be beneficial to most of us. Even those who appear calm and controlled are likely to have one or two areas that trigger adverse reactions in them. For these people, the results could be even more profound, since, if they spend most of their lives appearing serene, then any outburst would be so unexpected that it could result in unseen or quite severe consequences.
However, we should also bear in mind that people who appear to be calm and in control probably have the same fears, distractions and desires that most people have, but for them, progress in their goals has become almost guaranteed since they are able to deal with whatever comes along, accept their part in the making of the problem (if that's what it is) and then offer up solutions followed by action. Sometimes the actions they take will solve the problem and other times they won't. That's normal, but for people who have taken 100% responsibility for their lives, they will dig deeper until they find a solution that will work.
Do you feel that you are able to do this? To deal with problems as they arise without being completely knocked off course? In order to achieve this level of calmness, there must, of course be an ability to observe our internal emotional reactions and then analyse them for appropriateness. If the reaction is acceptable, then go ahead and act, if not, then consider a different response. The challenge though is that all of this must usually happen in a split-second! So of course, without practice it's going to be almost impossible. But like many things in life, the more often we do them, the easier they become. This is as true of emotional responses as it is of anything else.
The trick then is to catch ourselves reacting unconsciously as soon as possible. At the beginning this is most likely to be after the event and after the point where we've created or worsened a situation that, were we in a rational frame of mind could have been dealt with in a calmer manner. So what can we do if we've contributed or caused the escalation of a situation to a point where it's no longer comfortable?
Assuming it's possible, the most obvious action would of course be to stop and then remove ourselves from the situation. If it's not possible to physically walk away, for example if you're in a car or in a meeting with your boss, then, on realising things are beyond your level of comfort, it would probably be best to stop contributing!
Beyond this we need to spend time reviewing the way the conversation progressed and then consider how we may have contributed to the outcome of the circumstances we found ourselves in. Of course, it's very easy to blame the other party/parties for the outcome, but this doesn't help us to understand our behaviour or our motivations. Furthermore if we don't take the time to review our conduct and then to take responsibility for our part in the proceedings then we will not learn and will continue to carry out the same behaviour in the future.
Patterns and Outcomes
The question we should ask ourselves is "Do I want the same outcome or something different?". As Henry Ford once said, 'If you keep doing what you've always done, you'll keep getting what you always got'! Think about that phrase for a moment in the context of unwanted situations and results which keep turning up in your life. Do you see a pattern of behaviour that you keep repeating? What could you do differently which could effect a different outcome? It's this kind of analysis that allows us to objectively view the results in our lives and allows us to consider alternative actions which could (should) lead to different results.
This is the essence of taking 100% responsibility for our own lives. We review the results we are getting in our lives, consider those parts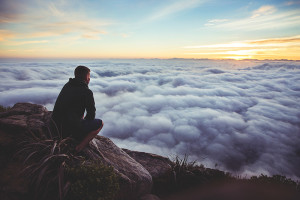 over which we can exert some influence (whilst accepting that not all circumstances are within our control). We hould salso take time to consider those things which are not within our control. For these, we will need to consider how we are reacting to the things which arise and how our reactions then contribute to the outcome. Could we change our reaction to effect a different and better outcome?
It's this kind of realisation, analysis and ultimately changed actions and reactions which will put us on the path to the kind of life we really want. A life that we are leading, rather than a life which is leading us. Of course, as I've said above, this will require work, even hard work from us to make the changes happen, but this is the true essence of taking 100% responsibility for our lives, and of course, when we are in control of our lives (our destiny) we can make decisions which will help us stay on course towards the outcome we desire.
Of course, part of taking 100% responsibility for our lives is also accepting that sometimes we will go off course! In the true style of someone who has taken 100% responsibility, they will know that there is no one else to blame but themselves for this eventuality, but, it also means that they know that they are the ones who can put themselves back on course again. How great is that?!
How good would it feel not to have to wait on someone else to put things right for us? Not to have to wait for someone else to make a decision? Not to have to wait for someone else's approval? In fact, we can own the entire situation and move it on so that it fits entirely with our view of what our future vision looks like. Wow!
You see, when we decide to take 100% responsibility for our lives, there may be a sense that we could lose out in some way, and, I guess if we've spent most of our lives up until now letting others shape our outcomes (and therefore being able to blame them for when things go wrong), we may feel slightly exposed. But, the advantages will far outweigh this temporary feeling of exposure.
So the next time you catch yourself looking to someone else to make a decision for you, or you believe that someone else is responsible for the circumstances you find yourself in, make a mental note to consciously check in with your thoughts and feelings. Is it really up to them/are they really responsible? Or would we be in a far stronger position if we made the decision and took full responsibility for the outcome?
Over to you!  Please share your thoughts and stories!
Photos: BK, Aaron Jacobs, Joshua Earle