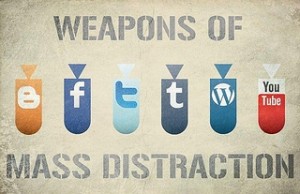 Distractions – it's a feature of life, whether they're good or bad, we all have them. But what exactly are distractions and are they always negative?
Well, there are some which immediately come to mind. For example, email, facebook, twitter, the telephone, your boss, television and unexpected visitors. Obviously this isn't an exhaustive list, but I'm sure you get the picture and have experienced these at one time or another. My guess is that these examples would mostly be considered negative examples, particularly if you were trying to complete a piece of work with an impending deadline!
Distractions can also be subtle. One of the things I've recently become aware of is my inability to get stuck into a project if I "know" that I'm likely to be disturbed at some point. I've deliberately put the word 'know' into inverted commas, because, quite often I don't know that I'm going to be disturbed, there's just a potential for that to happen. I've become quite adept at ignoring email and social media pings as I accept that those things can wait, but my personal Achilles heel is my inability to turn unexpected visitors away. So, because I believe I will be disturbed, I put off starting large projects that require concentration just in case someone walks into my office!
The thing that's insidious about this example is that it's not actually the visitor who is the distraction, it's the thought of the visitor! The result of this is that I focus on small, low value tasks instead of really getting to grips with the high value stuff. There's some additional irony here too, since it means that email, a low value task, gets far too much attention!
But what of positive distractions? Do you need to make sure that everyone else is cared for before you deal with your own needs? For anyone with children, this can be quite a challenge. Whether they are small children or teenagers, their needs will constantly demand your attention. You would probably consider making sure everyone else is ok before dealing with your own needs a positive thing. But, is it just a distraction or a means to procrastinate? It's worthy and commendable to look after others and it also offers us a taste of instant gratification.
With this in mind, I'm reminded of the faltering airplane story that tells us to apply our own oxygen mask before that of our children etc. It's a fitting reminder that unless we look after ourselves and our own needs, we'll be pretty much useless in the long term to help anyone else. Also bear in mind that caring can extend to many others too – partner, parents, neighbours, colleagues, bosses, subordinates etc etc.
So what of your priorities? Do you want to write a book, for example? If so, it's likely that you'll need to carry out some research, make notes, get some kind of chapter plan together, find suitable writing materials or a PC/laptop. But where in this example does writing fit in? Steve Pressfield, author of The War of Art, amongst others, just tells us to 'do the work'. In other words, forget all the paraphernalia needed to get going, these are just distractions, the value is in the writing.
Another diversion which probably doesn't immediately spring to mind is the extent to which emotions act as a distraction.  How many times have you put off doing something because you couldn't be bothered?  This could be an indication of boredom or a backlash against the tediousness of some of the tasks we need to carry out to achieve our goals.  Does being in a bad mood or even a good mood affect your ability to follow through?  My guess is that, on times, it does.  Do we therefore need to be robots to achieve our goals, keeping our emotions in neutral at all times?  Clearly this is impossible, but what is possible is our ability to be mindful of the emotions we are experiencing in the moment.  This gives us the choice to acknowledge that the emotion may well be appropriate for our current experience, but to question whether it should be allowed to derail our efforts.
One of the benefits of questioning our emotions, is that if you choose to follow through and complete your allotted task, you're quite likely to rise above the emotion that's affecting you.  In other words, if you're feeling angry, but still manage to overcome the desire for a cigarette and distract yourself with something else (chewing gum, maybe), you are likely to feel a sense of accomplishment which will counteract the angry mood. Conversely, if you give in to the temptation, you'll likely continue to feel angry, but will also feel a sense of failure, which will only add to the negative emotion spiral.
It's worth considering each of these points as they apply to us, and then to think of them in a larger sense. In reality, we all have 24 hours in a day, and therefore exactly the same amount of time (and distractions) as Jessica Ennis, Marie Curie, Donald Trump, Lady Gaga…add your own hero here! These people have learned to ignore the distractions and instead 'do the work' required to achieve their goals.
Let's consider some tactics that we can use to move beyond our distractions:
Firstly, it's useful (for some goals) to set aside a dedicated amount of time or a time of day when you're not to be/won't be disturbed.  With this established, ensure the phone and your email, facebook, twitter etc alerts are switched off and then just go to work, stopping at the planned time.
For some, designating this precious time may require some imaginative thinking.  Consider working outside your family's or work's normal times.  For example, you could get up half an hour to an hour before the rest of the household, or, if you're a night owl, work into the evening when everyone else is in bed or settled into their own routines.  You may also need to consider removing yourself from your distracting environment altogether.  Is there a coffee shop or a library close by where you could work quietly for an hour after work and before returning home?
You could also consider changing your trigger points – if you're attempting to remove a bad habit, you may well need to look at your daily rituals and identify the triggers which lead you to indulge your habit. For example, if you always have a coffee with biscuits at your desk at 10am, make sure you're committed to something else at that time which takes you away from your desk. How could you apply this to your situation?
It's important that at the end of another busy day, you congratulate yourself on any and all victories, even the minor ones.  This could be with an actual treat (a bubble bath, a glass of wine, a phone call to your best friend etc) or maybe actually taking the time to record your victories in a journal.  A record like this can be enormously beneficial as you will be able to look back and see how far you've come, especially as the path to success is crooked…some days you're up and others you're down.  But, if you keep pushing forward, the odds will surely stack in your favour, and eventually you will achieve your desired aim…good luck!
What are your distractions?  Why not share them in the comments box or maybe offer up some solutions that have worked for you?!
Photo: birgerking