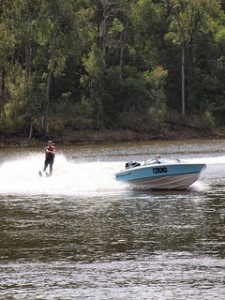 David J Schwartz, author of The Magic of Thinking Big sets us a challenge in his quote: "Think little goals and expect little achievements.  Think big goals and win big achievements."
A great idea, but for many of us setting big goals is much easier said than done!
I think part of the problem with cajoling ourselves to make big goals, is our lack of belief in our ability to create a big, planned outcome.  These big ideas and plans are alien to us because they are so far removed from the world we live in right now, consequently it's a huge mental leap to see ourselves living a completely (albeit desired) different life.  Additionally, for a lot of people, if they don't know all the steps that are required to get to their ultimate outcome, then they'd rather not start.
So how can we overcome this inertia and actually make big goals, but fool ourselves into thinking that they aren't as outlandish as they appear?  The trick, as we all know is to take baby steps, but again, this can be problematic if we're not prepared to look far enough ahead and actually acknowledge that there is a big goal out there, somewhere in the future.  The technique I like to use is to think in stages, starting from "now" and then building on this.  Here's a simple table of how building the goal iteratively might look, along with an indication of the possible timeframe:
| | | |
| --- | --- | --- |
| Small Goal (short term) | Bigger Goal (medium term) | Biggest Goal (long term) |
| Within the next year | Within the next 2 – 5 years | Within the next 3 – 10 years |
If we think of our goals in these three easy categories – small, bigger and biggest, with each of these time markers being something like 'within the next year'; within the next 2 – 5 years' and 'within the next 3 – 10 years' respectively, this gives us a comfortable place to start.  But there's one more thing to consider before jumping in and attempting to define some big (long term) goals.  Many people, when they set goals, make them too vague.  For example here are the top five 'goals' taken from the 43 Things website :
Lose weight
Write a book
Stop procrastinating
Fall in love
Be happy
So let's see if we can populate the boxes with some goals and the possible ways they can be grown to bigger and biggest goals.
'Vague Goal'

Big

Bigger

Biggest

Lose weight

Get down to desired weight.

Sign up for and complete a recognised course in nutrition.
Successfully complete a marathon.

 To be running a highly successful private exercise and nutrition consultancy to the stars.

Write a book

Complete my book and submit to literary agents

 

Be a New York Times Bestselling Author

To be 'in demand' by media/tv companies for interviews and special guest appearances to discuss my best selling books.

 

Stop procrastinating

Identify my procrastination triggers (I don't procrastinate over everything!)
Based on above, change my habits one at a time to improve my delivery on personally allotted tasks

 Commit to other people to deliver projects and tasks on time.

 To achieve my desired goal of.. any one or more of the others specified here!

Fall in love

Spend time discovering what I desire in a life partner.
Spend time discovering what such a life partner would be looking for in me.

Build and nurture all my relationships based on this new found knowledge.
Be the person that my desired partner will find attractive.

(Treat others how I would like to be treated.)

Be happy

Learn to accept that being happy is not 'an accident' and discover my personal happiness drivers.

 Actively exercise my new found knowledge of happiness until it becomes a natural part of my personality.

 Having found my happiness, share the joy with the world through a self-made website, books and interviews.

Timeframe

Within the next year

Within the next 2 – 5 years

Within the next 3 – 10 years
Now, let's just re-write those goals as if they were your long term goals, or your biggest goals:
Lose weight –> To be running a highly successful private exercise and nutrition consultancy to the stars.
Write a book –> To be  'in demand' by media/tv companies for interviews and special guest appearances to discuss my best selling books.
Stop procrastinating –> To easily achieve my desired goals in life.
Fall in love –> To be happily married.
Be happy –> To be a catalyst for happiness throughout the world.
It's easy to see that there is a significant gap between the original 'vague goal' and the final 'biggest goal'.  In fact, if you put them side by side they might appear unrelated.  However, the trick is to build the stepping stones in between, ie, the big, bigger and finally biggest steps.
After completing this exercise, it's then just a question of designing a series of actions that will bring you closer to your first milestone (within 1 year) and following through on these actions.  From there, move on to the next stage (2 – 5 years), repeating the process and tweaking and adjusting as necessary to remain moving in the right direction.  Finally, move on to the third stage, and the period between 3 and 10 years…your 'biggest' goals; plan your actions and take action.  By the time you reach this stage it's likely that you will have already made even bigger plans and the life you dreamed of a few years ago will be appearing all around you!
So if you're having trouble identifying your big goals, give this iterative technique a try.  Start with a rough sketch of the plan and just fill in the gaps.  Allow your mind to play with as many drafts of your goals as you like until you finally start to feel excited about the potential of your long-term, biggest goals!
Please let me know how you get on in the comments section.  I'd love to hear what you think of this technique!
Photo: Tate Johnson