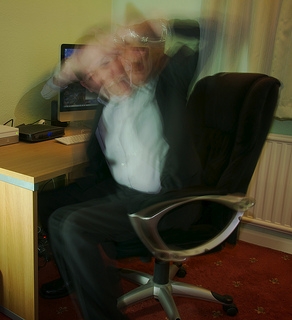 Do you ever experience those days where, no matter how hard you work, you're swimming against the tide? For whatever reason, things which usually run smoothly, people who are usually even-tempered and a delight to be with or technology which usually functions efficiently, all conspire to test your mental fortitude all at the same time? Those little niggles and frustrations, which, cumulated together through the day, become a knot in your stomach, a weight on your shoulders or a mental obstacle which looms shamelessly against the good intentions you have of working on your goals.
Beware…this is the danger zone!  These are the times when stress usually triggers an emotional reaction within us, which, if not called into check, will have us taking the scenic rather than the most direct route to our goals.
It can be tough, after a difficult day at work or looking after the children, to find the energy and impetus to either keep to the straight and narrow: in other words, avoid those things we've agreed with ourselves are on their way out of our lives – sweet treats, alcohol, cigarettes, impulse buys etc or on the flipside to make the effort to continue with those things we've agreed to introduce into our lives – exercise, more family time, studying, calorie controlling etc.
These are the times when the negative effects of our immediate circumstances begin to impact on our ability to hold fast to the things we want to have or achieve in the future.  We're at very serious risk of looking for the quick fix to 'cure' our undesirable feelings with a temporary band aid by:
Eating the cake or sweets
Having a glass of wine
Relaxing in front of the tv instead of doing the exercise, spending time with the family or revising for our exams
Of course, the negative effect is also compounded, because not only will we have indulged our need to apply salve to our negative feelings because we 'deserve' a treat or to be 'let off' the planned task, but we'll also move further away from our intended goal as there will be that extra little effort required to get back to where we were plus the lost opportunity for progress which we've forgone.
Looking back to the beginning of my day and before I'd even left home for work, I was lucky enough to come across a great quote from John Assaraf on Facebook:
No negative thoughts allowed (you can see it here)
I always enjoy reading other people's reactions to the various quotes that are posted on Facebook.  They can be a great source of inspiration and an opportunity for me to offer my thoughts too (if you look through the comments, you might find some of my views).
It's strange now looking back over my (frustrating) day to think that I started the day being advised to avoid all negative thoughts!  But the most important lesson for me from this is that it's inevitable that we will experience some kind of negativity occasionally (or even often), but the real negativity manifests itself when we allow it to fully infiltrate our minds and affect our mood for the rest of the day, because when this happens we enter the danger zone and the progress of our goals is under threat.
The trick of course is to learn to rise above the emotion in the moment so that our rational mind will help us to make the correct choice.  It's certain that if we can do this, we will make beneficial progress on our goals.
I agree though that staying strong and positive does not always prevail, but, maybe there are degrees of positivity versus negativity that we can harness to help us with the challenges that life throws at us. We are each individual so of course our reactions are personal.  I believe though that we can, through mindfulness and introspection, develop our ability to cope with our reactions to negativity and thereby increase our incidence of neutral or positive reactions, which can only be of benefit to the accomplishment of our goals.
If the challenge of controlling your emotions fills you will dread, then bear in mind that it will be a lifelong process.  There will be times when you're up and times when you're down, but keep learning, as this will be the key.  It's important to understand what your emotional triggers are and why they occur.  This can be achieved by looking back over your day and re-running in your mind instances where your reaction wasn't as you would have liked it to have been.  Really analyse what the triggers for the reactions were and attempt to visualise an alternative reaction and whether you would then expect a different (preferable) outcome.  Play around with this idea as it's an art rather than a science!  However, the more you use it, the better you will become at transferring your new "memories" into reality.
Additionally, an added benefit is that by reacting in a manner that's more appropriate to the way you want to 'be', you will automatically experience more positive thoughts (or outcomes), making the avoidance of negative thoughts a much smaller concern!
So have you experienced frustrating days recently?  Did your motivation desert you in the face of the frustration and/or negativity you felt?  Please leave a comment and let us know how you got yourself back on track!
Photo: Marcus Peaston