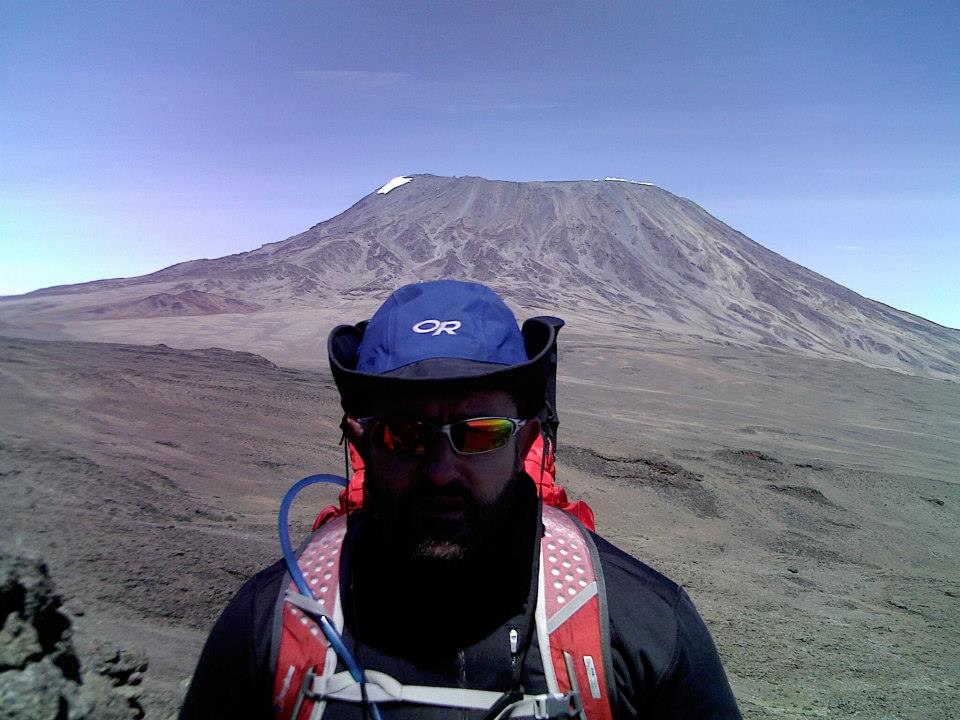 In October 2013, Richard Powell, an IT Manager based at Cardiff University, set off on a challenge he'd been preparing for for a year – to climb to the peak of Kilimanjaro.  Although he tells me that his initial motivations were more selfish than altruistic, it's a credit to his determination and motivation that along with reaching the peak, he's also raised more than £5,000 in sponsorship and other fund raising activities for his chosen charity, Tenovus (a cancer care and treatment charity).
A few days ago, I had the opportunity to interview Richard about his experiences.
You've recently successfully climbed to the peak of Kilimanjaro, can you tell us about the experience?
We prepared for the climb for about a year before the actual event, but in all honesty nothing really prepares you!  I think the first realisation of the enormity of the challenge hit me when we flew into Africa and instead of flying over Kilimanjaro, we flew around it and were looking out of the windows and upwards towards the summit!
The climb itself consisted of nine-hour-days, although the first two days were like an enjoyable stroll, because it was all so new and exciting.
But by Day 3 we had reached halfway, and, although we'd been warned about the effects of altitude sickness it still came as a surprise.  We experienced headaches and vomiting, but we just got on with it!
One of the things that really surprised me though was the loss of my appetite.  We'd been told that part of the effects of the altitude was that we would lose our appetites, but nonetheless, given the demands we were making on our bodies, we had to eat.  As I'm such a big eater I really didn't think it would affect me, but it did.  Even after walking for hours on end, I had no appetite at the end of the day to eat anything.  Of course we were made to eat – a staple of rice and vegetables – and we were watched by the porters to ensure that we ate all we were given, even if were gagging!
Summit Day is 16 hours long, which consists of the walk to the peak and the walk back to camp.  It's arduous, really rocky like walking on a lunar desert.  And you're constantly reminded of the difficulties of reaching the peak as other climbers are being brought back down the mountain on stretchers!  But that drives you on and you think to yourself "that won't be me!".
I had already decided that I wasn't going to come off that mountain without reaching the peak unless I was forcibly dragged!  And I had my moment of glory when I reached the peak and had time to enjoy and appreciate my achievement!  But like others, I succumbed to disorientation – a sure sign that it was time to head back down.  However, this was unceremonious as the porters, seeing my disorientation followed by me vomiting blood, marched me back down the mountain at double-speed for my own safety.
The experience though was more than just climbing a mountain!  Going to Africa was such an eye-opener.  We have so much in this country and our quality of life is so much better by comparison.  We might initially think of this in material terms, which is true, but consider this:  when we arrived, we were taken from the airport to the compound where we'd be staying by an armed guard who then told us not to leave!
And then of course there is the material aspects of our lives compared to theirs.  We had more [value] in our suitcase than they have in their entire lives!  It really raises your awareness.  At the end of the trip, I gave away my [climbing] clothes to the porters who had looked after us…we were wearing more than they earn in a year!
Do you feel you've change from the experience?
Yes!
There's no doubt that preparing for and doing the climb puts life events into perspective!  It really is a case of 'don't sweat the small stuff', because in the scheme of things, most things don't matter.  Everyone should have an experience that allows the little things to find their rightful place!
Do you consider yourself a driven person?
The problem with the word 'driven' is that some people are intimidated by 'driven people', so I'm not so comfortable with that description.  I prefer to think of myself as self-motivated, although others think that I'm driven…[thinks]…I believe that a life without purpose is a life wasted.
I consider myself to be approachable, but obviously I can't control how other people think of me, and I have to accept that.  I've been told that I'm 'bossy' and maybe that's true, but I've always been that way.
What's your favourite book?
There are two books that have had a significant impact on my life and they are "The Fountainhead" and "Atlas Shrugged" both by Ayn Rand.
Both books are thought provoking and although written as fiction they have a core message which is worth reading.  The books centre on the philosophy of "objectivism", meaning that something can only be what it is and nothing else.
What do you think are the main personal characteristics you need to develop in order to achieve the goals you set yourself?
Don't pay lip service to yourself; if you say you're going to do it…do it!  But, make sure the goal you're targeting is your goal and not someone else's, otherwise you won't be motivated.
Just jump in with both feet and don't be afraid to fail, failure's just another opportunity to learn.
Do you have a favourite quote?
"No culture can live if it attempts to be exclusive."  Mahatma Gandhi.
It's about being open to other peoples' ideas and reminds us that we can't live in isolation.  It reminds me to remain open and to check that my motivations are good and that I'm not just protecting my ego by choosing certain actions.
So what's next?
I've already signed up to do the AR30 in 2014 which is a mountain bike – climb – canoe challenge in the Brecon Beacons.  We'll be challenging as a team of four.
In 2015 I'm planning to raft down the Zambezi River, (which is the fourth longest river in Africa).
And finally, what advice would you offer to anyone who was thinking about climbing Kilimanjaro?
Do it!
All you've got to do is walk – put one foot in front of the other (that's a Ranulph Fiennes quote, by the way!).  One of our Guides told us that we had to keep moving because "if you rest, you die" and that's a great analogy for life.
I also love the words of Theodore Roosevelt when he said:
"The credit belongs to the man who is actually in the arena….and who at the worst, if he fails, at least fails while daring greatly, so that his place shall never be with those cold and timid souls who neither know victory nor defeat."
It's about trying and failing, but ultimately about having the courage to step up and just do it.
Many thanks to Richard for a great interview!
As we know, success comes in all shapes and sizes, but the motivation to take on the challenge and then see it through requires some charateristics which will be familiar to all of us.  Richard has embodied a number of these characteristics – taking action, a willingness to fail and self-belief being a few of them.  How do you apply these in your own pursuit of your goals – please leave a comment and let us know!