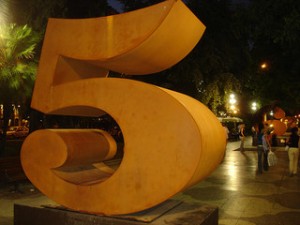 Taking action on our goals doesn't only provide the benefit of seeing our goals brought to fruition and the joy we will feel when we reach that point.  Between the start and the end, or, between now and then, there are many other excellent reasons and/or benefits which we can enjoy en route that will help to fuel our resolve to keep going.  Let's take a look at five of these reasons.
1.  Your positive motivation will spill over into other areas of your life!
Yes, that's right!  Once you pull yourself up off the sofa and start doing something, anything, towards your goal, you will find that your overall energy will increase.
There's a general belief that we don't have enough time and energy to cram anything else into our lives and so setting and pursuing a goal will only add to the sense of overwhelm we already feel.  But, the opposite is actually true!  By doing some work on one of our goals, we will feel more energised and this will provide the additional energy, and by default, time, that's needed to help us keep on top of all the other 'busy' work we need to attend to.
2.  You will feel a sense of relief
If you've had a goal in mind for quite some time, even if you haven't properly articulated it, if you haven't started to take some action, then somewhere in your mind it's drawing upon your energy and making you feel bad about yourself.
It's that nagging feeling of dismay or disappointment you feel at the end of the day when you realise, once again, that you allowed all your other daily activities to take priority over something you really, really know you want to progress.
How would it feel instead to reach the end of the day knowing that you have taken a tiny step closer to your goal?
Try it, you might find you sleep better and wake happier!
3.  You will be happier and will respond better to your loved ones
This might seem like a big claim to make, but think about it for a moment.  Quite often between family commitments and the demands of work, we suppress our own needs and drive them to the bottom of the pile.  Inevitably that will mostly mean that we never get to them.
This can create an unconscious feeling of resentment, towards our partner, children, friends and work as we count up the many things we give for little or nothing in return.  We feel that our efforts are taken for granted and then we get angry or bitter and these feelings eventually spill over into our relationships.
But what if we took some time for ourselves by allowing a little time to pursue our goals?  In doing so, we create a little personal oasis that is nurturing to ourselves simply because we have allowed ourselves to look after our own wellbeing.  Ironically, this doesn't distract from our other relationships, instead it makes us happier and therefore allows us to be happier and more generous to others.
It's counter-intuitive, but is this not a win-win situation?  If you're not used to carving out a little time for yourself then you may find your subconscious works against you initially and you'll experience feelings of guilt.  But, keep with it and you will soon see the beneficial effects on your relationships.
4.  You will become more creative and resourceful
…or in other words, we grow!
When we start out on our goals, we often don't know how we will reach our desired outcome.  We may have some idea of how to get to the next milestone, but beyond that is a mystery right now and this can be a little scary and off-putting.
But, being bold enough to take those initial steps will help us to grow in confidence, which will then release our creative juices.  We will find new avenues open up to us and we will become more imaginative and start tapping into the new resources that are coming into our lives.
5.  You will be acknowledging and looking after your future self
Sometimes when we're in the depths of our daily lives, we somehow forget that what we are experiencing now will pass and that soon we will be living a different life.  Our children will grow past the toddler years, our jobs may change, we will age, we could experience health challenges, new demands will come our way and other demands will be released from our lives.
In other words, this too shall pass….
But in the melee of our everyday lives, it's easy to forget that our future self is already being shaped out of the deposits we're making in our lives now.  We are indeed creating our future selves with each action or failure to act that appears in our lives now.
So, is it not imperative that whilst we live our lives now, we would also benefit from having one eye on the future self we want to be?  In the future we may want…
Good health
Financial security
Happy relationships
Fulfilling hobbies
A promotion at work
…etc, but in order to achieve these things, we must acknowledge the inevitability of our future selves and factor in the work required now, albeit in a small but consistent way.
So there you have it, 5 excellent reasons why getting moving on your goals really is in your best interests!  If any or all have resonated with you, write it down somewhere where you will see it regularly as a reminder and motivator for those days when you just can't seem to get moving.
I hope you enjoyed this post and I'd love to hear your thoughts and/or experiences!  Hit the 'Leave a reply' button and share your thoughts!
Photo: losmininos