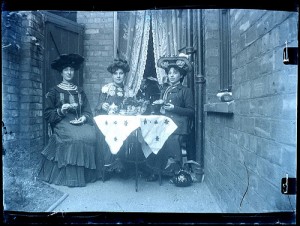 In these days of Facebook friends, where people can have thousands of friends viewing and perhaps contributing to their lives, it can be difficult to not only remember, but also to appreciate the real, physical friends that inhabit our day-to-day world.
It's becoming a bit of a cliché to admonish those of us (yes, I'm included too) who spend too much time on social media at the expense of maintaining our real flesh and blood relationships, but in many cases, social media has in fact provided a means for people to reconnect after years of little or no contact which in most cases is a good thing.
It's interesting though, to notice the differences in the way we view our friendships, and in particular in our need to either have a few very close friendships, a la 'bff' (best friends forever if social media isn't your thing!) which requires almost, if not daily contact compared to those types of friendships which blossom through sporadic contact and can just be picked up where they were left off without any ill effects.
I've no doubt that part of these arrangements are somewhat driven by where we are in our lives at any given time and consequently the need for intense or moderate friendship at any given moment.  It may also be a driven by our age: when we are younger we are most likely to have friendships but naturally as we grow older we look for a partner who may ultimately replace some of our friendships, although this might not always be the case.
So what makes a great friend?
Walter Winchell believes that…
"A real friend is one who walks in when the rest of the world walks out."
I agree with this to a large extent, and am lucky enough to have friends who have been there for me when others have turned and run only reappearing when the crises is over.  For those friends who have been with me through the darkest of times, I am eternally grateful, and I hope I have and can be as good a friend to them if and when it's needed.  But I've often pondered why some of my friends have not been able to step up to the plate when 'needed' and this quote from Lucius Annaeus Seneca may go some way to explaining this:
"One of the most beautiful qualities of true friendship is to understand and to be understood." 
I think it's important to understand that when accepting new friends into our lives, that they are not all there for the same reason and whilst we may feel that true friends are those who are there for us when we really need them, maybe we are deceiving ourselves with the notion that need equals adversity.  I don't believe this to be true.  Instead I prefer to take the viewpoint that our 'needs' vary and at times we may have a need for fun or adventure or maybe even silliness.  Can one friend fill all these requirements as well as be the person we turn to when we are feeling sad, bereft or just plain sorry for ourselves?
maybe we are deceiving ourselves with the notion that need equals adversity
Unlikely.
So I think this is where the quote from Seneca comes into its own.  The path of friendship runs both ways, and in seeking to understand and be understood, we must also extend this to our friend and understand what speciality they bring to the friendship.  By understanding and accepting this, our friendships stand a much better chance of surviving the demands of everyday life.  So, whilst I might be a good shoulder to cry on, don't expect me to come climbing mountains any time soon, I'm not that kind of friend!
So what of the benefits of friendship?
There are the obvious benefits already discussed above, but what also of the physiological benefits?
There is now good evidence to support the claim that friendship and social support has a very beneficial effect on our wellbeing.
In general terms, friends encourage us to take better care of ourselves, (we go to the gym or fitness classes together which creates discipline and accountability as well as a healthier body, for example).  Friendship also helps support our immune system and we see fewer cardiovascular problems amongst people with a strong social network.  This may be due to the effects of cortisol (the stress hormone) on the body, which is reduced amongst those with a strong social circle.
It's important therefore to nourish our friendships, because in doing so, we will also be nourishing ourselves.  And as if any further reasons were needed for friendship, let's just close with this great quote from Laurence J Peter with a scenario we'll all be familiar with… 🙂
"You can always tell a real friend: when you've made a fool of yourself he doesn't feel you've done a permanent job."
Does anyone have any great (or not so great!) friendship stories to share?  Or does anyone want to give a 'shout out' to a great friend?  Please go ahead, I'd love to hear what you've got to say!
Photo: whatsthatpicture