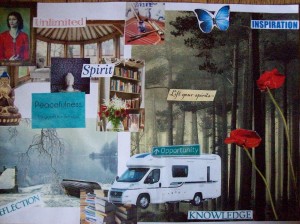 Oprah Winfrey once said:
"Create the highest, grandest vision possible for your life, because you become what you believe."
I guess that's easy for Oprah to say, after all she has achieved the most stunning success in her life, through TV, online and writing books. Somehow it seems easier to envision success if we've already had some experience of it. Can you see yourself…
…with the partner of your dreams
…a lithe and healthy body
…a holiday home or new car
…being the head of your organisation
…and so on…?
However, seeing ourselves living a wildly successful life through our own imagination becomes something of a tall order, requiring us to imagine all the things we would love to see, do and have whilst at the same time fighting the urge to downplay all these wonderful things because we have no idea how we will bring them into being and consequently no true belief in our ability to do so.
But what if we look at this from a less positive standpoint? What, if instead of imagining all the wonderful things that we would like to have in our lives, we instead envision all those things we don't want in our lives…
…unhappy relationships
…a boring job
…debt
…an old, unreliable car
…an overweight body
…aches and pains
…and so on…?
Was it easier to call these images to mind rather than the successful images mentioned above? I think for most people the latter test will have been the easiest to perform.
But why is this – of course it's because for most people, these latter scenarios represent examples of the lives we live or have lived in the past and therefore we can summon memories to aid us in the visualisation exercise.
So we are left with the challenge of memory versus imagination, and as we try to create a grand vision, we are continually pulled back to the things we already know via our memories.
Is it any wonder then that when Oprah tells us to create our grandest vision, we are already turned off by the idea as being unrealistic and fanciful? It's our mind, our memories, already showing us that those grand fantasies don't exist for us and instead the beautiful images are replaced with more modest and realistic pictures, which, for the most part, aren't that dissimilar to our current lives.
But is this what we really want? If we're looking to improve our circumstances or aspects of our current lives, that is, our reality, shouldn't we be looking for ways to tap into this method of bringing the things we desire into our lives? And, if so, how can we do this? How can we get past our memories and really utilise our imagination to the full. After all, even Einstein was a proponent of using our imagination over our memories for advancement:
Imagination is more important than knowledge. For knowledge is limited to all we now know and understand, while imagination embraces the entire world, and all there ever will be to know and understand.
The quote kind of sums up the idea that we are restricted by our memories (knowledge) unless we actively choose to work with our imagination to embrace the entire world and all it has to offer.
One method of opening up the possibilities of what the world has to offer us is to use our senses to stimulate our imagination through pictures, sounds, objects etc. I'm sure most people will have heard of the idea of creating vision boards – a pictorial representation of all the things we would like to have or experience in our lives. I conducted a workshop in creating vision boards just over a year ago and a number of participants have seen their desires come to life. For those of you who are still waiting, have you checked your vision board lately?!
The point of the vision board of course is twofold. It not only forces you to think creatively about what it is you actually want, but in an environment where nothing is restricted and your senses are stimulated by the availability of creative materials, you are able to explore desires that are already known to you (memories) and also bring to mind those things which you have yet to experience, thus bringing them to the forefront of your imagination.
Of course, creating a vision board is just the start. After all, the things you put onto your vision board won't just appear out of thin air simply because you want them. All things that we desire will require some kind of action on our part in order to bring them into reality.
I think this is the part where most people fall down on creating the circumstances that would bring their desires into their world (reality), and unfortunately the real reason for this is despite having gone through the process of imagining what their world could look like through creating a vision board, they don't truly believe that they can create or have the things they desire.
The upshot – no belief = no action = no creation.
And so it becomes a self-fulfilling prophecy: I don't really believe I can achieve those things, so what's the point in making an effort. The result then is obvious!
But what would happen instead if you were to take at least some action? Even a tiny step forward towards seeing the creation of one of the things on your vision board?
Sometimes just the effort of taking some action helps us along the road to belief, because even small actions can have an effect. This becomes especially true if we continue to take small actions on a regular basis. Gradually, our world begins to change and our desired result begins to take shape, and so, our belief that it is possible becomes stronger, so we keep going…etc… This is another self-fulfilling prophecy, but this time it's a positive one!
Of course this requires a changed mind set, but not so different as to be impossible. After all, you've done this is the past – you've taken hold of a new idea or project and decided to believe that it could be achieved, and that belief has fuelled your actions until eventually you've achieved the outcome you wanted.
The only difference now is that the stretch is probably greater, or maybe you need to deal with some other mental obstacles such as allowing yourself to actually deserve the thing you desire. In any event, whatever the reasons why you might not start, why not just by pass these, just this once, and just make a start anyway? You can always change your mind later (but you probably won't once you start making progress!).
So go on. Pick out something you really want. Stick a picture or a symbol of the thing you want somewhere where you will see it often and then just take a small action which will bring you one step closer. Tomorrow take another step, and then just keep going…before you know it, it will be in the bag!
Has anyone ever had success with bringing some or all of their vision board desires to life?  (I know this has happened as I have seen it!).  Please leave a comment and share your experiences!