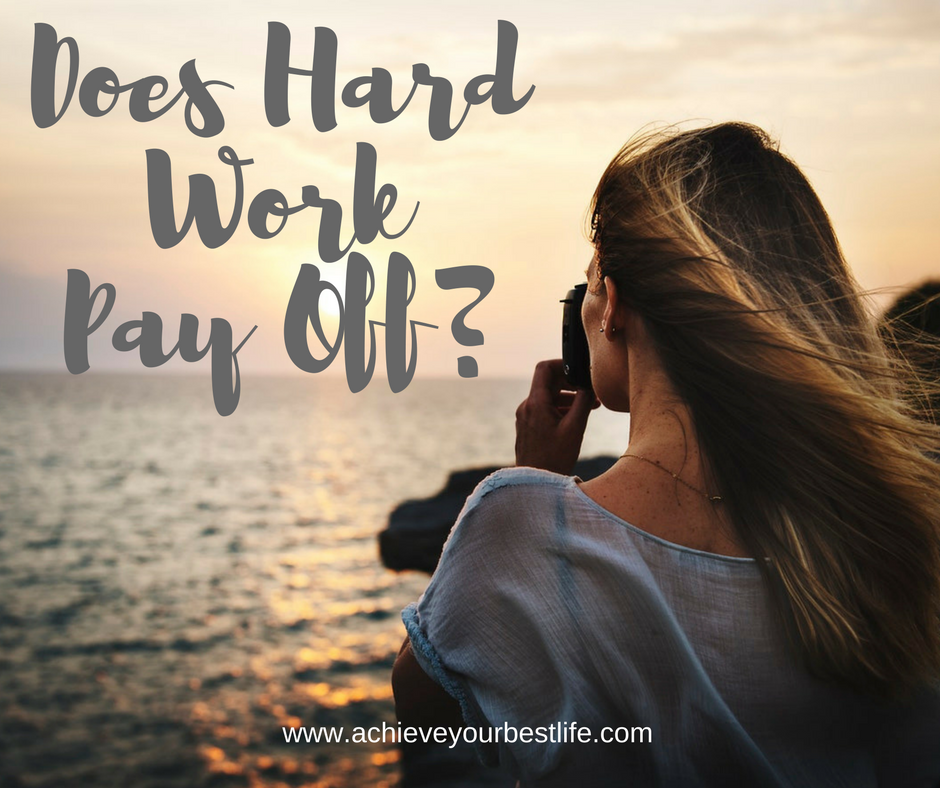 This post may contain affiliate links. Please read my disclosure for more info.
Does hard work pay off?
According to Thomas Edison, there is no substitute for hard work, and I guess since that comes from the man described as America's greatest inventor, we could probably end this blog here and just say yes, hard work does pay off in the end!
But I think the subject deserves a little more depth than this!
When Efforts are Linked to Rewards
In a general sense, we all accept that hard work pays off. If we've come through the school system then we were implored, encouraged and cajoled to work hard towards attaining good grades. If we achieved the grades we needed then we were 'allowed' to proceed to the next level, whether that was College or University or to immediately step out into the working world.
If we failed to make the grade, then it was back to do another year to try to improve our results or leave the education system and enter the world of work. So the education system gives us fairly robust and objective measure of our efforts being linked to rewards. Whether the system itself provided adequately for our educational needs is outside the scope of this post, but in general terms it's a pretty good example of the concept.
We all know if and where we messed up when it comes to our school career and to a large extent, we know that we are responsible for the results we achieved. So in this scenario, can you answer the question: does hard work pay off?
Do you Believe the Truly Successful?
I could provide an enviable list of quotes from successful people which supports the view that hard work pays off in the end. Indeed, for those people who have achieved success in their lives, they put most of their success down to hard work. But what does this look like? Here are some of the words which can be interchanged with hard work:
~ Persistence ~ Perseverance ~ Grit ~ Faith or belief in yourself and your idea ~ Discipline ~ Consistency
Do these words ring true for you?
Related Post: How To Be Consistent and Achieve Your Goals
One of my all time favourite quotes relating to hard work comes from Will Smith…
The only thing that I see that is distinctly different about me is I'm not afraid to die on a treadmill. I will not be out-worked, period.
Well you can't say it much clearer than that!
Is Your Ladder Leaning Against the Right Wall?
It can be hard sometimes to know what we truly want to achieve in our lives. What do we stand for? What do we value? What things are important to us? These are all important questions when we're working towards a goal and to a large extent can determine whether we believe that our hard work has paid off.
After all, if you're working towards something, achieve the 'prescribed' level of success, but then discover that it really isn't what you want to do anyway, you're likely to feel disappointment rather than success.
However, it's very important to recognise that whilst the outcome might not be what you envisioned, the journey has no doubt provided significant personal growth in terms of knowledge, experience, life or technical skills, contacts and many other resources that are yours to keep.
Never dismiss the journey even if the outcome wasn't what you expected. Pick yourself up, reassess and move your ladder to a more appropriate wall. Chances are that you can skip the first few rungs with little effort on your part.
Check Out My 'Hard Work' Selection on Amazon!
Hard Work is Relative
Or put another way, success is relative, but will determine the hard work you'll need to put in to achieve your desired outcomes. For this reason, it's important to define exactly what you mean by success. Your starting point could determine the length of time, the resources and the personal effort that will be required to reach your definition of success.
So, for example, if you want to be able to speak another language, let's say Spanish, it's important to understand your starting point in relation to the level of fluency you want to achieve.
Similarly, if you want to write a book, are you aiming for a short ebook, a novella or a trilogy? They all demand the same basic skillset, but the hard work involved will vary in terms of research, word count and timescale. Of course, each time you set the bar higher, more work will be demanded of you but the pay offs will be greater.
Does Hard Work Pay Off In The End?
The most important thing to remember when considering if hard work pays off in the end is that hard work is the major building block of our lives.
When life is easy, we don't strive, we just tend to coast and enjoy the moment. And why wouldn't we? In my experience, we can sometimes get run over by problems coming our way which sometimes feel as if they're insurmountable.
But here's the rub.
Simply because we experience problems isn't a reason to not strive for success and grow from our struggles. Jim Rohn once said that we change due to inspiration or desperation. It may be a sorry situation that we face, but in most cases, it's the latter, desperation, that causes us to make the changes that we need.
When we're comfortable in our lives, inspiration will have little impact on making us change our ways and put in the hard work that's required. So in answer to the question does hard work pay off in the end, my answer is a resounding 'Yes!'.   And, to quote Jim John again, it's because in striving to achieve the goals…
Success is something you attract by the person you become.
What could be better?
What do you think?  Does hard work pay off in the end?  Leave a comment and let us know.  I'd love to hear of some of your successes!