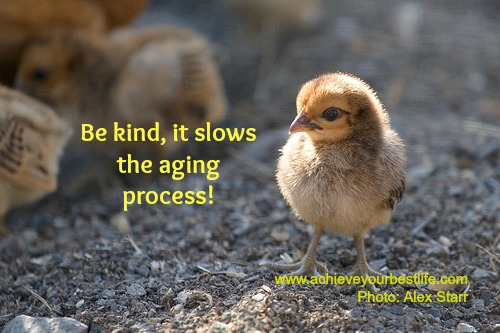 Why Should We Be Kind
Why should we be kind?  This thought was on my mind as I was recently intrigued by a quote from Mother Teresa, which has got me pondering…are we a kind generation?  And, could we consider ourselves kinder now than in previous generations?
Here's the quote:
Kind words can be short and easy to speak, but their echoes are truly endless.
Simple and true.  How many times have a few kind words helped you through the day?  But are they frequently outweighed by words that offer far less empathy?  In either case, the effects linger.
Kindness and Entertainment
My original reaction was that we no longer live in a kind society and I wondered if this thought was truly justifiable.  I'm not much of a television fan, and in my home there are just a few themes that rattle across the airwaves.  These are sport and cooking programmes, the benign choice of the man of the house.  But in previous years these benign programmes were interspersed with what I now consider to be cult shows such as The Kardashians and horror-of-horrors, The Jeremy Kyle Show, the preferred choices of my (then) teenagers.
I'm not sure if you'll be aware of these 'cult' shows, but in a nutshell, the first is a reality tv show and, to my mind, relates to the very wealthy, (not that I have a problem with wealth), but the show certainly appears to give a very distorted and selfish view of life.  My cynical view would be to say that the stars of the show manipulate the masses who watch them into believing that instant gratification is an acceptable lifestyle choice.
Conflict, Blame and Intolerance
The Jeremy Kyle Show on the other hand, is a UK based show which purports to solve the relationship problems of ordinary people.  For example, it provides DNA tests to determine the true father of a child.  It also encourages couples to openly argue on screen over how many others their partner has slept with!
In reality, I believe these people are manipulated for entertainment purposes.  They don't seem to realise that they are there for the entertainment of the masses, rather than as a well-meaning attempt by the show producers to solve their problems.  Not only is this treatment of people as entertainment not kind, but it also engenders a culture of intolerance and malevolence.
So how does this affect the people who watch and believe these shows?  I see much conflict and blame in them, but very little tolerance and reconciliation, or, to put it another way, very little kindness being shown to our fellow human beings.  This is then displayed in the wider every day world as people take on the characteristics exhibited by the wannabe TV stars.  In other words, it's ok to blame, shout and swear because we see it on the JK Show five days a week.
The Quiet Ways of Kindness
By contrast, kindness tends to find its way into the daylight in quiet and subtle ways.  We're less inclined to report acts of kindness or humanity and it's rare for such stories to make it onto the evening news, more's the pity.  Instead I had to delve much deeper to find where kindness makes its appearance on a regular basis, but once you stumble across it, it is abundant!
When searching on the web for 'kindness websites' I was pleased to see that there were over 7 million results!  So whilst kindness activities might not be making the evening news, it's still having a huge impact across the world and in the lives of millions of people.
Easy Ways to be Kind
Here are a few sites worth checking out for ideas, inspiration and stories:
The Random Acts of Kindness Foundation – This comprehensive site provides many resources from inspiring stories of kindness to ideas of kind acts which can be carried out each day.
The 'Smile Card' project – for some touching and inspirational stories and an easy way to share acts of kindness.
So does being kind fit with the idea of 'living your life your way'?
Spread Kindness – ideas, stories, quotes and much more about spreading kindness.
Why Should We Be Kind?
Well, aside from the fact that I believe that we should all be kind to each other, because that will help us be kinder to ourselves (and I'm
sure we all agree that we're often our own worst critic), there are a number of fantastic health benefits to be gained from having a more caring outlook.  Here are just a few:
Reduced depression
Decreased anxiety
Increased longevity
Increased feelings of social inclusion
Increased feelings of self-worth
I think the vast majority of people want to be, and, for the most part are kind to each other.  It's just that in our society we seem to be more geared to looking for the negatives in our day rather than the positives.  Furthermore, we find it quite difficult to tell other people that we have carried out an act of kindness, as if it's something to be ashamed of, or as if we're 'showing off'.  It would be a good thing if we could move away from this focus on the negative and instead draw strength from all the positive things in life, both large and small.  Perhaps then acts of kindness wouldn't be treated as the 'poor relation' of the daily news!
What's Stopping You?
In any case, I guess what I'm trying to say is, being kind and carrying out acts of kindness is a strong and healthy movement all around the globe.  We just need to be a little more aware in order to find it.  But from a daily life perspective, I say we should all take the selfish route.  We personally have so much to gain from carrying out acts of kindness that we should indulge ourselves fully.  Why would we not want to?!
What do you think?  Are we kinder now than in previous generations?    Have your say and share your comments!
Photo: Alex Starr