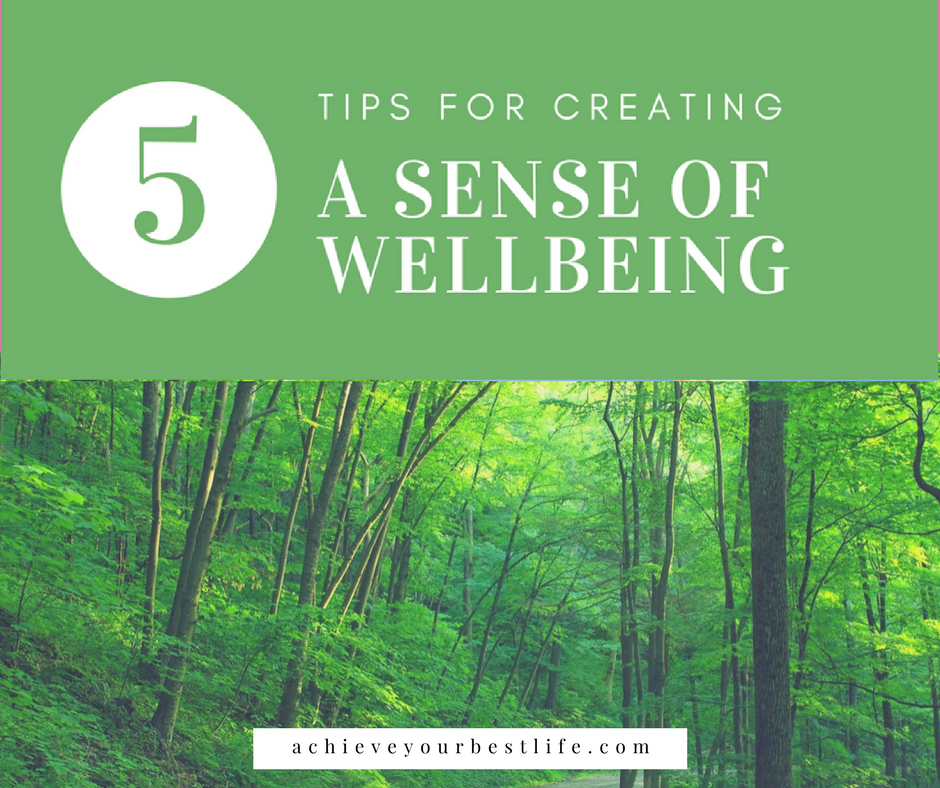 Many of us struggle on a daily basis with creating a sense of wellbeing. Often our internal monologue feeds us a stream of pessimism, beating us up over the things we haven't done, reminders of our failures along with thoughts of the people we think we've offended and a list of 'should haves' which could equal a telephone directory. We then supplement this with a daily dose of 'news' just to make sure that we haven't missed anything worthy of our negative attention.
Naturally this isn't going to do much to improve our sense of wellbeing. That elusive feeling of calmness, balance, control or serenity, to name but a few adjectives which the word 'wellbeing' might conjure up for you.
But there are ways you can regain or create a sense of wellbeing, and they are well worth the effort of doing. Because creating a sense of wellbeing has a profound knock on effect for your life and also has the added benefit of being cumulative. By that, I mean the more you do it, the more you get! Win-win!
So if you're in need of a boost to your sense of wellbeing, try some or all of these tips. Work them into your daily routine and remind yourself often (we sometimes just forget to do these things) so that you can maintain your sense of wellbeing over the long term.
Creating a Sense of Wellbeing
Take Control
Life can often feel like it's outside our control. We get bombarded with things to do, things to think and worry about, people to support, standards to maintain etc. It's no wonder we feel anxious and like life is running while we can only walk.
But it doesn't have to be like that.
Whilst sometimes we can't control the demands that come our way, the key to creating our sense of wellbeing is to control how we react to them. Allowing frustration and overwhelm to enter our personal dialogue doesn't help us. Instead, if you're aware of these reactions beginning to creep in, attempt to rationally look for ways to create some mental space. For example:
• Ask for help – yes, it's ok to do that!
• Bat it back…because you don't have to do everything. Most people are very capable of sorting their own issues and tasks, but it's become easier for them to pass problems to you.
• Remove the emotional charge. This is tricky, but a way I've found to be quite useful is to model myself on someone who doesn't seem to get provoked by demands or interruptions. I just ask myself 'how would xx respond' and it helps neutralise any over-reaction.
• Remember others may just be reacting badly to something else which actually has nothing to do with you!
There are many ways to 'take control', without trying to control the circumstances. Try these tips if life is feeling out of control and see how it improves your sense of wellbeing.
Keeping Your Life In Balance
One of the reasons we often feel overwhelmed, which then upsets our sense of wellbeing is that our life is out of balance. This can happen when we have impending deadlines, unexpected caring responsibilities, seasonal celebration preparations, or any number of different demands.
But, the key thing that identifies them as loss of life balance is that we will more than likely sacrifice our own self-care activities before considering other areas that may be temporarily stopped. It shows up as not having time to attend our yoga class or time to read a magazine or time to take a long bath. These things are just too easy to stop doing, but their loss can have a huge detrimental effect on our sense of wellbeing.
If you find yourself in a situation like this, step back and critically assess how much more you're doing and what has suffered as a result of the change. Then consider whether this is bearable for a short time. In the event that it is not, and if you've already asked for help, then consider other things that may be temporarily reduced or stopped.  Then, build some self-care back into your own routine. Don't feel guilty about doing this.
Do Something You Enjoy Often
…and don't worry if others think it's weird!
We can all be a bit judgemental, can't we? If someone has a hobby that we find even slightly strange, we tend to judge it negatively rather than encourage and celebrate our differences. But so what if your friends find your love of knitting and crochet a bit old-fashioned (is it really?) or your collection of cuckoo clocks a bit off-putting, if it brings you joy, keep with it!
Suppressing or hiding your love of an activity or hobby will also suppress your sense of wellbeing. Instead, celebrate, talk about and indulge your hobby. You'll feel much happier when you do.
Time To Relax
It's kind of obvious, isn't it? If you don't relax, it'll seriously undermine your sense of wellbeing. Being on high-alert, expecting challenges or disasters or always being ready to save the day can have serious consequences for our overall health. How can you experience a sense of wellbeing if instead you're experiencing headaches, a churning stomach, fatigue or succumbing to every virus that crosses your path?
The antidote of course is to slow down and relax.
• Take a walk on the beach or in the countryside. Figuratively leave your cares in the house (or the car, if you've driven to your destination)and allow yourself to relent and let the constant demands and worries drift away, even for just a short time. You will feel refreshed even from this simple exercise.
• Meditate. If you can't get away from the house, find five minutes in a quiet spot and just breathe, slowly to release the pent up negative energy. Of course, relaxation is a personal choice, but if you can find time for meditation, it really will make a huge difference to your wellbeing.
Whatever relaxation method you choose, make sure it's something that takes your mind away from your current challenges. You can read, journal, walk, run, meditate, paint, feed the ducks, take a swim in the ocean, stroke your pet, etc. The list is endless and usually simple. The important thing is that you do it.
Resources to Support Your Wellbeing
Nourish Your Social Circle
There's a reason why people with a close social circle live longer than people who are lonely: we're genetically programmed for human contact. Our human history has us living in communities for our physical and psychological wellbeing.
Helping each other out, sharing stories of successes and failures, bonding over shared experiences all play a part in creating a sense of wellbeing. None of us want to feel that we're 'odd' or worse, ostracised from the rest of the group.
Of course, being 'social' is easier for some than others, however, it's not really about how many people are in your circle, but rather how deep the ties run. If friends come and go without laying down common roots, loyalty and love, then there's little to be derived from that friendship.
In contrast, having friends who care about your wellbeing whilst you in turn care about theirs, acts to improve our sense of wellbeing.
So, if you're feeling a little bit low, reach out to your family and friends. Share some together time, grab a coffee, take in a show, take a walk, or do a class together. The activity doesn't really matter, it's the interaction that's important to our wellbeing.
Putting It All Together
For brevity I've picked my five favourite elements of wellbeing to talk about here, but there are many others, not least of which is eating healthily and exercising (maybe set up a health wellbeing strategy). But it's interesting to notice that the five tips above all complement and enhance each other and will support your wellbeing for life:
• You can relax with friends, which is also something you enjoy
• When you take control, you effectively re-balance your life
• Enjoying your hobby helps you relax and also acts as self-care, again improving life-balance
• Connecting with your family and friends strengthens those bonds which usually means they will be there to help you when needed
Creating a sense of wellbeing is self-fulfilling, but as with many 'simple' activities, they're often difficult to incorporate as we tend to put our own needs at the bottom of the list. It's time we realised that this behaviour is counter-productive.
Free Downloadable Checklist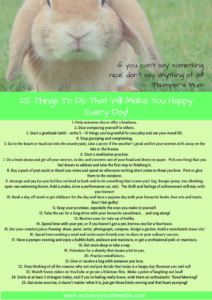 Want to feel Happy Every Day and get even more Wellbeing ideas?  Check out my "25 Things To Do Now That Will Make You Feel Happy Every Day!" checklist.  It's a free A4 pdf that you can pin to your wall or fridge door as a reminder to do something that makes you happy!
<<<<< click the rabbit now for your free download and get happier today!
There's nothing I enjoy more than knowing that my parents, my children or my friends are doing something they enjoy. It makes me happy. So remember to nurture yourself because in doing so, you will also be creating a sense of wellbeing in others.