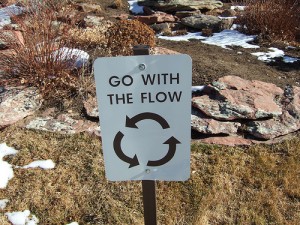 What must it be like, I wonder, to be as calm as a monk, to have the composure of Buddha or the tranquillity of those who regularly practice meditation or yoga or any other type of 'higher' relaxation or philosophical practices?
Or, by contrast, how does it feel to have the continual drive, the 'alpha-syndrome' of high-flyers to keep pushing their personal boundaries towards greater and greater success, such as Richard Branson, Donald Trump or Angelina Jolie?
It seems these two portrayals are at complete odds. How can one be as calm as a monk and at the same time be as driven to success as, say, Richard Branson? And yet, these successful people appear to pursue and achieve their goals with minimum bother. They appear in control and easily coping with the demands of their chosen career.
And yet, we are all aware of the risks of burning ourselves out by constant struggle towards a goal. Whether that is a conscious goal that we ourselves have identified, or an unconscious goal driven by influences or direction from others or even from our own internal need to fit in with whatever we perceive to be normal and acceptable, appears to be unimportant. Burnout can be experienced by anyone, regardless of their chosen path.
In the workplace for example there are numerous statistics available that show that high levels of stress, brought on by unrealistic corporate demands, leads to burnout in some individuals. In a world where we mostly pay lip service to the notion of a work-life balance, is it not time then to take back responsibility for our own wellbeing and to ensure that we embrace those things which we know will give us the respite we need from the everyday stresses which cross our paths?
Taking personal responsibility for our wellbeing must then be the way forward, as one person's stress is another person's fun! It's well documented that we require a certain level of stress in our lives as long as it's 'good stress' in order to advance our purpose. In experiencing this kind of good stress, we generally see progress and development in our lives, which leads to pleasure in our achievements.
In my experience however, I sometimes don't feel pleasure in the moments of doing the work which leads to the advancement of my goals. In fact, I sometimes feel stress as I am working towards a deadline, whether that's a self-imposed deadline or one set by someone else. Nevertheless, once the deadline has been met and the pressure-point has passed, I usually feel pleasure in the work completed. I guess this is the 'good stress' referred to above. The stress of meeting the deadline spurs me on to push towards the goal (of completion) and often the pressure somehow colludes with my brain to produce better results than compared to having lots of time to get things done.
I often observe this in others too. As they rush around between meetings, trying to fit in work on pressing deadlines in the time in between these meetings, they are often working with a smile on their face. They appear energised and enthused and although the work is hard, it also seems to be effortless for them.
The renowned psychologist Mihaly Csikszentmihaly refers to the phenomenon of losing oneself in one's work as a state of flow. It's those times when the work becomes so absorbing that time passes without our even noticing it. We often 'awake' from this state having missed our usual mealtime, but happy nonetheless because whilst being in 'flow' our mind was occupied only with the task at hand.
This in some ways reminds me of the relaxation achieved through meditation or yoga. The idea that rambling thought is suspended in favour of focus – either on the task at hand or on clearing the mind and focusing on our breathing seems very similar. Could we therefore surmise that being in a state of 'flow' is akin to meditation? As a layperson, I cannot answer this question, but, as someone who has experienced both states, then it certainly seems plausible.
Of course, achieving a state of relaxation or 'flow' can be difficult. In both cases, we need to develop the 'skill' of focus, but, in addition to that we also need to be able to 'let go' of other thoughts, demands or distractions which are pulling at our mind for attention. However, the value I see is that if we can learn a 'simple' skill like meditation, then we are likely to be able to replicate this ability in other areas of our lives. This of course is especially useful in the workplace where distractions can happen almost moment-by-moment.
I've now been practising (the perfect word to describe my process, as it happens) meditation for about a year. Sometimes I fail to find the time, and when this happens I notice a difference in my demeanour very quickly. Other times, I already feel too wired and am unable to 'let go' of the thoughts swirling around my head. But, on the occasions where I can let go and allow my mind to empty, then I believe there is an improvement in my general ability not only to focus, but also to keep in mind the big picture and in so doing, let the smaller worries drift on by without too much concern.
And what of the mega-successful people and their approach? I don't know whether meditation, yoga or any other form of relaxation forms part of their daily routine, however, as long as their work allows them to enter a state of 'flow' then they may well experience an easing of stress which to a greater or lesser extent will provide the same effect.
I'd love to hear your thoughts on and experiences of 'flow' and/or meditation. Do you agree or disagree with my idea that both states are similar in effect?
Photo: Dave Dugdale