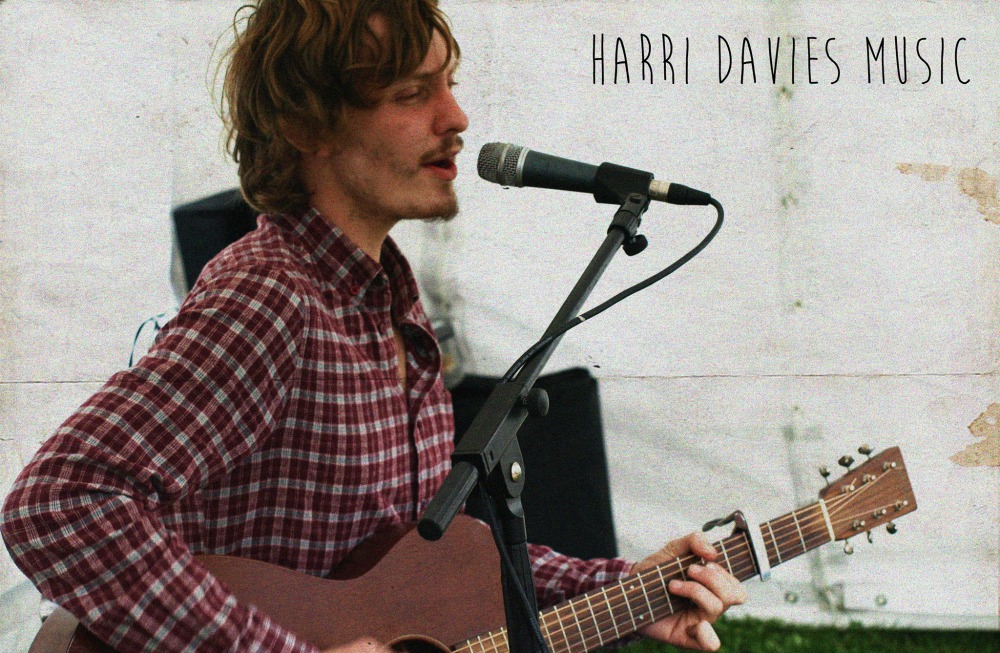 It's not often that I get to meet a musician-in-the-making, but a couple of weeks ago I had the good fortune to be able to interview a budding new artist by the name of Harri Davies. 'Budding' might be too weak a word in this context as Harri has already been played on BBC Wales' Adam Walton show, gigs frequently and will shortly be appearing at the Hay Festival on 30th May. In any event, meeting Harri was a delightful experience and I'm sure after reading about Harri, you will love him too!
I met Harri Davies one cold, wet Saturday afternoon at a coffee shop in Cardiff. The 21-year-old, tall, fair-haired and blue-eyed, greeted me with a bear hug like we were old friends, and, within just a few slurps of coffee, that's how it felt!
Harri first embarked on his musical career at the age of 14 when he picked up a guitar and started working his way through genres such as blues, rock, jazz and soul. These days Harri is into acoustic jazz and working on soul in a pop-song format.
About the music
He tells me the most stressful part of the job is writing the song. "Songwriters experience 'writers block' in the same way as book writers…" this reminds me of a familiar scenario when he says that "we're not in control of our inspiration". So true, but we both agree that you've just got to keep with it, keep pushing until eventually the creative process takes form and comes to life.
Harri sees the song writing process in two parts:
"First," he says, "you need to create the framework with the chords, melody and lyrics, but it's the second stage where you paint in the textures that lifts the song to another level. The trick," he says, "is to plan the song, but to make it sound like it's not much effort."
That's probably easier said than done, but something that Harri is definitely managing to achieve.
Inspiration
Harri is inspired not only by the love of music, but, like others, finds motivation in the work of other artists such as John Martyn and Nick Drake: "Their work makes me want to create something so good that others will want to connect with it." It's strong stuff, and clearly Harri plans to aim high.
He says he is driven to want to make something out of his life (not bad for a 21-year-old!) and that he is competitive. He fittingly points out that "talent is common, but drive to unearth talent is rare". A statement that all of us with a passion to make change should heed!
What does success mean to you?
"I want to achieve a stable financial future from music where I'm able to sustain my lifestyle whilst pursuing my passion."
This is something that we should all aspire to in the long term so that we can do our dreams and passions justice. After all, a passion without an income is a hobby!
Harri goes on to say that he wants to "make the best music for me" and wants to feel that "others have a spiritual connection to it. In this way I will be able to leave a legacy."
Talent is common, but drive to unearth talent is rare.
When asked about how he's changed since starting this journey, Harri says "I think change is inevitable, as one thing leads to another and you will eventually emerge as a fully formed artist. Your journey would have sculpted your identity."
"I guess I have changed quite a bit since I started this journey. I think all aspects of it are intertwined and push each other forward. For example the more musical knowledge you gain the more confidence it gives you to perform. Or the more time you spend performing the more comfortable you feel talking to large groups of people."
What advice would you give someone just starting out?
"Well for someone who's literally starting out I think it's just the same for everyone. But say you started writing songs, or wanted to gig, I think the faster you can make the transition from enthusiast to professional in the way you perceive yourself the better."
That's good advice and squarely based on the idea that your self-perception or, put another way, 'self-belief' is fundamental to how far you will go with your dreams and passions. He continues:
"It's a bit of a funny one, I remember feeling a bit embarrassed when I set up a Facebook page for myself. But when you start declaring to the world that you are serious about it people will respond well to you. Showing that you have initiative is important."
This is so true! We all experience a certain level of self-consciousness when we embark on something 'public', but, by and large, most people will be supportive…and let's be honest, those who aren't, well, you know my take on Naysayers!
What plans do you have for the future?
"I have a vague idea of where I'd like my musical career to head. Right now I'm working on pop songs that are influenced by an eclectic mix of genres. I think I'd like to spend more time doing this, but then work on instrumental jazz pieces and composition later on. This has always excited me as it's a completely different kind of musical expression that's not confined to short forms like pop songs."
But Harri's interests don't end there, and he surprises me with…
"Later on in life I'd like to study/work in astronomy or physics research, I have a very strong connection with it and would love to explore more of it. It might sound a bit naive seeing as it takes a lifetime's work – but I would love to give it a go."
The time goes quickly and before I know it, Harri's having to rush away as he's playing that evening! His energy and enthusiasm for his work is palpable and I'm left with a feeling that Harri will achieve not only his musical aspirations but will also break into the world of astronomy and physics when the time is right for him!
Another quick hug and Harri's heading out the door and on to his next gig. I can't wait to see this young man make his mark on the musical world as I have no doubt with his determination and passion that things will be happening very soon!
Thanks Harri, it was such a pleasure to meet you!
You can connect with Harri at the following resources: