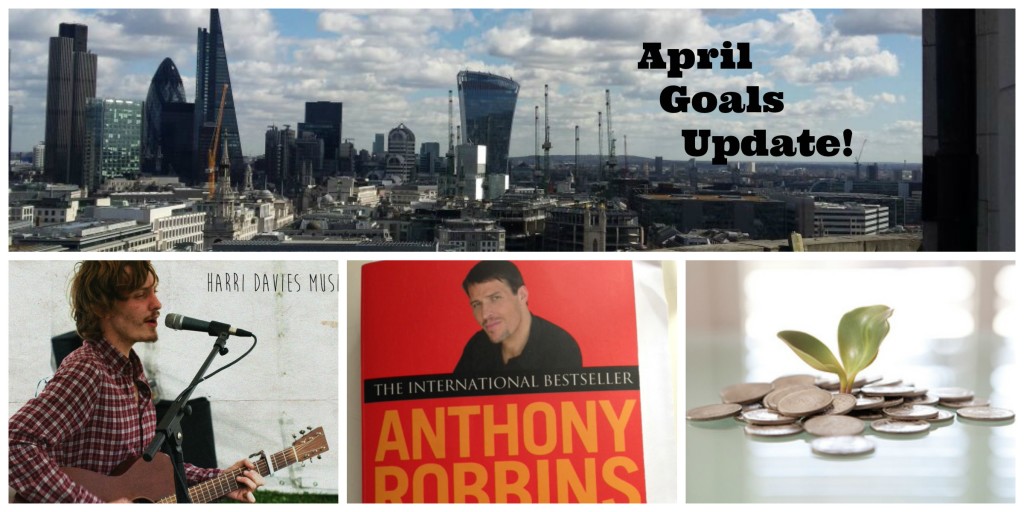 Bye-bye April!  One third of 2015 is now behind us, time flies by so quickly! On balance it's been a good month, some ups and downs, but mostly positive progress on my goals even if not as much as I'd hoped.  Little steps I guess, it's all good!
So here we go…
Personal Growth
Read 18 Good Books (31/12/15)
Progress 0 (Total so far = 2 of 18)

I haven't managed to finish any books this month, although I am about a quarter of the way through Tony Robbins' 'Unleash the Giant Within'.  This book has been languishing on my bookshelf for a few years, an earlier attempt at reading it having failed.  This time however, I'm really enjoying it and am making good progress.
I think books are meant to be read at certain times in our lives, and for me this is definitely the case with Unleash the Giant.  It's been a really useful tool in helping me understand my tendency to procrastinate, and therefore perfect timing!  More about this next month.
Attend a Personal Development Seminar (31/12/15) –

COMPLETE!



A few days ago I returned from an excellent training event having been immersed in two full days of coaching training.  The training itself either confirmed things I already know and am using (great to get confirmation!) or delved into completely new areas.  We covered areas such as The Wheel of Life (I love this coaching tool and learned some extra techniques to make it even better!), limiting beliefs, active listening and we also touched on marketing.  I thoroughly enjoyed it!
Complete my Cognitive Behaviour Therapy (CBT) Course (31/8/15)
Currently on hold.
Finances
Generate an extra £10,000 of income (31/12/15)
April Goal £300, Achieved £54.51 (Totals so far £347.79, Goal £600.00)

Argh!!  Not a good month for extra income!  I think this is a reflection of my changed priorities and keeping the blog postings on track along with time out city hopping and training days!  However, an increase is positive, so I'm happy for this upward movement.  I have been working on some longer term projects, but at this stage they're not generating any income.  More on that in a later post.  For now, here is how the small amount of April income arrived:
Surveys £14.11
Refunds £30.35
Royalties £1.34
Clutter clearing £5.92
Other £2.79
From last month: Here are the personal 'guidelines I'm using for this goal.
For the challenge, my goal is to generate extra income over and above our usual day-to-day salaries and budget. I'm going to be counting income from all sources (you can see a breakdown below), including 'in-kind' income like vouchers. Where I have used a voucher, an equivalent amount of cash will be drawn from my budget and transferred to my Goal Savings Fund. This is important because it ensures that any extra money doesn't just inflate our day-to-day income.
My goal for May will be to generate £300 – keeping this constant for the time being.

Increase our net worth by 15% (31/12/15)
April has seen an increase in our net worth of just under half a percent, making our cumulative increase just shy of 3%.  This means that we're not as far ahead as we need to be at this time to hit our target of 15%.  I think it's time to knuckle down and really get to work on this!  Hmmm, I need some ideas…!
Health Fitness & Wellbeing
Bring my weight to within 9 stone 2 pounds/4 pounds (128-130lbs) (31/3/15)
At start: 10st 7lbs (147lbs), Now 9st 7lbs (133lbs)
My overall weight loss for April was 1.5 lbs down, so I've now lost one whole stone 🙂
Clearly I've yet to meet my target (and have missed my deadline!) but the journey continues.  I'm happy with this loss for April and with just 3 lbs to go, I'm super close to target!
Maintain my weight within this band (R & O)
N/A at present.
Participate in a fitness-related charity event (30/9/15)
No progress yet.
Practice my morning routine (meditation, affirmations, reading) 6 days/week (R & O)

Once again I'm pleased with my 'stickability' with this goal.  I haven't kept a strict record, but apart from the few days I was away at the training course mentioned above and the odd morning when things just didn't go to plan, I have practiced my morning routine consistently.
Business
Grow my website subscriber list to at least 1,000 subscribers (31/12/15)
No change to report this month.
Set up and launch an AYBL Youtube channel (31/12/15)
No progress yet.
Write and launch my second eBook (31/12/15)
No progress yet.
Post relevant and appealing content to my website at least twice/week (R & O)
Possible 9, Actual 7

April has been a much better month for blog writing and I'm pleased with the results overall.  There's been lots going on and plenty of things to write about which has been invigorating!  The highlight of the month was my interview with Harri Davies which has proved to be very popular!  I think I'd like to do a few more interview-type blogs, so a bit of research on my part will be needed to find some candidates who'd like to be featured.
Fun, Adventure & Relaxation
Continue and complete our 12 UK Cities in 12 Months Bucket List Challenge (31/10/15)
In April we took an extended break (three days) to visit London and Canterbury, adding two more visits to our Bucket List Challenge.  This brings our total city visits up to 5 of 12.  We had a good time and managed to visit two cathedrals, a castle, take a river cruise, a couple of train jouneys and eat out lots, so please check out the blog posts for a full update and pictures!
Review my Bucket List regularly for opportunities to take action (R & O)
No change from last month.
Take a 2-week summer holiday (location TBD, but somewhere hot!) (30/9/15)
No progress yet.
Relationships
Take a trip to New York to celebrate our 27th Wedding Anniversary/significant '0' birthdays! (31/10/15)
No change, here's what I reported last month:
There's a very loose plan beginning to emerge for this goal! We've been looking into timing (probably October), hotels and flights. Watch this space!
Maintain and improve regular contact with family and friends (R & O)
There were 6 family/friend birthdays I wanted to remember and mark this month – I managed to cover off 5 of those on time, but one birthday card and gift is still undelivered, so one will be late 🙁 .
In addition I've caught up with a couple of friends and enjoyed a few lunch dates 🙂
Contribution
Volunteer to help in whatever way needed at at least one charity event (31/12/15)
No progress yet.
Contribute to local causes by sponsoring local activities and events (31/12/15)
I've made a small donation this month in support of an event a friend will be doing to assist the Alzheimers society, a very worthy cause and something of which I'm very supportive.
Overall I feel that April has been a good month of progress, it's been busy particularly with the double city visit and the training course, as well as consistent with the weight loss and blogging.  There have been a few areas which could have moved along a bit neater, but on balance April feels like a successful month for me 🙂
As always, I love to hear your thoughts and look forward to reading any comments you'd like to leave. Thanks!

Photos: Frank Hebbert