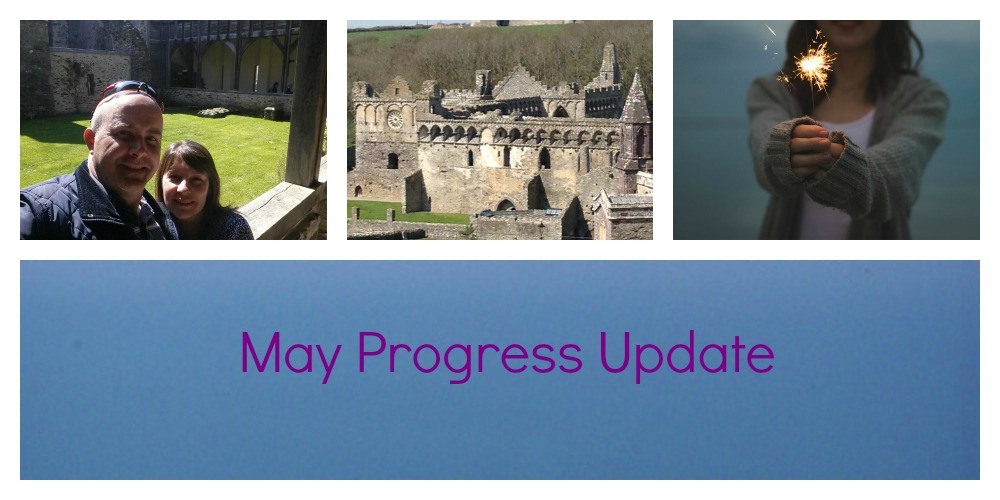 Well, another month is now behind us and it's time for my monthly review.
Here we go…
Personal Growth
Read 18 Good Books (31/12/15)
Progress 0 (Total so far = 2 of 18)

I'm still working my way through Tony Robbins' 'Unleash the Giant Within' which I've now been reading for over a month. I think I've lost a little bit of momentum on this book, so the amount of time spent reading has decreased.  I think I might have mentioned in an earlier blog post that this book is over 400 pages, so I guess it's going to take a bit of time (amongst everything else) to complete.
Attend a Personal Development Seminar (31/12/15) –

COMPLETE!



I completed this goal in April, where you can find the update 🙂
Complete my Cognitive Behaviour Therapy (CBT) Course (31/8/15)
Currently on hold.
Finances
Generate an extra £10,000 of income (31/12/15)
April Goal £300, Achieved £57.77 (Totals so far £405.56, Goal £900.00)

Another slow month on the money-making front, but there was a marginal increase over last month (£3.26!) Again, I'm happy for the upward movement in this goal, even if it's now well-off target.  Here is how the May income breaks down:
Surveys £11.03
Vouchers £14.00
Tax Adjustment £27.00
Wins £3.00
Other £2.74
From last month: Here are the personal 'guidelines I'm using for this goal.
For the challenge, my goal is to generate extra income over and above our usual day-to-day salaries and budget. I'm going to be counting income from all sources (you can see a breakdown below), including 'in-kind' income like vouchers. Where I have used a voucher, an equivalent amount of cash will be drawn from my budget and transferred to my Goal Savings Fund. This is important because it ensures that any extra money doesn't just inflate our day-to-day income.
My goal for June will be to generate £300 – once again keeping this constant for the time being.

Increase our net worth by 15% (31/12/15)
To follow, I haven't quite finished the math on this – will be updated soon.
Health Fitness & Wellbeing
Bring my weight to within 9 stone 2 pounds/4 pounds (128-130lbs) (31/3/15)
At start: 10st 7lbs (147lbs), Now 9st 7lbs (133lbs)
I have no change to report for May and remain at 9 and a half stone (133lbs).
May was mostly an ok month for weight loss, but the final week of the month I had an accident which kind of knocked me of course, so any losses were re-gained.  I've decided to put this down to 'experience', pick myself up (literally…I fell over and ended up with a mild concussion!) and keep going.
I'm now back on course and pushing on 🙂
Maintain my weight within this band (R & O)
N/A at present.
Participate in a fitness-related charity event (30/9/15)
No progress yet.
Practice my morning routine (meditation, affirmations, reading) 6 days/week (R & O)

This goal has been about 75% successful this month and was another goal that was affected by my accident towards the end of the month.  So that's about 3 weeks out of 4 when I kept with the plan, which, in the circumstances was probably about the best I could've hoped for.  Again, I'm now back to routine and looking forward to better results in June.
Business
Grow my website subscriber list to at least 1,000 subscribers (31/12/15)
No change to report this month, but plenty of background work going on!
Set up and launch an AYBL Youtube channel (31/12/15)
Yes! the AYBL Youtube channel has hit the airwaves!  My first (test) video was published on the 29th May as part of my St Davids blog post.  We called at Newgale Beach on the way to St Davids and captured a beautiful seascape in glorious sunshine (you can also hear the biting wind in the background, it was very cold!).
This was purely a fun first attempt and I have plans to post regular videos in the future.
Write and launch my second eBook (31/12/15)
No progress yet.
Post relevant and appealing content to my website at least twice/week (R & O)
Possible 9, Actual 8

After a bit of a slow start in May, I'm happy with the overall result of 8 blogs posted out of a possible 9 plus, this has been my best result so far this year, with the number of posts increasing each month.
The most popular post of the month was our 6th 12 Cities Challenge: St Davids in terms of Facebook and Twitter shares (10) as I write this (yes, I'm happy for you to Like or Share my blog posts if you enjoy them).
My favourite post of the month was Always Be Bothered because it allowed me an outlet to rationalise a difficult situation I was dealing with at the time.  This was my cathartic outlet which helped me in the process of moving forward. It also allowed me to use this fantastic quote!
Looking back, my life seems like one long obstacle race, with me as the chief obstacle.
Do you have a hobby or similar outlet that can support you during times of stress?
Fun, Adventure & Relaxation
Continue and complete our 12 UK Cities in 12 Months Bucket List Challenge (31/10/15)
In early May we continued our  Bucket List Challenge with a trip to St Davids in West Wales.  This brought our total city visits up to 6 of 12. I loved the little city of St Davids, a tiny (less than 2,000 inhabitants), peaceful city with a country feel.  After all our previous busy and noisy city visits, this one was relaxing!
As I write this post, our total city visits has now climbed to 9, so further updates will be posted soon!
Review my Bucket List regularly for opportunities to take action (R & O)
No change from last month.
Take a 2-week summer holiday (location TBD, but somewhere hot!) (30/9/15)
No progress yet.
Relationships
Take a trip to New York to celebrate our 27th Wedding Anniversary/significant '0' birthdays! (31/10/15)
No further unpdate at present.
Maintain and improve regular contact with family and friends (R & O)
There were 4 family/friend birthdays I wanted to remember and mark this month – I managed to cover off only 2 of those on time, which is a bit disappointing.  My only defence was that I had my online diary set to 'work week to view' instead of 'week to view' and the two birthdays I missed fell on the weekend.  A stupid mistake and one I've immediately learned from and adjusted.
It has been a good month for catch-ups with friends though 🙂 .
Contribution
Volunteer to help in whatever way needed at at least one charity event (31/12/15)
No progress yet.
Contribute to local causes by sponsoring local activities and events (31/12/15)
There's nothing specific to report this month, just a few ad hoc donations via doorway collections etc.  However, I guess we're about to enter the charity event season as the weather improves and lots of challenges get under way.
Progress in May has been fairly consistent, particularly with blog posts and city visits.  I am also very pleased to have got my Youtube channel up and running.  I think I was thrown off course a little at the end of the month and struggled to maintain daily progress on any of my goals while I recovered from the accident.
On balance though, an ok month overall.  Next month will see us reach the half-way point of the year, so an exciting time to fully re-assess progress and the validity of my goals at this point.  Will I drop, change or introduce goals?  Find out next month with my June update!
As always, I love to hear your thoughts and look forward to reading any comments you'd like to leave. Thanks!