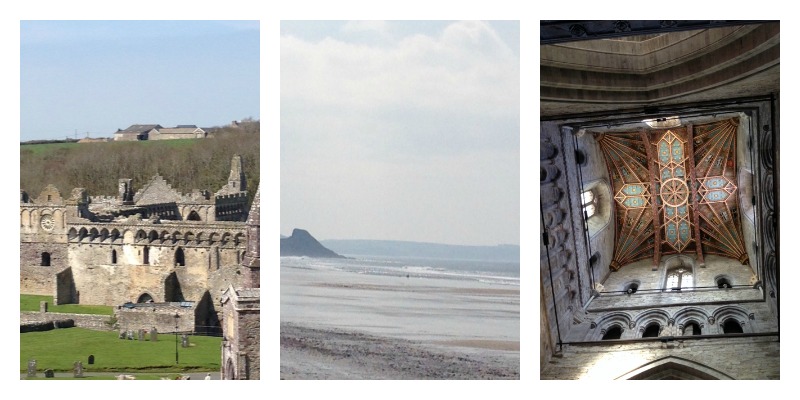 Our Bucket List Challenge to visit 12 UK cities in 12 months is moving on a-pace with our latest visit to the historical and tiny city of St Davids in West Wales. This is city number 6, so we're half way through our challenge!
It was a bright, cold and breezy Sunday morning when we decided to make the trek to St Davids. This really is one of those oddities where we tend to visit lots of faraway places whilst ignoring those places of interest and beauty which are on our doorstep, and whilst St Davids is roughly a 1 ½ hour drive from home, it's a scenic and pleasant drive and of course it's situated in my home country of Wales!
The city of St Davids is unique in the UK as being the smallest both in terms of physical size and population (less than 2,000 inhabitants) and has the feel of a small country town but with the addition of a sizeable and impressive cathedral. The Cathedral of course is the reason for its status as a City, which was granted in the 16th century, but then lost in 1881. In 1994 however, its city status was restored at the request of the Queen.
We set out on our journey with the intention of stopping off for a picnic lunch at one of the many excellent beaches which lace the coastline. We were soon off the major roads and meandering through country lanes lined with hedges laced with elder flower and daffodils. In the distance the coastline bobbed in and out of our view with the sea a gorgeous aqua blue.
Right on cue, as we rounded a bend a stunning view of Newgale Beach opened up before us. We began to descend the hill and since it was so close to lunchtime decided to make a stop for our picnic lunch and to stretch our legs.
Newgale Beach is popular with surfers, although on this particular day, there were very few people around. Despite the sunshine, the wind was cold, so we ate our food sitting in the car and then took a quick walk along the beach.
My first attempt at posting a video!
From Newgale we climbed the other side of the hill and continued our way on to St Davids, which was just another 10 minutes or so.
Arriving in St Davids was like arriving in a sleepy town. There was some traffic around and people milling around the main street, but nothing to indicate that this was in fact a city! I was also struggling to see where the Cathedral was situated because for most of the previous cities we've visited, the Cathedral is immediately visible against the skyline.
As it turns out, St Davids Cathedral is unusual in this respect in that it is set in a valley and, in fact, it has been built on an ancient river bed. This location though made the Cathedral a uniquely easy place to photograph as it was almost like taking an aerial photograph!
As has become our custom on these visits, we explored the areas outside the Cathedral before entering and consequently we often enter via rear doors rather than the main door which would take you to the Nave.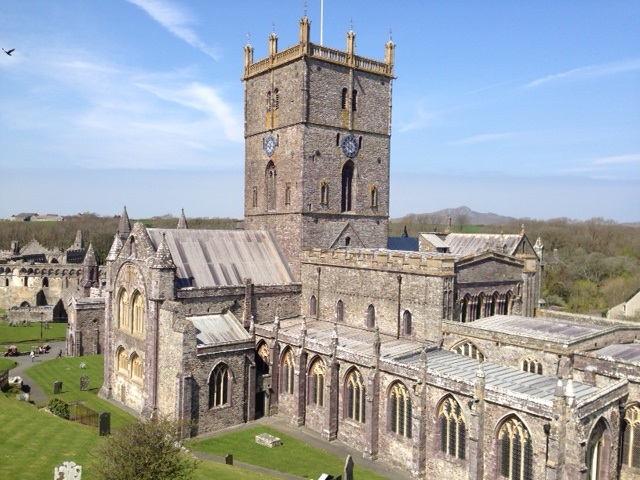 A church has stood on this site since the 6th century, when David, a royal son of Non who was the daughter of a Chieftain of Menevia (now the City of St Davids) and Sandde, Prince of Powys, establish a monastery. David was also responsible for founding 11 other monasteries. The monastery at St Davids became his Bishops Seat after being made Archbishop of Wales in 550.
The Bishops Palace at St Davids which stands alongside the Cathedral is now a ruin, but despite this it is still very impressive in scale and remaining structure.
St David died in 589, and legend has it that he was 100 years old and that angels sang in the grounds of the Cathedral at his burial. Many years later in 1120, David was recognised for his influence and he was canonised by Pope Calixtus II. He was later declared as the Patron Saint of Wales (celebrated on 1st March each year).
Despite the long history of the impact of St Davids work, it was not until 1181 that work began on constructing the Cathedral we see today, although earlier versions have been in existence since around 1115. St Davids soon became important as a place of pilgrimage and indeed Pope Calixtus II decreed that two pilgrimages to St Davids was the equivalent of one pilgrimage to Rome.
Modifications to the Cathedral were required in the 13th century after an earthquake caused damage to the supporting walls. Today we see that the Cathedral unusually has a wooden ceiling which helps to absorb movement within the structure. As you can see from the pictures, even though the ceiling is wooden, it still displays the arch-type structure which is typical of cathedrals of this age.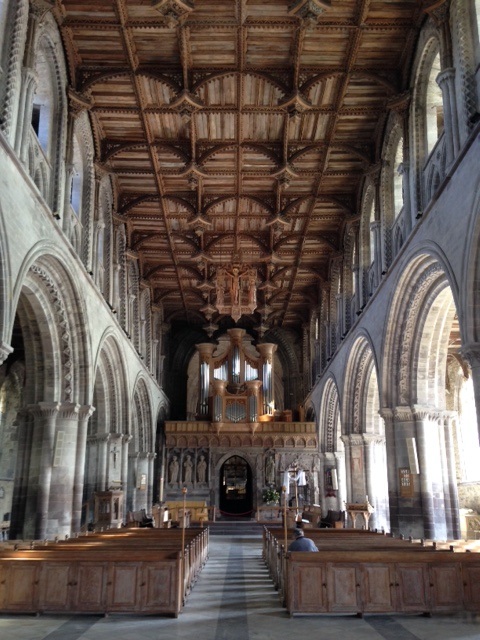 Another notable feature of the Cathedral is that once you are inside the Nave, the floor seems to slop upwards (as you face the altar)! This was quite pronounced and slightly disorientating. This may be because the Cathedral has been built on an ancient river bed or due to the 13th century earthquake (I wasn't able to find a definitive answer). In any event, it makes for a strange sensation as you explore.
As well as the many effigies, statues and memorials which are dotted around the Cathedral, it also houses its treasures in a modernised room.  I enjoyed looking around the display which included a timeline history.  Reading through this, I was able to link up the history of other cities that we have visited on our challenge.
The treasury also contained relics such as gold rings, chalices and copper croziers (the staff of office carried by the bishop) from over 800 years ago.
After taking in the history of the Cathedral we dropped into the Refectory for a well-earned coffee and a welsh cake.  As well as serving a good selection of hot and cold food, the Refectory also housed a display of arts and crafts.
After coffee, we left the Cathedral through the rear door and the Cloisters.  This area is really beautiful.  It was sunny and warm as it was sheltered from the wind and we took a few moments just to enjoy the spring sunshine and take a few selfies!
I thoroughly enjoyed my visit to St Davids, I think because the day had a different pace.  We visited a city, but it was peaceful in its countryside setting which allowed for a more leisurely visit.  I will definitely visit again in the future!
Oh, and here's the selfie (if you haven't already seen it on Facebook)!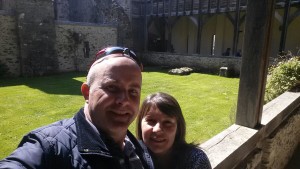 I hope you've enjoyed reading about our latest city adventure.  You can check out our previous city visits here:
Bristol
Gloucester
Salisbury
Canterbury
London