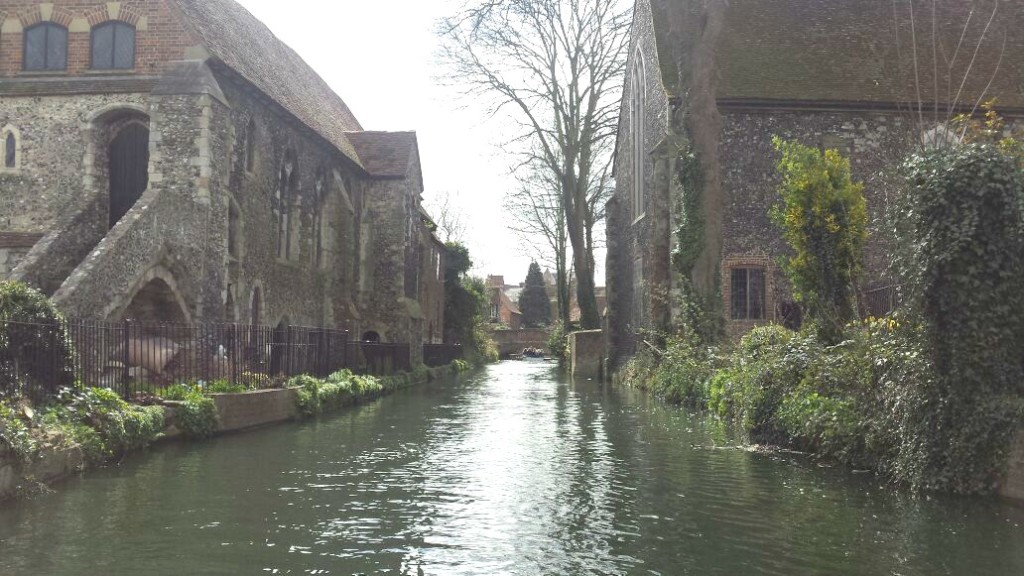 Bucket List Challenge: 12 UK Cities in 12 Months
London and Canterbury – Part 1
Our 12 UK Cities in 12 Months Bucket List challenge stepped up a notch in March when we took a 3-day break and visited two cities in one go. Doing it this way enabled us to combine the travel and time costs to cover two cities which are over 200 miles away. It was also very hectic and we were worn-out when we got back home, but it was definitely worth it!
Our visits took us to London and Canterbury and today in Part 1 I'm going to cover our visit to Canterbury, a city which is situated on the south-eastern side of the UK and close to the English Channel and France.
Canterbury is easily described as an 'olde-worlde' city, with cobbled streets and dark beamed buildings and the hotel we stayed in dated from the 17th century and boasted narrow corridors, oak beams and leaded windows. The floors were also squeaky and the doorways quite low in places leading to the odd bump to the head!
Being so close to France, there was a strong contingent of French students on (I imagine) school trips visiting the city, so there was lots of hustle and bustle and a lively atmosphere.
As has become customary on our City trips, we had earmarked a visit to the Cathedral, but other than that, our itinerary was fluid. The weather was bright and sunny, but a little on the cold side, so a good day to wrap up warm and see the sights.
Canterbury Cathedral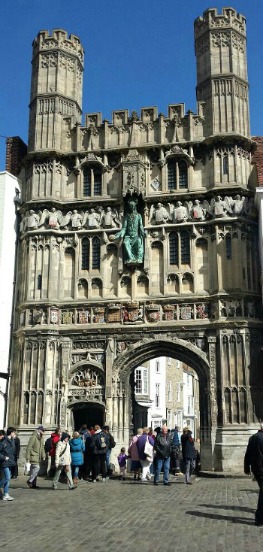 Canterbury Cathedral was first established in 597AD by St Augustine. As with each of our city and cathedral visits, the cathedral is hugely impressive. Approached via a lane from the main shopping street, the entry is enclosed with an ornate stonework archway. Once through the (paying) archway, the space opened up to a park surrounded by old houses, making the whole area feel very quiet and contained.
Canterbury Cathedral is famous as being the place that Archbishop Thomas Becket was murdered in 1170. His martyrdom established him as a Saint and the cathedral as a place of pilgrimage as depicted in Geoffrey Chaucer's famous Canterbury Tales.
It's held that the murder was perpetrated by Becket's former friend King Henry II after he flew into a rage about Becket's continued opposition to changes in the law. Four of the King's knights immediately set off to find Becket which would culminate in his gruesome murder on the steps of the altar where he suffered, after a number of sword strikes, the horrific severing of his crown.
The place of his murder quickly became a shrine and remained so until 1538, when, with the suppression of the monasteries King Henry VIII had it destroyed. It took 21 carts to take away all the valuables which adorned the shrine by that time.
Nowadays a single candle burns in place of his shrine.
Close to St Thomas' shrine is the tomb of Edward, The Black Prince, who was buried with great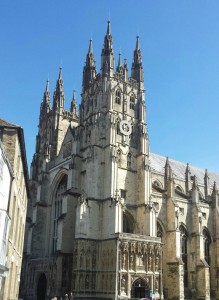 ceremony at Canterbury Cathedral in 1376. The son of Edward III, he never became king as he died before his father. Edward was renowned for his military prowess and led many successful battles. It is likely he died from a disease contracted while abroad. His gilded effigy is shown in full armour along with his dog and, for the first time the 'three ostrich feathers of peace' which to this day are known as the 'Prince of Wales feathers'. His son, Richard, later succeeded his father to the throne.
Taking A River Tour
When we take our city trips, we make a point of avoiding the shops and shopping, since this is something that we can do at any time. So our next port of call was to take a river tour. Although short (in terms of distance), this turned out to be an excellent decision as our tour guide, Vincent from Canterbury River Tours was extremely knowledgeable and we learned loads about the length of river we toured.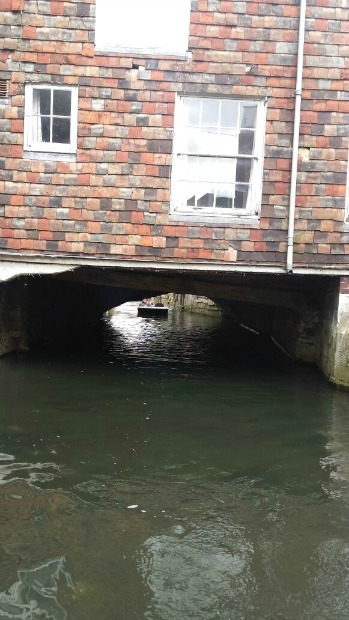 The river runs through the city and is criss-crossed by a number of bridges. We were to be rowed beneath a few of these bridges which were precariously low. In fact we had to duck very low as we passed beneath. Vincent told us that the river bed had once been a lot lower, but due to the amount of rubbish and rubble that had been thrown into the river over the years, it had risen so that it was now necessary to duck in order to pass under the bridges safely.
Along the river bank there is an entrance to the Franciscan monastery. There has been a site of this denomination in Canterbury since 1224 and some of the original buildings, whilst restored, remain. The Franciscan monks, known as White Friars take a vow of poverty. At the other end of the scale, Canterbury is also known for its Black Friars, who were both wealthy and powerful.
The riverside also boasts a replica ducking chair. A chair which was used in medieval times to duck people beneath the waters of the river and hold them there for anything up to a minute at a time. Vincent explained the following situations to us:
Husbands would take their nagging wife to the ducking chair and while under water, she would need to keep her mouth shut (stop nagging!) in order to avoid imbibing the stinking waters of the river. In those days, all manner of things were thrown into the river, including sewage!
Business men who were deemed to be unscrupulous were publicly shamed in the ducking chair and by and large would lose their business and their customers would shun them. From this practice the familiar phrase of a business 'going under' has arisen, which is still in use today, although thankfully (perhaps?!) not the ducking chair.
The third use of the ducking chair is probably more familiar – to identify and punish suspected witches. In medieval days practicing the 'dark arts' was a sin and the ducking chair was used to determine whether a woman was indeed a witch. If a woman survived the ducking chair, then she was 'proven' to be a witch and would then be publicly burned at the stake. If however she died, this proved that she was not a witch and she and her family would receive a letter of apology from the Church and her family would be absolved from being involved in witchcraft!
There was clearly no happy outcome from this particular situation and indeed the better option appears to have been to die in the ducking chair.
These were just a few of the historical and cultural stories we were told as we were rowed along the river. It was well worth the visit 🙂 .
After leaving the river tour, we had a wander around the cobbled streets of the city centre, which feels more like a country town centre than a city centre due to its size, lack of traffic and general ambience, before picking up some goodies for the journey home and heading back to the car.
I hope you've enjoyed hearing about our trip to Canterbury and I'll follow up with part 2 of our Canterbury-London trip in the next few weeks.  We've now visited 5 cities since committing to the challenge and are already planning our next trip out!  So far, this challenge has been fun, enlightening and an opportunity for us to share something a little different.  If you need to catch up, you can check out our previous city visits below:
Stats and Useful Links
Mileage

– about 580 miles (round trip)
Fuel, Parking & Bridge Toll = £80.00
Entry to Canterbury Cathedral x 2 = £21.00
River Tour = £17.00
Hotel, Food & Drinks (approx.) = £230.00