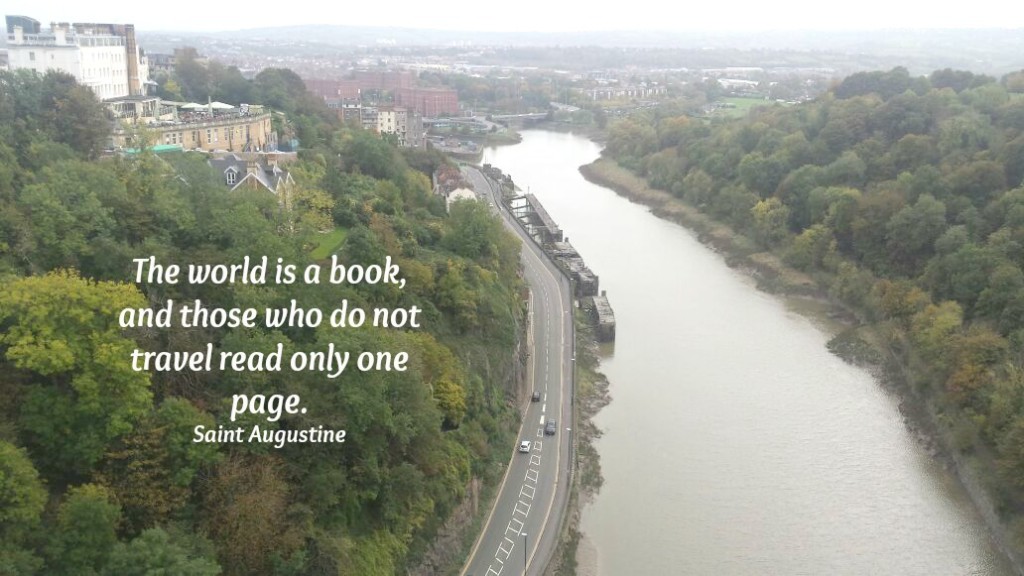 You might have heard me mention in an earlier post that I've recently put a Bucket List together? I was inspired by other Bucket Lists I'd read and suddenly it had dawned on me that I needed more adventure in my life. My Bucket List grew out of this idea and now runs to a list of about 40 things I want to experience, have and do! I guess I'll need to post my full list up at some point, but for today, I'm going to write about my first Bucket List Inspired Adventure!
One of the most tragic things I know about human nature is that all of us tend to put off living.

Dale Carnegie
It started with the happy coincidence of the arrival of my birthday and the inevitable question of 'what do you want for your birthday?'. It's not often I yearn for a 'thing' for my birthday, if I need anything, like a lot of people I go out and buy it. Instead it's more likely that I will want to do something and that usually means going out for a nice meal. But instead, this time I already had the beginnings of my Bucket List! I had an incomplete entry for 'Visit xxx city' that, with a little more thought had morphed into 'visit 12 UK cities in 12 months'.
Wikipedia gave me lots of ideas for places to visit, in fact, far more than I expected as my ill-informed understanding had assumed that in order to be called a City, said city must have a cathedral. I now know that this condition relates only to cities recognised before 1888. However, I have since decided that the 12 cities I choose to visit must meet this condition.
So, with a little bit of research, a check on the budget and the amount of time we could be away the decision was made for my husband and I to spend two days in Bristol.
In terms of distance, Bristol is quite close to me at about 55 miles and although I've been to the city before, I've never taken in the sights. This visit was going to rectify that. So, using an online guide, I picked out a few places I wanted to visit or do. Here they are:
Visit the SS Great Britain
Visit the 'M Shed' museum
Visit Bristol Cathedral
Ride on the tourist open top bus
Visit the Clifton Suspension Bridge …and walk over it
There were other attractions that we had to rule out due to time, but we felt that these five things would give us good feel for the city.
We kept an eye on the weather forecast all week and were a little concerned that we might be hit with the remains of Hurricane Gonzalo which was due to whip through the area that same weekend, but as it turned out, Friday morning dawned bright and sunny. Things were looking good!
On arriving in the city, we deposited our belongings at our hotel and immediately set out for the harbour area. Lunch was our first priority! We found loads of great places to eat and settled for an easy hotdog and fries, sitting outside and watching the world go by. Once we were re-fuelled, we set off in search of our first attraction…
The SS Great Britain
Designed by Isambard Kingdom Brunel, the SS Great Britain was launched in 1843. She was the most advanced passenger steam ship of her time and in her heyday sailed with 350 passengers and 150 crew.
Having now visited the ship, those passenger and crew stats are incredulous compared to today's great cruising ships.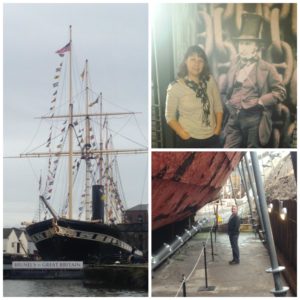 The ship now sits in dry dock and we started our tour by taking a walk beneath the enormous iron hull. From the replica propeller at the stern to the bow the ship is 325 foot long, not much less than the length of a football pitch!
The restored interior boasts a beautiful ballroom and adequate (by our standards) sleeping quarters for the wealthy passengers and unbelievably small, hot and noisy sleeping quarters in steerage. The engines pumped up and down and we wondered how many people met their deaths falling into the massive jaws of the gearwheel.
The M Shed
Based along the harbour side, the M Shed is a converted harbour building which now houses Bristol's 'social' museum. We had been drawn to the Museum as it was holding a WWI exhibition, although in the end we didn't make it as far as the actual exhibition.
Instead we spent our time wandering around the history of what makes Bristol, Bristol! There were fascinating exhibits relating to the locality from an unearthed prehistoric dinosaur to more recent exhibits about the social development of the area.
I was intrigued and surprised by the history of the slave trade in the area and how it had made many people wealthy and how its legacy has helped shape the city. We were also interested in an exhibit of an open-top horse-drawn carriage. A quote from the period told the story of a young lady who was 'taken out for an airing on the Downs' but unfortunately the horse bolted and the young lady was thrown from the carriage and found to be 'quite dead'. A sad tale indeed, but the wording speaks volumes about the attitudes of the time.
Bristol Cathedral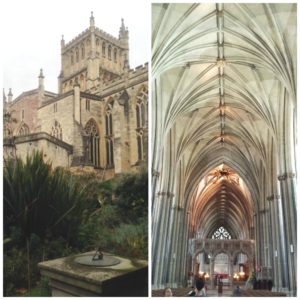 I'm always blown away by the splendour of old buildings and Bristol Cathedral did not disappoint. There has been a religious building on the site for around a thousand years when the area housed a monastery. Nowadays it's a huge, sprawling building the colour of sandstone which stood out against the dull overcast skies that Saturday afternoon. The bells were peeling as we made our way to the imposing entrance.
The interior was breath taking and, if I'm honest, made me a little emotional. We wandered around from the magnificent Nave into side rooms and small chapels, listening in on guided tours where we heard a little of the history, but remained free to follow our own path. Memorials and statues greeted us at every turn, some worn down by time, others ornate and gilded in golden finery.
Beautiful gardens tucked away behind the Cathedral gave way to a little coffee shop where we enjoyed a latte and a chocolate and raspberry brownie to finish off our tour.
The Tourist Bus
We hopped onto the ubiquitous Tourist Bus after leaving the Cathedral. As luck would have it, the sun was shining so we had every intention of taking in the sights from the open top. We were thwarted in our plans however when a large group of Scouts arrived at the bus stop and immediately headed to the upper floor!
Not dismayed however, we took our seats downstairs and listened in on the tour guide commentary as we passed various noteworthy sights such as the Aardmann Studios, makers of Wallace & Gromit. We also heard of the location of the famous scene from Only Fools and Horses when Delboy falls through the bar (check it out here on Youtube if you fancy a laugh!). Many more sights passed us by until we reached our intended destination:
The Clifton Suspension Bridge
This beautiful bridge, another of Brunel's remarkable achievements, spans the River Avon and the Avon Gorge. Opened in 1864 it is 1,352 feet (412m) long and a long way from the ground!
Many of my readers will already know that I am afraid of heights, so walking across the bridge was going to be a challenge. But, as my husband reminded me… 'well you're here now, so you may as well do it!'.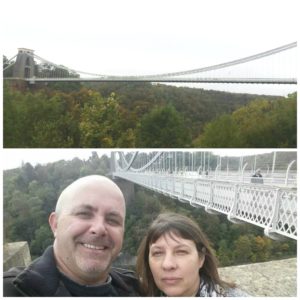 There are high railings on both sides of the bridge but despite this, there have been many who have seen the jump as a chance to depart this life. In fact, when we arrived at the bridge we were greeted by a sign from the Samaritans offering their services to anyone contemplating suicide.
My pulse was racing as I stepped out onto the bridge and started walking. At best, you can walk two abreast, one near the edge, the other near the road. I chose the latter, but of course, there was no option other than to walk on the outer edge to allow people coming from the opposite direction space to pass.
The views of the Gorge are spectacular, but I just felt physically sick and couldn't wait to get to the other side! And then, making the walk back felt even worse! But, I did it despite my fear! That's one over on the phobia!
Takeaways & Lessons from our Trip
Don't ever live vicariously. This is your life. Live.
Lavinia Spalding
Wear comfortable shoes!
As far as possible, plan where to eat rather than wandering around trying to find somewhere suitable on a Friday night!
If there's a river or canal, always opt for a cruise trip, it gives an extra dimension to the place you're visiting.
If you're out and about, expect a bad hair day!
We had a wonderful time, enjoyed the sights and the weather held for us. It's now inspired us to start thinking about where our next trip will be. Cities such as London (two cities in one!), Salisbury (Stonehenge and the Magna Carta), Edinburgh and/or Glasgow…there are so many to choose from! Do you have any suggestions for us?! Let me know in the comments 🙂