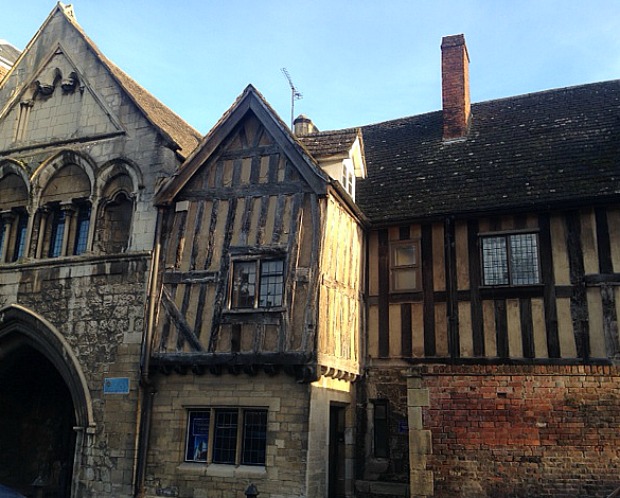 After a little research, Gloucester has been selected as the second of our Bucket List: Visit 12 UK Cities in 12 Months Challenge. Last month we spent a couple of days in Bristol as we are currently facing the challenge of shorter days and cold weather.  The cities we're choosing are therefore closer to home than those we will visit during the Spring and Summer months.
Gloucester is a city of approximately 122,000 inhabitants, originally founded by the Romans. Its main attraction is the Cathedral which is a beautiful, grand building dating from 681. Gloucester also has an inland dock and numerous historical landmarks.
This trip was a 'one-dayer', and so we picked out a few things to do and see to get a feel for the city. We also wanted to build in a little fun. Here's our itinerary for the day:
Leave at around 8am
Taster skiing lesson
Into Gloucester for lunch
A wander around the Docks
Visit to Gloucester Cathedral
A cold but sunny Saturday morning was a great start to our trip. The journey was clear and easy and we made good time. Once you cross the Severn and head into England, the landscape in the area is fairly flat with the Malvern hills framing the distance. Given the time of year, there were lots of trees with pretty displays of mistletoe, which seems to be quite prevalent in the area.
Gloucester Ski Centre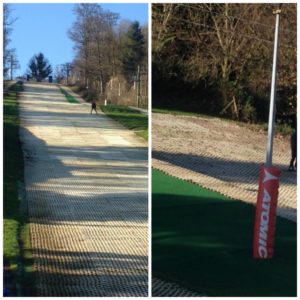 We easily arrived at Gloucester Ski Centre in time for our lesson. As we parked up, we were greeted with the sight of a long, steep slope carpeted in the familiar diamond patterned bristle of dry ski slopes. My heart took a leap and I immediately starting worrying exactly what I'd let myself in for! I've never skied and as many of you will know, heights and I don't really get along. Lloyd, on the other hand was really excited!
Inside the centre we were directed to the equipment hire section and handed our boots and skis. Wow those boots are so difficult to get on! I had to fight to get my foot and ankle in and was seriously worried my ankle would snap, but eventually the boots were on and we waited, with our fellow learners for Nigel, our instructor to arrive.
A few minutes later six of us trundled awkwardly towards the slopes. I was relieved as we walked past the long, steep slope I'd seen on arrival and instead headed for a shorter less demanding incline.
Nigel quickly took us under his wing and before we'd had too much time to think, we were practicing sliding across the bristles at the bottom of the hill. Having never 'worn' skis, it felt very weird. The skis extended my feet to over a metre in length and getting some coordination even to slide was difficult, but moments later Nigel was showing us how to 'climb' the slope by digging the edge of the ski into the slope as we ascended.
About half way up the slope we were encouraged, one-at-a time to slide out towards our instructor, turn until we faced down the hill, bend, put our hands on our knees, and whoosh! off we slid down the hill. It felt great! We all reached the bottom without a fall and were ready to go again.
Using our newly acquired hill climbing skills, we made it back up the hill and next learned how to do a 'plough stop'. What I hadn't noticed initially was that with each climb back up the hill, we were climbing higher and consequently making the ski back down longer.
Inevitably there were some falls, but nobody got hurt, in fact we were all able to laugh at ourselves. With each climb and ski back down, we all learned a bit more and became a little more confident in our abilities, and by the time the lesson finished we were all skiing from the top of the hill.
It was great fun, demanding and definitely pushed me outside my comfort zone, and I would so do it again!
A Leisurely Lunch
After skiing we were ready for lunch and headed into Gloucester itself, where we found a busy little patisserie.
As we sat eating lunch, we chatted about our challenge and where we might go next (we've done this many times, it's fun to discuss and plan!). We've both chatted to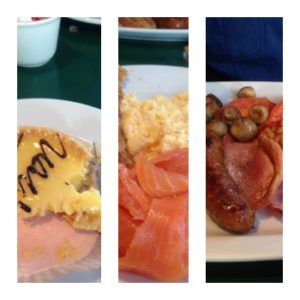 others about it too and have noticed that we've had some mixed reactions. In the main, most people have been intrigued with the idea and have been happy to suggest places that we might be interested in going to, but occasionally someone is quite dismissive and can't see the point of it.
I kind of get this indifference; after all, it might not seem very exciting because it's something that's quite easy to do. It's not as if we're training to climb Mt Everest! But that's the point really. We could just as easily have had a 'normal' Saturday, dealing with the weekly chores catch up, doing our usual, routine stuff and just generally letting the day pass uneventfully. Instead we were having a lovely day out, learning more about the country we live in, expanding our horizons and deepening our shared experiences. In other words, we were living our lives.
The Docks
Gloucester has a vibrant dock area, quite surprising really as the city is inland. In fact, Gloucester has the furthest inland port in the UK. The area was very open and inviting with converted warehouses, museums and an attractive shopping area. We chose to take a wander around the antiques centre. Spread over three floors, the centre is packed with interesting memorabilia from across the centuries. It would be easy to spend a few hours happily exploring the centre, but unfortunately we were limited on time. However, we came away with a souvenir: a wall clock from Old Tupton Ware which we both loved.
Gloucester Cathedral
Heading out of the docks, we made our way into the city centre. The Cathedral can be seen from many parts of the city and is breath taking up close! Established in AD681 when it started its life as a monastery, the Cathedral has grown and is home to a number of historic monuments and relics.
The stained glass windows which abound are hugely impressive and stretch the length and breadth of the building. There are also numerous sculptures and memorials of famous historical figures and notably the Cathedral was the burial place of King Edward II and an impressive tomb stands on site complete with imposing canopy over the ornamental effigy of the King.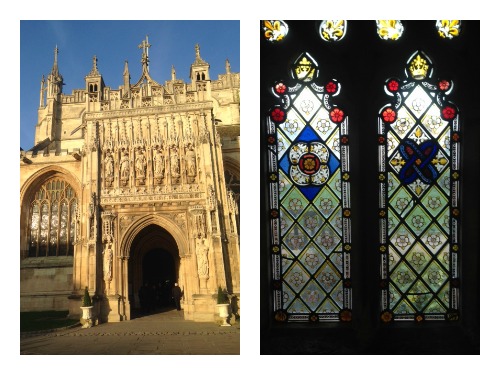 Gloucester Cathedral was also used as backdrop for some of the corridor scenes in the Harry Potter films. Having now visited the Cathedral I can see why! The cloisters are truly impressive, although as we walked along we were discussing whether they were more akin to Harry Potter or whether there was some resemblance to the film set in Alien! In any event, the architecture is really striking.
By the time we left the Cathedral, the sun was beginning to set and it was very cold. At this point, a hot coffee was definitely in order. Just a short walk from the Cathedral we found the Hubble Bubble Coffee Shop and headed inside for a hot drink to revive and warm up.
Shortly afterward we headed back to the car for the journey home, another enjoyable day racked up towards our 12 UK Cities in 12 Months Bucket List Challenge!
Stats and Useful Links
Mileage – about 150 miles (round trip)
o   Fuel, Parking & Bridge Toll = £30.00
o   Ski Lesson (for two) =            £56.00
o   Food & Drinks (approx.) =    £40.00
 I hope you've enjoyed reading about our latest adventure!  If you have any suggestions for the next 10 cities, I'd love to hear about it!