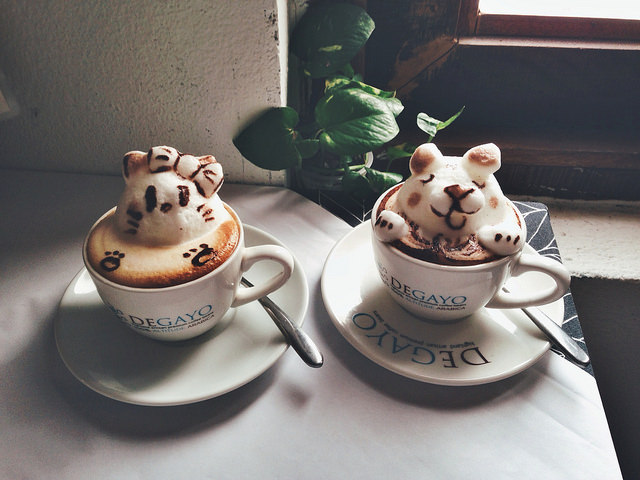 Did you wake up and smell the coffee this morning? It's a great phrase isn't it?  Conjuring a picture of steaming coffee and all the hope that it holds for waking up the sleepy recipient! And if you did get to have the proverbial coffee, did it do its job?
I know that without my morning cuppa I just can't function, so this is a VERY important part of my day! It's also a very enjoyable part of my day, when I can be slow to get going without feeling any guilt whatsoever!
But of course the phrase means more than just that superficial morning cuppa.
To some extent, we're all walking through our lives with the sleepiness that precedes our morning cuppa. Oblivious of the direction our habits are taking us and just mindlessly trusting that we will arrive at our desired outcome with minimal conscious input and action.
You might think that things are going ok and that things will work out over the long term, but this could just be a cover. Sometimes it's just too painful to dig beneath the day-to-day and admit that life isn't quite as happy, fun or successful as you would like it to be.
But, without taking that deep dive into examining our achievements, and by this, I mean those things that make us happy, we just keep ploughing on with our day-to-day habits and thereby continue to achieve the same outcomes.
Of course, part of the issue is that some parts of our lives might be running exactly as we'd like them to right now. The success in one or two areas of our lives can therefore make us selectively blind to the areas that in fact, we need to address.
For anyone who has ever done the Wheel of Life exercise, this selective-blindness can become blatantly obvious. My own WoL exercise earlier this year helped me to ascertain where I needed to place more of my focus in 2016 if I am to achieve a happier and more balanced life.
As with any attempt at making positive change sometimes the findings can be painful or difficult. It's a time when we have to face up to fact that we have created the environment we now find ourselves living in.
For a lot of us, this is very hard to accept, especially if we feel that the things that have happened to us are extreme or that we had no control over them. This may be true, but it's important to accept that we can choose how we respond to any and all circumstances. We can choose to act or we can choose to be consumed.
Spending our time making excuses for the way things have turned out, or justifying and explaining away why we are the way we are stops us from living the life we really want. So we're in an unhappy relationship, change it, so we're unfit and unhealthy, change it, so we're in a job we hate, change it, so our finances are a mess, change it, so our…need I go on?
In the end there is only one person who can change our circumstances and that's ourselves. No one else is responsible, so if something no longer suits the lifestyle you want, change it!
So how long have you been in denial? Does it feel good to be there? Probably not, although if you're still there, then the pain of staying where you are is currently outweighing the perceived pain of doing something about it.
But that perception of change can be seriously skewed. Our minds and bodies much prefer to be in the safe, comfortable zone and so our mind will play up all the bad things about change and play down all the good things. Do you recognise this going on in your mind when you contemplate making a positive change? Even small changes can bring out an allergic reaction! That may sound funny, but sometimes the mind will play with us and will create a physical reaction.
We get a headache, our legs hurt, or we're just so tired!
But look around you and you will find examples of people who have looked their demons in the eye and taken action anyway. They've faced down the obstacles and have grown, they are happier and more vital than they used to be.
Was it easy for them? Probably not. Did they have to overcome obstacles, both physical and psychological? Most likely. But knowing this gave them to courage to go ahead anyway. And this is a skill that you have too. You know that change will be hard, but, you also know that you are bigger than the obstacles that will come your way.
You are prepared for them and will see the warning signs. When things go wrong (which they will), you will stop and work out why your plan isn't working. You'll try something else until you find the things that do work and you'll keep going. You'll do this because that's what successful people do, and not only do you want to be successful, you know, deep inside that you are successful!
So go for it and get comfortable with being uncomfortable. But be ready, because when we feel uncomfortable we often think that things aren't going well. We even sometimes believe that it's a sign that we should stop and slip back into our old, comfortable ways.
But that's not what the 'sign' is telling us.
Instead it's saying 'you're breaking through!', ''change is happening!', 'can you feel it?!'.
These are all good signs. Even if you were to stop at this point and not slip backwards (and I don't recommend it!), you have already shifted your set point, expanded your horizon and stepped outside your old comfort zone! Isn't that great?!
And always, always remember: the pain of change is transitory; it is merely a route we must walk to get the other side.
You should also look forward to these 'growing pains' as a means of feedback. Your feelings are telling you that if it feels too painful then look for ways to alleviate that pain by trying a different method, slow down, speed up or ask for advice. Just keep your awareness high so that the stumbling blocks are less challenging when they arrive.
Remain solutions focused, rather than becoming floored by the problems. As you conquer each problem and obstacle you will become faster and more adept. You will be more at confident at side-stepping, ignoring or solving the issues you face until, before you know it you've either achieved your desired goals or incorporated a completely new healthy habit into your lifestyle!
But to get there, you must get moving!
Sometimes it's that 'just get moving' that is the stumbling block. Sometimes we just think there's no point, because nothing is going to change anyway. But this simply is not true. I can guarantee you that if you get into action, something will change. There's no way it couldn't!
• If you ask support, you may or may not get it, either way you have a new perspective;
• If you put just £1/$1 into a savings account, you've paved the way for more small savings;
• If you offer help or volunteer, your self-esteem will improve (scientific studies have shown this to be true);
• If you book your first driving lesson, you are on your way to further independence;
…and the list is endless, taking that first step, or, put a better way, overcoming the fear of starting, changes you as a person. You are now someone who takes action!
When you forget, can't be bothered, get distracted, have a 'naughty' day, just forget it and move on. This happens to all of us and is part of the journey. Don't try to correct the 'mistake', just pick up again from where you left of and move on.
Just remember, that in facing your particular 'issue' you're already way ahead of the herd. You cannot make things worse by addressing the things that aren't working for you. Whatever you do, gives you the feedback you need to make your next decision and take your next best action.
So are you up for the challenge? The hardest thing will be to admit that things need to change, your job, your finances, your health, your relationships…where do you need to start? Pick one area and be brave. Be prepared to put in the work, to wade through the rough patches, to solve the problems and to act regardless. Be prepared to succeed.
Whatever you decide to change can only develop and enrich your life. It's more than worth the effort, it's life-changing…let's do this thing!
Photos: amelia soo