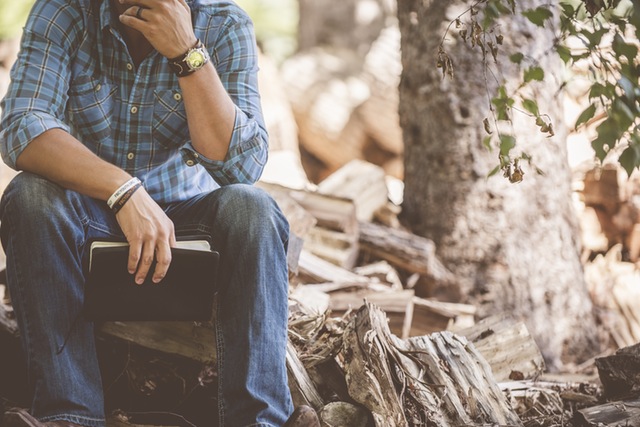 We're all marching towards it, but we're not there yet. As long as you got up this morning and took a breath, you're still with us. But are you making your presence count?
I was struck by a few lines from an article I was reading this morning as it was a particularly good parallel for our lives. It went something like this…
There's a book on a table in an otherwise empty room. As you approach the book, you can see that it has your name on it. You're perturbed and wrestle with whether to open the book or not, but eventually succumb and turn the cover.
The book holds all your unfulfilled dreams along with the excuse for not pursuing them. It's mind blowing and you're reduced to tears as you read…
The excuses for non-achievement are the ones we all use:
'I haven't got enough time'
'I can't afford it'
Could you imagine that? Actually coming face-to-face with a record of all the things you've ever dreamed of doing, having or being, but with stark knowing, having to accept that for the most part, you've probably never even started, let alone achieved your heart's desires?
The article continued on, exploring a different angle, which quickly lost me as I was fixated on the idea of My Book.
I wish I would have pursued my talents and gifts.
I can't begin to imagine how many things have made it in to my book over the years. From the Sindy dolls I was obsessed with as a child (thanks Mam for making them a reality!) to my desires for seeing the world's treasures and my yearning to break away from the 9 – 5 and rush hour traffic.
But there are other things too, which, to some extent I have tried to articulate via my Bucket List…the irony is not lost on me. But the point is, I guess, that the article brought me up short because it's made me think again about how easy it is to be swept along by life and not check in with my desires on a regular basis.
Let's take that Bucket List for a moment (I haven't looked over it in, well, for ages, so this will be interesting). I'm going to do this 'live', so you get the results as they happen! I first added the List to my website on the 5th February 2015, so it's been almost two years! Need I say how quickly time flies?! So I guess this is as good a time as any to take stock of progress and make some plans!
I wish I would have had more confidence and tried more things, instead of being afraid of looking like a fool.
Firstly, how many things can I actually check off as complete?
Well, at the time I posted the list, there were 39 items on it, and there are still 39 items! Of these items I have crossed off precisely 2 items as complete:
#15 – Move house
#16 – Visit 12 UK Cities in 12 months
I can also add that 2 things have progressed:
#22 – Make a beautiful garden (this is because #15, the new house, came with a beautiful garden!)
#28 – Launch my own YouTube channel (it exists, but I wouldn't call it 'Launched' exactly!)
But the main thing that strikes me about these four items, is that they were all achieved during 2015. It's a bit of a sorry accolade for 2016 so far…and with less than two months of the year left.
Looking back to the excuses above of lack of time and money, it would be easy to place the blame squarely with these reasons. But when I think a little deeper, the only real reasons I can find are a lack of prioritising and, truthfully, because I forgot! Yes, that last one really features heavily in my reasons (excuses) for not having at least made progress in a few more areas.
After all, how could I blame a lack of money for not having achieved any of these…?!
#27 Do a 1,000 piece puzzle
#36 Have a 'Pick Your Own (fruit)' day
#37 Raise £500 for a charity of my choice
I already have the puzzle and have been offered many more, we eat fruit regularly, so I already spend money on it and making money for charity wouldn't cost anything! And, let's be honest, I could always find enough time to achieve #27 and #36 in my day-to-day life and adding in (say) a race for charity wouldn't take too much (time) effort to make it doable.
No, I really have no genuine excuses for not having at least made progress on some of the items on my Bucket List during 2016.
With this is mind, I'm going to use the 'Mystery Travels 2017 Jar' I talked about in my Making Planning Fun post and add some of the items on my Bucket List to the jar. At the very least, items from my list will stay in the forefront of my mind instead of drifting off into the ether!
I also think it would be reasonable to set up a personal goal to review my Bucket List at least quarterly, not only to remind myself of the things I want and could be doing, but also to add new items and to update progress. This must be a 'living' list, and not something that sits in a dusty, forgotten corner of my website!
I wish I had the courage to express my feelings, without the fear of being rejected or unpopular.
So what about you? Have you got a Bucket List together yet? I know a number of you were inspired by my original Bucket List, but was it enough to prompt you to devise your own? If so, then that's great…how have you been doing? Better than me, I hope!
But whether you have a Bucket List or not, the time is now.
There's no getting away from the fact that this isn't the death bed regret scenario…yet. But one day it could be. I'm already regretting my lack of action on my List in 2016 and am not going to repeat that mistake in 2017.
So, over to you!  Have you made the most of 2016 and will you get even more out of 2017?  Or do you need to put a little bit of something extra into your planning and maybe create a Bucket List?  Make it fun and then just go for it.  Don't litter Your Book with excuses, but instead, fill it with fun, love and experiences!
All quotes from Shannon L Alder, Goodreads.