This post may contain affiliate links. Please read my disclosure for more info.
Make Extra Cash With Online Survey Sites That Pay
If you're looking to make some extra cash at home, then using free online survey sites that pay could be the answer you're looking for! Today I'm going to share with you four of my favourite online survey sites that pay. These are legitimate paid survey sites that I've successfully used to make extra cash at home, which has given me extra flexibility on my budget! They are quick and easy to use, although like most things in life, you may need to take a little time to get the hang of it!
For each online survey site below, I've shared my experiences so that you can decide for yourself whether this 'make extra cash idea' is something that you'll find useful.
Check out these Four Online Survey Sites That Pay
Prolific Academic
What's It About?
Prolific Academic is by far my favourite online paid survey site. Set up to help the academic community in the main with their research, the surveys are usually interesting, sometimes quirky (I sometimes have no idea what the researchers are really trying to find out!) and mostly easy. The added benefit is compared to other online survey sites that pay, Prolific Academic pay a good rate.
Cashout Threshold and Method of Payment
Prolific Academic cashout minimum is £5 and is via Paypal. Note however that if you choose to cashout at between £5.00 and £19.99 there will be a 2% Paypal feel applied. If you hold on until you reach the £20.00 cashout, there will be no fee.
Payment usually takes between 2 – 5 working days and in my experience is hassle-free and prompt.
Anything else?
Even though Prolific Academic contact you occasionally with new surveys, it's a good idea to login each day as there are often more surveys available, meaning that you'll reach cashout much sooner.
Hint: when you first start a survey, be sure to copy your membership id ready to paste it into the survey (saves going back and risking losing your slot).
Link
You can sign up using my referral link below:
Swagbucks
What's It About?
Swagbucks is an online paid survey site that offers surveys, cashback, advertising plus many other methods of collecting 'swagbucks' (SBs). SBs are points you collect whilst carrying out the various offerings on the site and once you reach a minimum SBs points in your account you can cashout for vouchers or a Paypal payment.
The site can be fun, but bear in mind that there's so much on this online survey site that it might take you a while to get into the swing of it!
But don't let that put you off. Have a good look around, decide on the offerings that appeal to you and go for it!
Cashout Threshold and Method of Payment
Cashout is available when you reach a minimum of 849 SBs points. These points can then be exchanged for vouchers (which are usually the best value for your points) or a Paypal transfer (the minimum for Paypal is higher). Vouchers are available for many retailers, including Amazon.
Payment is hassle-free but can take up to about 2 weeks (it's usually quicker though). Your voucher will be available in your Swagbucks account and you will be notified by email when it's available.
Anything Else?
There's so much available on Swagbucks that it's worth getting into a daily routine so that you methodically increase your points on a daily basis. For example, try the following to get started:
– Do the Daily Poll for 1 easy Sb (left bar)
– Do the Daily Search (search for anything using the Swagbuck search engine and earn 10s of easy SBs)
– Answer a Survey 70+ SBs
– Browse and shop, using Swagbucks links to earn points as you shop
– Play games or watch Swagbucks TV for more SBs
Link
You can sign up using the link below and also get 500 extra SBs just for using my referral link!:

You Can Get Free Gift Cards For Shopping, Searching and Discovering What's Online at Swagbucks.com
Onepoll
What's It About?
Onepoll is a very straight forward free online survey site that pays you for completing relatively short surveys. The surveys are multiple choice with occasional requests for short written answers (there are very few of these). The surveys are easy and quick to complete.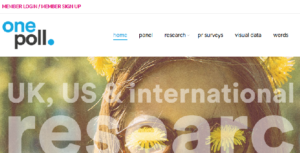 Surveys usually range from £0.10 to £1.00, with most of them being at the lower value. Don't be put off by the low value of these surveys as they are quick and easy.
You'll need to login to your account regularly as you'll rarely be notified of pending surveys and once the company have reached their target number of responses the survey will be taken down. On logging in to your account you will be presented with anything from a few available surveys to a full page of offerings from which to choose.
Cashout Threshhold and Method of Payment
Cashout with Onepoll is high at £40.00 and this is the main deterrent! You'll need to be persistent in your goal to reach payout, however, you never lose any cash you've already accumulated (which is always visible) and can therefore dip in and out as it suits you. I must admit that motivation to reach cashout increases the closer you get to the magic £40!
Payment can be by direct transfer to your bank account or via Paypal. It can take up to a month for the payment to reach your account once you've requested cashout.
Anything Else?
You many occasionally get screened out of a survey after answering a few eligibility questions. Don't fret if this happens, just move on to the next survey.
Link
You can sign up using the direct link below:
Valued Opinions
What's It About?
I have a bit of a love-hate relationship with Valued Opinions, and so this one only makes it to my list because I know from experience that it's a legitimate paid survey site and I have reached cashout!
Surveys on Valued Opinions can be any length and vary from quick and easy to in-depth and long. Consequently, the payments range from £0.50 to over £3.00 each and sometimes more. Because of this you can get to cashout sooner.
You'll need to login to your account regularly to check for available surveys to complete as you will rarely be notified of available surveys.
Cashout Threshold and Method of Payment
The cashout threshold minimum on Valued Opinions is £8.00 and payment is by voucher. There are a choice of vouchers available from many different retailers. Payment is very quick, often the same day and is sent to the email address you signed up with.
Anything Else?
Eligibility for each survey is done via screening at the outset of the survey. This can mean that you'll get screened out more often which can be frustrating.
Link
You can sign up using the direct link below:
So there you have it! These are four tried and tested legitimate free online survey sites that pay. If you're looking to make some extra cash, fast and online, this is an excellent and easy method to get started.
For the sites that offer vouchers rather than cash I tend to opt for the Amazon vouchers as I use Amazon so often that I can easily use the voucher and then save the cash I would have spent. I also know of friends who have used their survey cash and vouchers to save for Christmas or holidays!
I hope you find this information useful and look forward to hearing how you're doing!  If you've used any other sites, why not share your experiences in the comments?