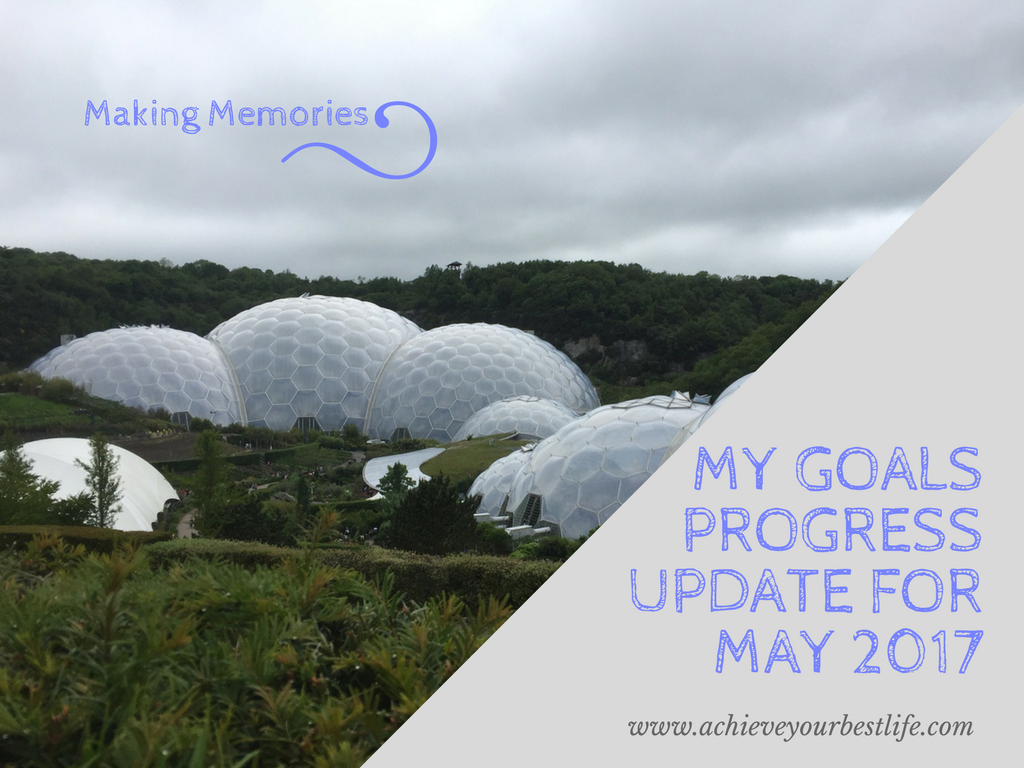 This post may contain affiliate links. Please read my disclosure for more info.
Here's my personal goals progress update for May 2017! You can check out my detailed list of 2017 Goals here. Writing publicly about my progress is one of the most effective methods of accountability I've found. Consequently, I'm aiming to produce a monthly update right through 2017.
Writing up my personal goals progress report is an important part of keeping me on track and accountable. It's also a really useful method to review what is and isn't working. Sometimes that will mean that some goals will change or be removed altogether. But the great thing is that these are my goals, so I can change them as often as I like! If you choose to write up or already have some personal goals then doing a regular review and write up is a great way to stay on track!
So here's my May update… 🙂
Fun and Travel
We chose May to take a trip to Cornwall with the specific plan of visiting The Eden Project.  Our trip was an over-nighter and we included a visit to Lanhydrock House en route to our hotel in St Austell.  Below you can see a few pictures from the trip and a full write up will be posted soon.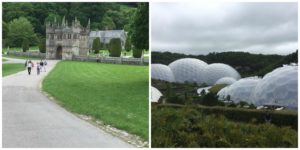 Health
Weight Loss and Fitness
As reported last month, I have managed to get back to running fairly regularly, but I must admit it's still a bit 'hit and miss'.  Some weeks I seem to be able to get out there with ease and enjoy the challenge.  I even managed a full 5k again in May, but I've yet to make running a routine part of my week for one reason or another.
I experienced a small 'injury' with pain in my toe, which again put me out of action for a few days.  It's this stop-start scenario that causes me the most difficulties.
Consequently my weight loss has stalled and I'm having to consider taking the formal dieting route again.
Whilst this whole experience is frustrating and disheartening, it's a clear sign that when something isn't working, you need to find another method.  In other words, change the plan not the goal!
Achieve Your Best Life
Increase # of blogs published to six/month
'Just' four blog posts achieved for May.  Not what I had hoped for, but not to be sniffed at either! Here are the posts:
1 – My Goals Progress Update for April 2017
2 – Make Extra Cash With Online Survey Sites that Pay <——Most popular post of the month!
3 – 3 Great TED Talks on Productivity and Time Management
4 – The Importance of Showing Up
5 – 🙁
6 – 🙁
You can also access the 2017 Archive by month here for posts on motivation, success, wellbeing, finance, progress updates and more:
1 – January 2017 Archive
2 – February 2017 Archive
3 – March 2017 Archive
4 – April 2017 Archive
5 – May 2017 Archive
Publish at least 1 vlog/month
I've still not got around to editing the video I shot last month 🙁 .  It's still on my to do list…
Increase numbers of subscribers to the AYBL
There was no change to subscriber numbers in May.
My work in this area during May was to find a strategy I could not only implement, but that I could also fit into the time available.  To this end, I've signed up for the 30-Day List Building Challenge with Nathalie Lussier, which kicks off on the 1st of June.  I'm hopeful that I will begin to see some traction in this area as June gets under way.
If you have not yet signed up to my list you can do it here 🙂 :
which will also give you free access to my subscriber-only content!
Increase Social Media Presence
I've made more effort once again on my social media presence and this is beginning to bear fruit.  I've seen increases across each platform where I have a presence and I'm very happy with the results for May 🙂 !

(I've yet to discover my posting rate on Pinterest, but I'll keep looking! So don't be fooled by what appears to be no posts, I have been actively 'pinning' on Pinterest.)
You can catch up with me on Like me on Facebook and/or Follow me on Twitter. If you're a Pinterest-er, you can follow me on Pinterest. I'd be very happy to see you there!
Overhaul My Website
Whilst I haven't progressed any actual changes in May on my website, I have now made a decision around how I want the front page of my website to look.  I'll be taking this work forward during June, although there may not be any visible changes for a few weeks yet.
Personal Growth
Reading
My goal here is to read for about 3 ½ hours per week and I use this as a loose guide to make sure I am at least getting some reading done each week.
No updates on reading this month.
Attend (virtually or in person) at least 1 course in support of my goals
I'm continuing to follow an online course to learn and better understand SEO (search engine optimisation) and am slowly revisiting and updating some of my older posts.
I am also working to up my knowledge of Pinterest, using an eBook I've purchased, Pinteresting Strategies.
No change to report here, other than to mention that I'm progressing with each of these courses and am seeing the benefits beginning to come through 🙂 .
Commit to Weekly and Monthly Personal Goals Progress Reviews

At the end of May I spent a morning reviewing progress on my Achieve Your Best Life goals and have written up a plan for June of actions and improvements I want to make.  It feels good to have this 3-page plan in place as I now have greater clarity and a list of actionable steps to take for the month.
This monthly update is the 'formal' review of all my goals for the month. It continues to be a very important exercise and helps me to remember and record what I've actually achieved each month along with providing insights on areas where an improved focus would be useful.
Re-Introduce Meditation as part of my Daily Routine
Meditation is slowly working its way back into my weekly (rather than daily) routine.  This continues to be an important goal for me, even though progress is sporadic, any progress here is beneficial.
Contribution
To Participate in a Fitness-Related Charity Event
Not due yet, however, I'm starting to think about what event I'd like to enter and will be doing some research during June.
To Continue to Support the Two Charities I Currently Contribute To
Complete for May. I have a regular monthly payment set up to each Charity, so this will be a straight forward goal for 2017!
Relationships
Maintain and Improve Contact with Family and Friends
• Family visits have pretty much gone as planned 🙂 .
• Catch-ups in May… Evenings out (0); Lunchtime treats (1); Coffee catch-ups (2).
Remember and Celebrate Birthdays and Anniversaries
Remembering birthdays and anniversaries is my Achilles heel, hence the reason I've included it in my list of goals as an area where I need to dedicate some focus.
There were 2 birthday celebrations and a wedding anniversary that I wanted to acknowledge in May, and I managed to get cards to 2 of the recipients and made contact with the third.
Finances
Re-instate our net worth position (update the spreadsheet) and work to increase our net worth by at least 10%
Nothing new to report this month.
Overall a pretty good month of progress and/or areas to review and possibly tweak.  Next month we will be half way through the year, which will be a good point to take stock.  I'll be taking some time to consider whether my goals are still relevant.  That may mean a few tweaks here and there or I may even let one or two go.
So over to you. How has your month been? Have you been busy working on your personal goals? Are you making progress on your goals? Do you need to make a few tweaks? Share your thoughts in the comments!
Useful Resources