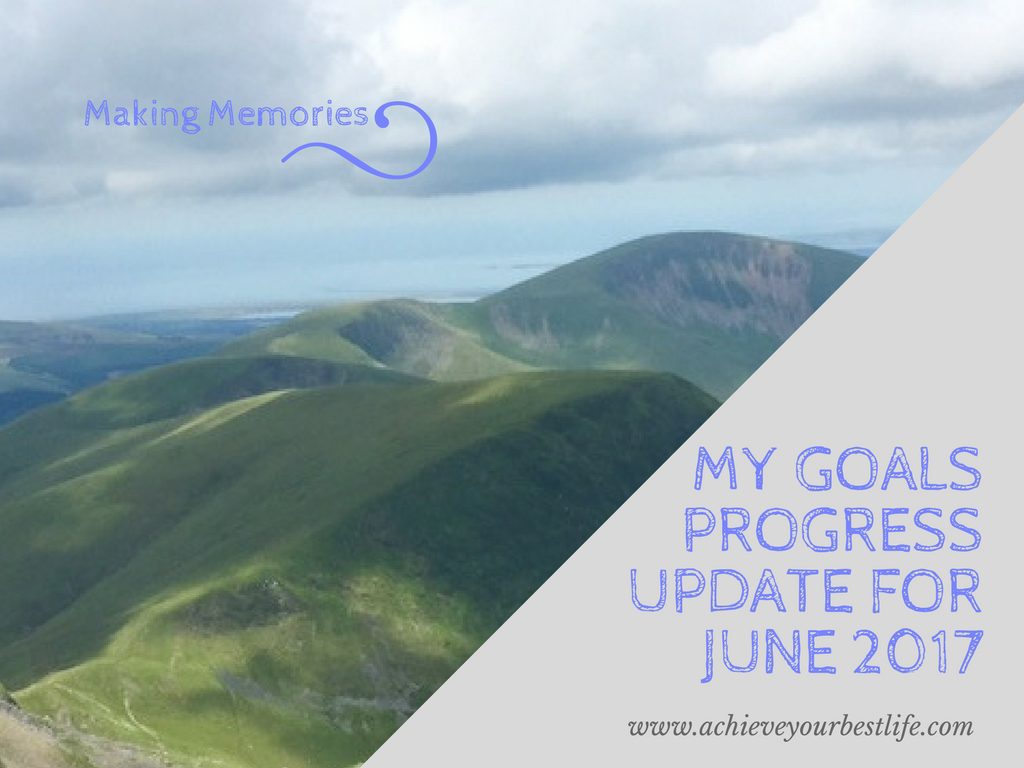 This post may contain affiliate links. Please read my disclosure for more info.
Here's my personal goals progress update for June 2017! You can check out my detailed list of 2017 Goals here. Writing publicly about my progress is one of the most effective methods of accountability I've found. Consequently, I'm aiming to produce a monthly update right through 2017.
Writing up my personal goals progress report is an important part of keeping me on track and accountable. It's also a really useful method to review what is and isn't working. Sometimes that will mean that some goals will change or be removed altogether. But the great thing is that these are my goals, so I can change them as often as I like! If you choose to write up or already have some personal goals then doing a regular review and write up is a great way to stay on track!
So here's my June update… 🙂
Fun and Travel
In June we took an overnight getaway to Snowdonia in North Wales.  I absolutely loved the trip!  We've been to North Wales before, having visited Conway and Harlech in February 2016, but we had yet to visit Snowdon, the highest peak in Wales.  We took the little train up the mountain, rather than walk (although we're planning to go back to walk it sometime in the future, maybe a goal for next year!).  The trip takes about an hour to ascend, and you get to spend half an hour on the peak before getting on the train to come back down (if that's your choice, some people choose to walk back).

We also visited Caernarfon Castle and Portmeirion village, so crammed quite a lot of exploring in over the two days!  I'll do a full write up soon, but for now, you can find a few pictures from our trip on my Facebook page here: Caernarfon and Snowdon.
Health
Weight Loss and Fitness
This was part of my report from last month…
"…my weight loss has stalled and I'm having to consider taking the formal dieting route again.
Whilst this whole experience is frustrating and disheartening, it's a clear sign that when something isn't working, you need to find another method. In other words, change the plan not the goal!…"
So, in line with the advice I'd given myself, I have indeed changed the plan (method), but kept the goal.  I've signed up to a diet program that provides all your meals.  This is an expensive choice, but I'm only expecting to need to keep this up for 2 – 3 months.
The good news is that since starting the program I've lost 7 1/4 pounds, so just over half a stone!  I'm very pleased with this progress as I haven't adhered to the diet 100%, having made a point of enjoying our getaway last weekend and enjoying 'normal' food.
Achieve Your Best Life
Increase # of blogs published to six/month
I managed five blog posts in June. Not quite on target, but it's still good progress! Here are the posts:
1 – My Goals Progress Update for May 2017
2 – What is the True Measure of Success? <——Most popular post of the month!
3 – How to Make Yourself Happy Everyday!
4 – How to be Consistent and Achieve Your Goals
5 – The Eden Project and Lanhydrock House
6 – 🙁
You can also access the 2017 Archive by month here for posts on motivation, success, wellbeing, finance, progress updates and more:
1 – January 2017 Archive
2 – February 2017 Archive
3 – March 2017 Archive
4 – April 2017 Archive
5 – May 2017 Archive
6 – June 2017 Archive
Publish at least 1 vlog/month
Last month I wrote: "I've still not got around to editing the video I shot last month 🙁 . It's still on my to do list…"
I've yet to make any further progress with this and am considering removing it from my goal list.
Increase numbers of subscribers to the AYBL
There was no change to subscriber numbers in June, although I am working on this area.
If you have not yet signed up to my list you can do it here 🙂 :
which will also give you free access to all my subscriber-only content!
Increase Social Media Presence
I've made more effort once again on my social media presence and this is beginning to bear fruit. I've seen increases across each platform where I have a presence and I'm happy with the results for June!  Like many others who have a Facebook presence, it's hard work to grow your page and this is definitely reflected below where I've doubled the number of posts, but have grown the page by only 4 Likes.  Hey-ho!  Onward and upward, as they say!
By contrast, Pinterest is responding well to my posting rate and Followers have increased by over 200 in June 🙂 .
(I've yet to discover my posting rate on Pinterest, but I'll keep looking! So don't be fooled by what appears to be no posts, I have been actively 'pinning' on Pinterest.)
You can catch up with me on Like me on Facebook and/or Follow me on Twitter. If you're a Pinterest-er, you can follow me on Pinterest. I'd be very happy to see you there!
Overhaul My Website
No change in June.
Personal Growth
Reading
My goal here is to read for about 3 ½ hours per week and I use this as a loose guide to make sure I am at least getting some reading done each week.
I've finished one book this month: The Miracle Morning
by Hal Elrod.  It's been a particularly good read for me (you'll see why below) and I would recommend the book to anyone looking to 'up their game'!
Read my full update here: The Miracle Morning
Attend (virtually or in person) at least 1 course in support of my goals
I'm continuing to follow an online course to learn and better understand SEO (search engine optimisation) and am slowly revisiting and updating some of my older posts.
I am also working to up my knowledge of Pinterest, using an eBook I've purchased, Pinteresting Strategies.
I have plans to embark on another course in August and am currently deciding whether it's the right one for my particular goals.

Commit to Weekly and Monthly Personal Goals Progress Reviews

Reported last month: "At the end of May I spent a morning reviewing progress on my Achieve Your Best Life goals and have written up a plan for June of actions and improvements I want to make. It feels good to have this 3-page plan in place as I now have greater clarity and a list of actionable steps to take for the month."
I'm planning to do the same process for July as the June plan has been really useful for keeping me focused through the month.
This monthly update is the 'formal' review of all my goals for the month.
Re-Introduce Meditation as part of my Daily Routine
Thanks to The Miracle Morning, I've finally re-introduced a regular meditation practice into my daily routine.  I'm already feeling the benefits of this practice and am able to stay focused for longer periods of time!
Contribution
To Participate in a Fitness-Related Charity Event
I've started researching what this might be, but not committed to anything yet.
To Continue to Support the Two Charities I Currently Contribute To
Complete for June. I have a regular monthly payment set up to each Charity, so this will be a straight forward goal for 2017!
Relationships
Maintain and Improve Contact with Family and Friends
• Family visits have pretty much gone as planned 🙂 .
• Catch-ups in May… Evenings out (0); Lunchtime treats (0); Coffee catch-ups (0).  Eeek, bit of a quiet month!  Luckily I already have a few catch-ups scheduled for July!
Remember and Celebrate Birthdays and Anniversaries
Remembering birthdays and anniversaries is my Achilles heel, hence the reason I've included it in my list of goals as an area where I need to dedicate some focus.
Father's Day, a wedding anniversary and one birthday, all remembered!
Finances
Re-instate our net worth position (update the spreadsheet) and work to increase our net worth by at least 10%
Nothing new to report this month.  I may remove this goal from my list.
So there you have my personal goals progress update for June.  It's been a busy but enjoyable month.  I loved my trip to North Wales and am pleased with the progress on AYBL.  I'm also happy that my weight loss is now moving in the right direction!
So over to you. How has your month been? Have you been busy working on your personal goals? Are you making progress on your goals? Do you need to make a few tweaks? Share your thoughts in the comments!
Useful Resources