This post may contain affiliate links. Please read my disclosure for more info.
How to Make Yourself Happy Everyday
I'm often envious of those people who seem to have been blessed with a sunny disposition, because it truly is a blessing. Maybe you are one of these people (if so, what's your secret?!) or maybe you're more inclined to be like the vast majority of us who have both up and down days.
Maybe something ticks us off early in the day and that seems to set the tone for how the rest of the day will pan out. On the good days though, everything just seems to fall into place and we start and end the day feeling happy and content.
So why can't we have more of the happy days and less of the not-so-great days? If life has ticked you off somehow, what can you do to make yourself happy again so that the whole day doesn't end up feeling like a chore?
Finding Ways to be Happy
Jim Rohn reasons that being happy is something that most of us need to work at and that to make yourself happy everyday requires that you understand and implement the things that actually make you happy!
Now I know that sounds far too simplistic and probably easy, but nothing could be further from the truth. If life was a constant bed of roses then we wouldn't need to work at being happy, it would just happen. But there's the crux. Without guidance from ourselves, life does just happen, for better or worse, and that's why we need to exert some influence on its direction and the effect things that happen have on our mood.
Of course, making yourself happy everyday isn't a one-size-fits-all process. The things that will make me happy might not be appealing to you and vice-versa, so it's important to work out what will make you happy. Although of course there are some things that are pretty common to all of us like having family and friends we love in our lives, enjoying sunny weather and watching our favourite tv show or a great film.
Things That Get In the Way of Being Happy
But what tends to happen on a daily basis is that we too easily give in to the petty annoyances and minor resentments, or we get drawn into the negativity of others and it becomes like a national pastime! And I don't say that lightly, it really is all too easy to be drawn into negative gossip and chatter rather than turn the tide and talk about happy things!
Feel free to confirm this for yourself the next time you're talking to someone. Really hear the conversation, is it positive or mostly negative? How does that make you feel?  I fall prey to this cycle too and have a fun little exercise to help me change things around!
If you can't say something nice, then don't say nothin' at all.  Thumper's Mum
I love the quote from Bambi, when Thumper's mother tells him "if you can't say something nice, then don't say anything at all". It's great advice, but have you actually tried putting it into action? Avoiding complaining and gossiping is a challenge, but taking on this challenge and actually implementing it into your life will have a profound effect on your happiness.
Make Yourself Happy Everyday
Like most people I swing between being happy and being not-so-happy and so having a repertoire of things that I can do to help my mood when needed is a useful tool. Over the years I've picked up and tried many different techniques.  Some work better than others, some are quick and easy and others require a bit more effort, but in any event, being able to turn to a quick list means that I can quickly up my happy quotient when I feel it's needed!
Free Downloadable Checklist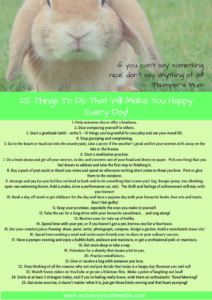 I'm excited to share my personal happy list with you today!   Just pick 1 – 3 things from the list everyday to feel happier.  Don't forget to vary the activities to suit your personal preferences, or, if you're feeling daring, step outside your comfort zone and just do everything on the list!
<<<click the image<<< So to make yourself happy everyday, download my free "25 Things To Do That Will Make You Happy Everyday!" checklist. There's sure to be something here that you can put into action today. It's an easy A4 pdf that you can print off and pin to your wall or fridge.
Use it as a quick boost when you need to turn the tide on a bad mood!  And don't forget to come back and let us know how you're doing!