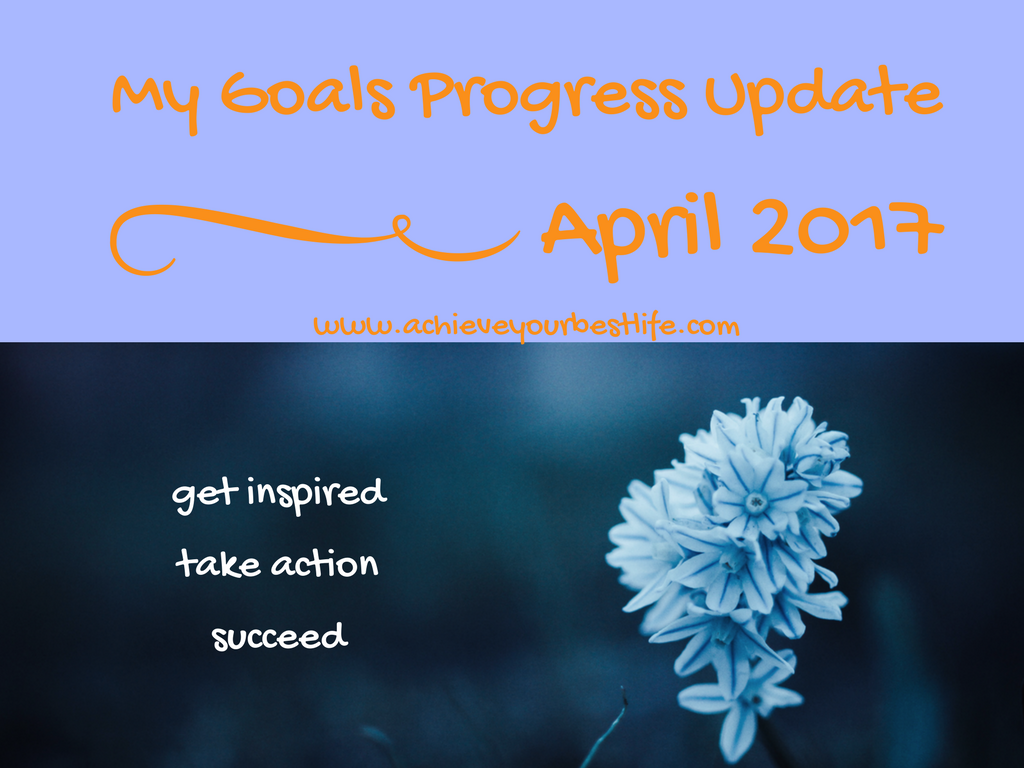 This post may contain affiliate links. Please read my disclosure for more info.
Here's my personal goals progress update for April 2017! You can check out my detailed list of 2017 Goals here. Writing publicly about my progress is one of the most effective methods of accountability I've found. Consequently, I'm aiming to produce a monthly update right through 2017.
Writing up my personal goals progress report is an important part of keeping me on track and accountable. It's also a really useful method to review what is and isn't working. Sometimes that will mean that some goals will change or be removed altogether. But the great thing is that these are my goals, so I can change them as often as I like! If you choose to write up or already have some personal goals then doing a regular review and write up is a great way to stay on track!
So here's my April update… 🙂
Fun and Travel
Our travel plans continued in April with our long-awaited trip to Bristol.  It's a short train journey to Bristol, so not necessarily a 'huge' adventure, but as you will know from my list of goals, this trip was on the list as we had tickets to see the Rag 'n' Bone Man in concert.  But, not wanting to miss out on some sight-seeing, we arrived early and explored a few of the landmarks around the city.  For the full story, check out my blog: Bristol in a Day.

We were blessed with beautiful weather while we were there, which made exploring even more enjoyable.  The concert in the evening was amazing, so a very successful trip!
Health
Weight Loss and Fitness
I had hoped to have a very positive report for April, but unfortunately that isn't the case 🙁 .
April started off very well following my report in March that I'd managed to get up to my 5k target with a mix of walking and running, but, as I continued this routine, attempting to improve my times, I sustained an injury. As I returned from one of my runs my calf muscle cramped up to such an extent that I could hardly walk!  I limped back home very slowly and felt very sorry for myself!
After a few days rest I tried again, but to no avail.  Consequently I rested up for around 3 weeks before heading back out.  As I write this, I've managed one short run with no issues, so I'm back on the trail again and hoping for a more productive running schedule in May.
This experience has been especially frustrating as I'd really found my mojo and was enjoying getting out in the good weather.  At the moment, I don't feel as motivated as I did back in early April so I'm having to call on more will power to get out there.  Any and all encouragement will therefore be gratefully received!
Achieve Your Best Life
Increase # of blogs published to six/month
At last!  I can claim success for April with six blogs posted!. Here are the posts:
1 – My Goals Progress Update for March 2017
2 – 5 Tips for Creating a Sense of Wellbeing      <——Most popular post of the month!
3 – How to Set Up a Personal Budget – Step by Step Guide
4 – Bristol in a Day – 2017 Travel Goals
5 – The Productivity Project: Book Review
6 – Wise Words to Live By
You can also access the 2017 Archive by month here for posts on motivation, success, wellbeing, finance, progress updates and more:
1 – January 2017 Archive
2 – February 2017 Archive
3 – March 2017 Archive
4 – April 2017 Archive
Publish at least 1 vlog/month
It's on its way!  I had hoped to be posting my first vlog of 2017 today, but time has caught me out.  Watch this space though, it's coming soon!
Increase numbers of subscribers to the AYBL
I haven't put much (any, to be truthful) effort into this recently, and it shows.  Subscriber numbers have dropped (just 1), so I need to spend some time coming up with a doable strategy.  I'm not sure what that's going to be yet, as I'll need to balance time available with potential results.
If you have not yet signed up you can do it here:
which will also give you free access to my subscriber-only content!
Increase Social Media Presence
I've been working and learning hard on the social media front.  As you know, my presence on Pinterest is relatively new and I've had a lot to learn to try to understand what it's about and how to utilise it.  I've also found that Pinterest can be quite a draw and I can lose a lot of time just playing around with it!
In any event, my efforts on social media have paid off this month and all my stats have improved…yay!!

(I've yet to discover my posting rate on Pinterest, but I'll keep looking!  So don't be fooled by what appears to be no posts, I have been actively 'pinning' on Pinterest.)
You can catch up with me on Like me on Facebook and/or Follow me on Twitter. If you're a Pinterest-er, you can follow me on Pinterest. I'd be very happy to see you there!
Overhaul My Website
Not yet due.
Personal Growth
Reading
My goal here is to read for about 3 ½ hours per week and I use this as a loose guide to make sure I am at least getting some reading done each week.
I (finally!) finished one of my books in April: The Productivity Project, by Chris Bailey.  This was an excellent read (well, listen, as I bought it via my audible subscription, which I love and would recommend to anyone who thinks they haven't got time to read!).  It will continue to be a great reference for all things productivity in the future.
Two other books are in progress with updates/reviews to follow in due course.
Attend (virtually or in person) at least 1 course in support of my goals
I'm continuing to follow an online course to learn and better understand SEO (search engine optimisation) and am slowly revisiting and updating some of my older posts.
I am also working to up my knowledge of Pinterest, using an eBook I've purchased, Pinteresting Strategies.
No change to report here, other than to mention that I'm progressing with each of these courses and am seeing the benefits beginning to come through 🙂 .
Commit to Weekly and Monthly Personal Goals Progress Reviews

I seem to have taken the 'dive-right-in' approach to my personal goals progress review this month, having spent time working on my social media strategy (which is now bearing fruit) and also spending some time reviewing my finances.  Both of these exercises have been useful and beneficial and I have made changes as a result of both which (I hope) will improve future results.
This monthly update is the 'formal' review of my month.  It continues to be a very important exercise and helps me to remember and record what I've actually achieved each month along with providing insights on areas where an improved focus would be useful.
Re-Introduce Meditation as part of my Daily Routine
Meditation has continued to be somewhat sporadic this month, but, when I put it into action, I reap the benefits.  This is one of those 'tasks' that is 'easy to do and easy not to do'.  Another goal I need to think about.  Where does this easily fit into my routine?  Maybe it's time to get back to the very early morning starts…hmmm…one to ponder.
Contribution
To Participate in a Fitness-Related Charity Event
Not due yet, however, I've just joined a couple of online fitness groups which I'm hoping will pique my interest and motivation!
To Continue to Support the Two Charities I Currently Contribute To
Complete for April. I have a regular monthly payment set up to each Charity, so this will be a straight forward goal for 2017!
Relationships
Maintain and Improve Contact with Family and Friends
• Family visits have pretty much gone as planned 🙂 .
• Catch-ups in April… Evenings out (1); Lunchtime treats (1); Coffee catch-ups (0).  That's an interesting result as I had thought that I'd been more social than this!  It's a timely reminder that time really does fly by and unless I make a conscious effort to connect, then things seem to drift.  So, there's an action on me here to organise a few more get-togethers with friends!
Remember and Celebrate Birthdays and Anniversaries
Remembering birthdays and anniversaries is my Achilles heel, hence the reason I've included it in my list of goals as an area where I need to dedicate some focus.
There were 5 birthday celebrations that I wanted to acknowledge in April, and I managed to get cards to all recipients…just!
Finances
Re-instate our net worth position (update the spreadsheet) and work to increase our net worth by at least 10%
As I've already mentioned above, I have dug into some of my numbers this month and as a result have put a few changes in place to (hopefully) improve our net worth position.  Time will tell if this proves to be beneficial or not.
As far as the spreadsheet it concerned, I haven't done any work on it this month and instead have concentrated on taking action on specific areas that needed my focus.
Putting aside the injury I had earlier in the month which affected my ability to maintain my planned exercise schedule, I think April has been a pretty good month!  We had an excellent trip to Bristol, my work on Achieve Your Best Life is progressing well, particularly with regard to social media and I've nearly got my first video ready for publishing!!  I'm also pleased that my review this month has surfaced a few areas where I can make some tweaks to make May an even better month!
So over to you.  How has your month been?  Have you been busy…in a good or bad way?  Are you making progress on your goals?  Do you need to make a few tweaks?  Share your thoughts in the comments!