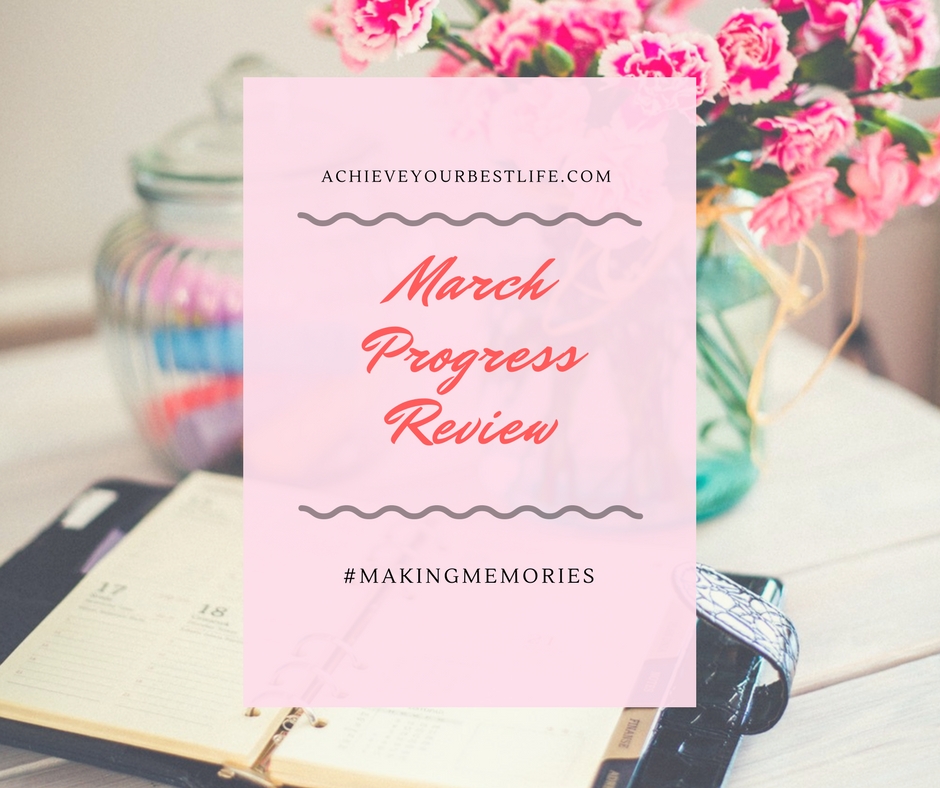 Here's my personal goals progress update for March 2017! You can check out my detailed list of 2017 Goals here. Writing publicly about my progress is one of the most effective methods of accountability I've found. Consequently, I'm aiming to produce a monthly update right through 2017.
Writing up my personal goals progress report is an important part of keeping me on track and accountable. It's also a really useful method to review what is and isn't working. Sometimes that will mean that some goals will change or be removed altogether. But the great thing is that these are my goals, so I can change them as often as I like! If you choose to write up or already have some personal goals then doing a regular review and write up is a great way to stay on track!
So here's my March update… 🙂
Fun and Travel
March has seen us set off on the first of our weekend/overnight trips.  This trip was a 650-mile round trip to visit Lyme Park in Stockport, Helmsley, a market town in Yorkshire and Lincoln.  You can read the full story in my Lyme Park post which has lots of photos too.  Here's one of the photos to whet your appetite!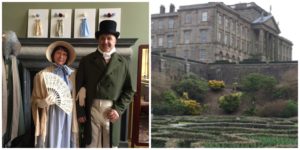 As you can see, we had a bit of fun dressing up in period costume!
Health
Weight Loss and Fitness
Weight loss is continuing to be a struggle and to make matters worse, I've put the previous 2lbs I'd lost back on!  I'm sure the weekend away played a part in this!  We ate out at a lovely Thai restaurant and enjoyed pub food and some lovely breakfasts.  I guess there wasn't much hope really!
I'm still using the 5K Runner App. Earlier this month I managed to complete the 5k target with a mix of running and walking.  I was pleased with this effort, but haven't managed it for a second time yet.  I'd like to improve on this in April.
Achieve Your Best Life
Increase # of blogs published to six/month
My goal had been 6 blog posts, but I didn't quite manage to reach my target.  I'm pleased with 5 out of 6 though as March was a busy month.  Here are the posts:
1 – My Goals Progress Update for February 2017
2 – How to Stay Focused and Motivated when Results are Slow
3 – Your Future Starts Here So Make it Great!
4 – Mental Strength – Is It Necessary?
5 – 2017 Travel Goals – Lyme Park and more
6 – Not achieved 🙁
You can also access the 2017 Archive by month here for posts on motivation, procrastination, progress updates and more:
1 – January 2017 Archive
2 – February 2017 Archive
Publish at least 1 vlog/month
No progress here…again 🙁
Increase numbers of subscribers to the AYBL
In March my total number of subscribers remained the same, although there was 1 new subscriber (thank you 🙂 ) and one subscriber left. If you have not yet signed up you can do it here:
which will also give you free access to my subscriber-only content!
Increase Social Media Presence
Following the review of my social media stats last month, I've made a concerted effort to increase the number of posts to Facebook and Twitter.  Unfortunately, this has resulted in the loss of 3 'Likes' from my Facebook page!  I'm not going to take this personally however as I often review my personal FB feed and add or remove pages that appeal or not.
Despite this 'loss' and the unchanged number of followers in Twitter, page visits are up per the analytics supplied by each platform, which is good news.

You'll also notice that I've added Pinterest to my social media presence and already have 157 Followers.  This is a new venture for me and I have a lot to learn, however, from a purely personal perspective, I enjoy browsing through Pinterest and have found a number of articles that have spiked my interest.  If you're a Pinterest-er, you can follow me on Pinterest.
You can also catch up with me on Like me on Facebook and/or Follow me on Twitter. I'd be very happy to see you there!
Overhaul My Website
Not yet due.
Personal Growth
Reading
My goal here is to read for about 3 ½ hours per week and I use this as a loose guide to make sure I am at least getting some reading done each week.
In my February report I was 200+ pages into my current book and although I haven't finished it yet, I am now approaching page 300…just 90 more pages to go! I'm also (still) listening (via Audible) to another book, which I'm really enjoying.  With March having been such a busy month, it was probably a bit optimistic to think I would finish either or both of these books, but I'm hopeful that I'll finish them in March!
I'll report on each of these books as soon as they're finished.
Attend (virtually or in person) at least 1 course in support of my goals
I'm continuing to follow an online course to learn and better understand SEO (search engine optimisation) and am slowly revisiting and updating some of my older posts.
I am also working to up my knowledge of Pinterest, using an eBook I've purchased, Pinteresting Strategies.
Commit to a Weekly and Monthly Review of Progress
I haven't done any 'formal' weekly reviews of my progress this month 🙁 .  This is a shame, and as I've said previously, they are useful in providing feedback for course corrections.  I need to rethink how I'm approaching this.
Despite this, the monthly write-up on my blog (this update) is especially useful.
Re-Introduce Meditation as part of my Daily Routine
I'm slowly re-introducing meditation into my daily routine, although at the moment it remains a bit sporadic.  I'll keep working on this, and remind myself that it only takes about 10 minutes to have a beneficial effect!
Contribution
To Participate in a Fitness-Related Charity Event
Not due yet.
To Continue to Support the Two Charities I Currently Contribute To
Complete for March. I have a regular monthly payment set up to each Charity, so this will be a straight forward goal for 2017!
Relationships
Maintain and Improve Contact with Family and Friends
• Family visits have been affected by other committments to some extent, but have still been ok.
• Not so good for catch-ups in March… Evenings out (0); Lunchtime treats (0); Coffee catch-ups (1)
Remember and Celebrate Birthdays and Anniversaries
Remembering birthdays and anniversaries is my Achilles heel, hence the reason I've included it in my list of goals as an area where I need to dedicate some focus.
Whilst I remembered and sent cards for 4 birthdays/anniversaries this month 🙂 , I missed 1 🙁 .  More effort needed here, and I've already made a list of cards and dates for April!
Finances
Re-instate our net worth position (update the spreadsheet) and work to increase our net worth by at least 10%
This goal is progressing, but very slowly.  It's just not holding my interest at the moment!  I think I might need to set aside some dedicated time to this task to get over the 'hump' of work that's needed.
Not too bad a month, with a lovely weekend of travel and progress on Achieve Your Best Life goals but struggles on the health and fitness front.  As we move into April I'll need to consider balance as we have the second of our overnight travels scheduled…however, we also have the Easter bank holidays approaching so a bit of down-time to look forward to too!

Learning Points InfoGraphic
(feel free to Pin / Share)