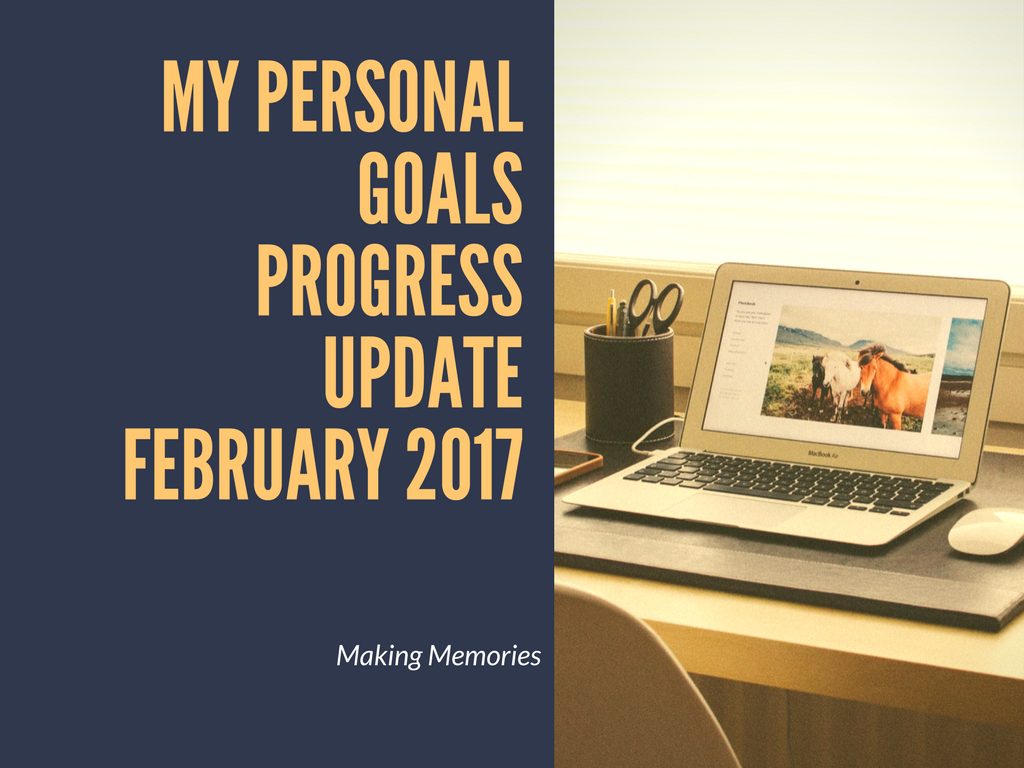 Here's my personal goals progress update for February 2017! You can check out my detailed list of 2017 Goals here. Writing publicly about my progress is one of the most effective methods of accountability I've found. Consequently, I'm aiming to produce a monthly update right through 2017.
Writing up my personal goals progress report is an important part of keeping me on track and accountable. It's also a really useful method to review what is and isn't working. Sometimes that will mean that some goals will change or be removed altogether. But the great thing is that these are my goals, so I can change them as often as I like! If you choose to write up or already have some personal goals then doing a regular review and write up is a great way to stay on track!
So here we go again… 🙂
Fun and Travel
As with January, the weather in February has been quite a deterrent to getting out and about, but we made the effort at the end of February and ventured just a few miles down the road to a local landmark, Margam Castle, for a walk and explore.  We managed an hour or two before the weather closed in again, but it was worth the effort!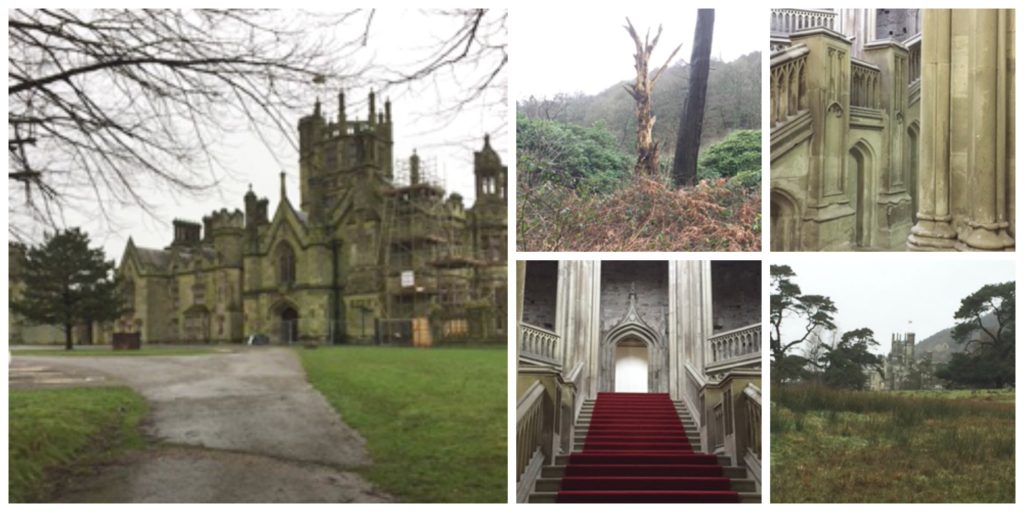 Although known as Margam Castle, it is in fact a large stately house, built over a ten-year period from 1830.  It's no longer occupied, but is maintained by the local Council along with the grounds, which includes a herd of deer.  The small amount of the interior we visited feels like walking into Hogwarts!
Health
Weight Loss and Fitness
Despite much effort, my weight has stubbornly remained the same as last month.  I guess it's good news that I haven't regained the few pounds I'd previously lost, but it's extremely frustrating when the scales continue to hover around the same mark for weeks on end!
If there's anything I am pleased with though, it's that despite some pretty atrocious weather, I've been out there running, using the 5K Runner App. Over time my distance will increase and this will hopefully edge the scales in the right direction.  I remain hopeful!
Achieve Your Best Life
Increase # of blogs published to six/month
I didn't quite achieve this target for February, but managed to post 5 out of the 6 targeted posts:
1 – Still Alice by Lisa Genova: Book Review
2 – My Personal Goals Progress Update January 2017
3 – Challenge Yourself and Get 5 Great Results
4 – Maximise Personal Productivity
5 – Getting Out of Your Own Way
6 – Not achieved 🙁
As reported last month, I achieved my 6 posts for January.  There are some great posts here, including my January progress update.  Click the link below to access the full archive:
1 – January 2017 Archive
Publish at least 1 vlog/month
February has come and gone without me getting in front of the camera (again).  MUST try harder!
Increase numbers of subscribers to the AYBL
There was no increase in my subscriber numbers in February.  If you have not yet signed up you can do it here:
which will also give you free access to my subscriber-only content!
Increase Social Media Presence
I've finally undertaken an exercise to review my stats, and unfortunately they leave a lot to be desired!  However, the review process has given me some food for thought as well as a kick in the proverbial!  So, in the interests of transparency and for holding myself accountable, here are my (dismal) stats for the last two months for my social media presence:

In my January update I had already recognised that I needed to improve my posting rate, but as the figures above demonstrate, I didn't actually improve upon my January posting rate during February.  I think I need to draft a plan for this area and get into action!
To help keep me accountable you can Like me on Facebook and/or Follow me on Twitter.  I'd be very happy to see you there!
Overhaul My Website
Not yet due.
Personal Growth
Reading
My goal here is to read for about 3 ½ hours per week and I use this as a loose guide to make sure I am at least getting some reading done each week.
I haven't finished any books during February, but am currently 200-odd pages into a 390-page book.  At my current reading rate I should finish this book within the next 2 – 3 weeks.  I'm also listening (via Audible) to another book.
I'll report on each of these books as soon as they're finished.
Attend (virtually or in person) at least 1 course in support of my goals
I have signed up to and am currently following an online course to learn and better understand SEO (search engine optimisation).  As part of this course I have been revisiting and updating some of my older posts.  This will be a labour of love as I have over 170 posts on the site!  You may have seen some of these revised posts, but just as 'proof' here are a few posts I've revised and updated during February:
1 – 5 Ways to Beat Procrastination Now
2 – Don't be Afraid to Start
Commit to a Weekly and Monthly Review of Progress
Of four possible weeks to review, I only did a full review in the first week of February.  This is counter-productive, because despite the time it takes, I gain insights and can usually correct my actions if I'm not focused or become overwhelmed with my to do list. When undertaking a review I ask myself the following questions:
• What are my achievements for this week?
• What didn't happen this week? Why?
• Lessons learnt and future actions?
Despite this, the monthly write-up on my blog (this update) is especially useful.
Re-Introduce Mediation as part of my Daily Routine
I didn't make much progress with meditation in February, although ironically it's a practice that I could really do with adopting on a regular basis.  For various reasons, life has been quite hectic and sometimes stressful, and meditation definitely helps curb feelings of overwhelm.
In practical terms I need to identify when and where meditation now fits into my life.
Contribution
To Participate in a Fitness-Related Charity Event
Not due yet.
To Continue to Support the Two Charities I Currently Contribute To
Complete for February. I have a regular monthly payment set up to each Charity, so hopefully this will be a straight forward goal for 2017!
Relationships
Maintain and Improve Contact with Family and Friends
• Family visits have occurred as and when planned.
• February was a good month for catch-ups!  Evenings out (2); Lunchtime treats (2); Coffee catch-ups (0)
Remember and Celebrate Birthdays and Anniversaries
Remembering birthdays and anniversaries is my Achilles heel, hence the reason I've included it in my list of goals as an area where I need to dedicate some focus.
I had 100% success this month with remembering AND sending birthday cards to the people on my list 🙂 !
Finances
Re-instate our net worth position (update the spreadsheet) and work to increase our net worth by at least 10%
I made some limited progress on my net worth spreadsheet this month, and have gathered some of the information I need into a folder and updating some of the figures.  There's plenty more work to do here though!
So what do you think, am I making enough progress?! Have you written up your goals or considered writing a personal goals progress update? I'd love to hear (read) what every one else is up to!