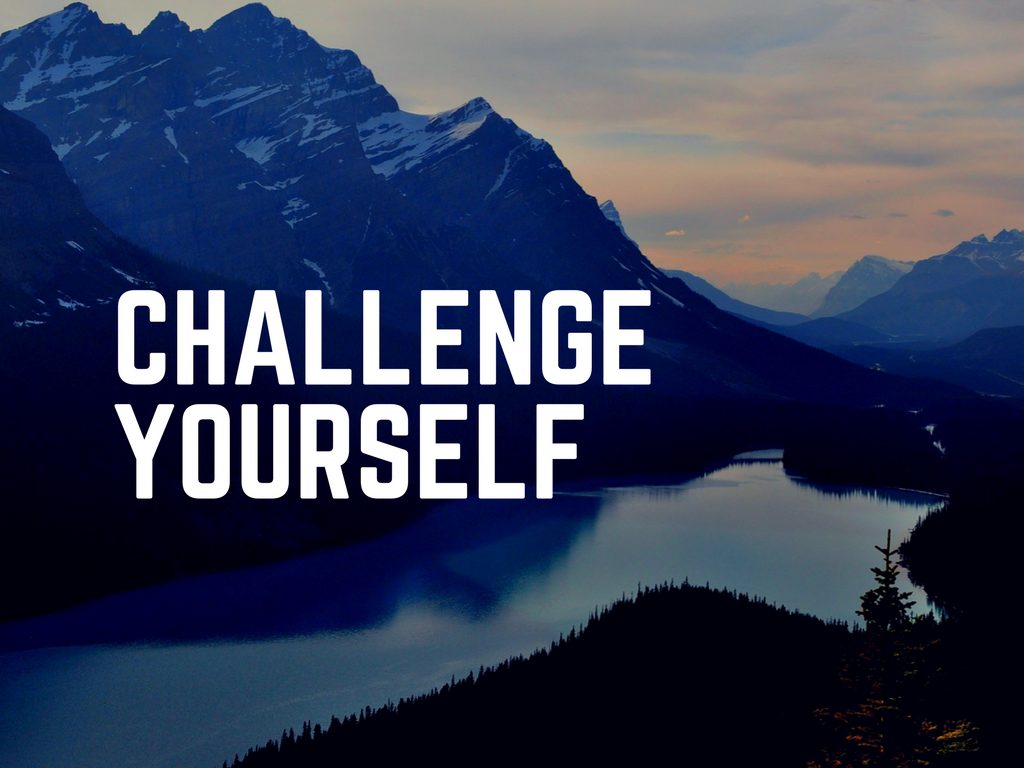 This post may contain affiliate links. Please read my disclosure for more info.
Is it time to challenge yourself?
Think for a moment, is it time to challenge yourself?  Is there an unfinished or even un-started challenge that's preying at the edges of your consciousness? It calls to you now and then, comes to mind when you can't sleep accompanied by pangs of guilt or pops into your mind when you hear of others' accomplishments?
There are no great people in this world, only great challenges which ordinary people rise to meet.
William Frederick Halsey Jr
You think about it and think that you can't do it, or it's too small to warrant the effort. You're embarrassed, because you know it's something you should address, but somehow, you just don't!
• It's that messy back bedroom that should be a guest room, if only you could make it presentable.
• It's that nail-biting habit you want to eliminate.
• It's that friend you need to contact.
• It's that difficult conversation you've been putting off.
• It's your neglected hobby, wasting away in the corner.
But the problem with all the things we want to do, or achieve or have is that we must put the effort in. We must rise to the challenge they present.
Whether it's money, time, emotional or physical effort, the results will only come once we commit and take action. But the good news is that there are huge benefits to jumping in and getting on with it. Here are some of the reasons why you should challenge yourself.
Your environment will change for the better
So you've taken on a crochet project, maybe a shawl for a friend's baby or you've agreed to join a language class with your sister (she needs the extra credit for her college course) or you just can't stuff your new purchase into your bulging wardrobe…
All of these situations present a challenge that will take some kind of effort. Thinking about the effort required is daunting. But, in all of these situations, the outcome will result in a positive physical change to your environment. It's important to focus on the outcomes, particularly when we feel overwhelmed, seeing in our mind's eye what the results will be is empowering.
• The completed shawl and the look on your friend's face when you present it to her.
• The gratitude and shared experience with your sister resulting in a closer relationship, not to mention a new language skill!
• A neat and tidy wardrobe, released of all the things that make you feel guilty!
So no matter what you choose to challenge yourself with, you will see an improvement to your environment. Win-win!
You will make progress towards your goals
I'm kind of stating the obvious here, but, if you challenge yourself and put the effort in you will make progress towards your goals!
• You've decided to overcome your fears and learn to swim.
• You've just cracked open the cover of War and Peace…
• You've decided to learn to drive.
The first time you venture into the pool, very much aware of those who are so much younger and seem to know exactly what to do, you're challenging yourself to accept your current reality but take action anyway. You're closer to your goal than you were before.
I don't run away from a challenge because I am afraid. Instead, I run towards it because the only way to escape fear is to trample it beneath your foot.
Nadia Comaneci
Those hundreds of pages ahead of you are merely a commitment to half an hour of reading a day. As each passing page unfolds, you're closer to the end!
The impatient drivers in the other cars look terrifying, but today you drove amongst them. You've gained a little confidence, you're closer to throwing those learning plates away than you were yesterday!
Sometimes my progress is slow and painful and other times I seem to sail along and the wind is at my back, but whatever the experience I always remind myself that no effort is ever wasted. There will be challenges within the challenge itself, but as you overcome each little obstacle, you're closer to getting to the end!
People will think of you as the 'go to' person on that subject
We all love to offer advice and what better way to do that than from a place of knowledge and experience? It's a huge compliment when someone approaches you to ask how you achieved this or that and how can they do it too!
• You consistently achieve 'In box zero'!
• You visited 12 Cities in 12 Months (yes, people still ask me about this)!
• You have a beautiful, well maintained garden.
On the flipside, we can also play down our achievements, but having someone wanting to know how you did it is a great reminder that your achievements are of value and worth. I can guarantee you that being asked how you managed to do x or y will put a huge smile on your face!
It will keep you younger for longer
We all know the phrase 'use it or lose it', which of course can be applied to many facets of our lives from using the local corner shop, to exercising our bodies and challenging our minds.
• We lose the suppleness from our bodies when we remain sedentary.
• We lose ground in our careers when we fail to keep up with current developments.
• We lose closeness with our partners when we side line their needs.
Some of these examples may not present as a task where you challenge yourself.  However, putting yourself in your partner's shoes and seeing your relationship from their perspective can provide some incredible insights and possibilities for improving intimacy. It's well-documented that a caring relationship is a huge plus for longevity.
Difficulties strengthen the mind, as labor does the body.
Seneca
Similarly, exercise and staying supple will help us cope with the future demands on our bodies. Looking after our physical well-being now will have huge benefits for how we feel in the future.
Staying up-to-date with developments in our career field will help us feel in control and better able to cope with the day-to-day demands. If we're not (or feel less) overwhelmed, then we're likely to feel more lively and vigorous!
Your self-esteem will grow
Perhaps the most significant result of challenging yourself is that your self-esteem will grow. We all have those aspects of our lives where we feel less confident. We feel somewhat out of our league and hope that we won't be put under the spotlight to demonstrate our abilities. But, if we dare ourselves to take on the challenge, and for all the reasons above, we will find that our self-belief, self-esteem and confidence will all get a boost!
Challenge yourself to 'put it out there'…
• Share a piece of your artwork on social media.
• Write a 500-word story and ask for feedback from a few close friends.
• Commit to giving up smoking, alcohol, sugar, swearing (choose your habit) and make it public.
When you do the things that you know are the most important to you, you will just feel happier!  It makes sense then that putting yourself in the driving seat of your challenges, rather than having them thrust upon you, is liberating.
Are you ready?
I challenge you to challenge yourself! The size and shape of the challenge is not important, but its relative importance to you is of the utmost significance.  In the coming weeks I will be opening access to a Private Facebook Group which will be for those of you who feel they would benefit from a 30-Day Challenge!  Watch the blog and my Facebook Page for more information and let me know in the comments if you're thinking of joining!
Books to help you Challenge Yourself