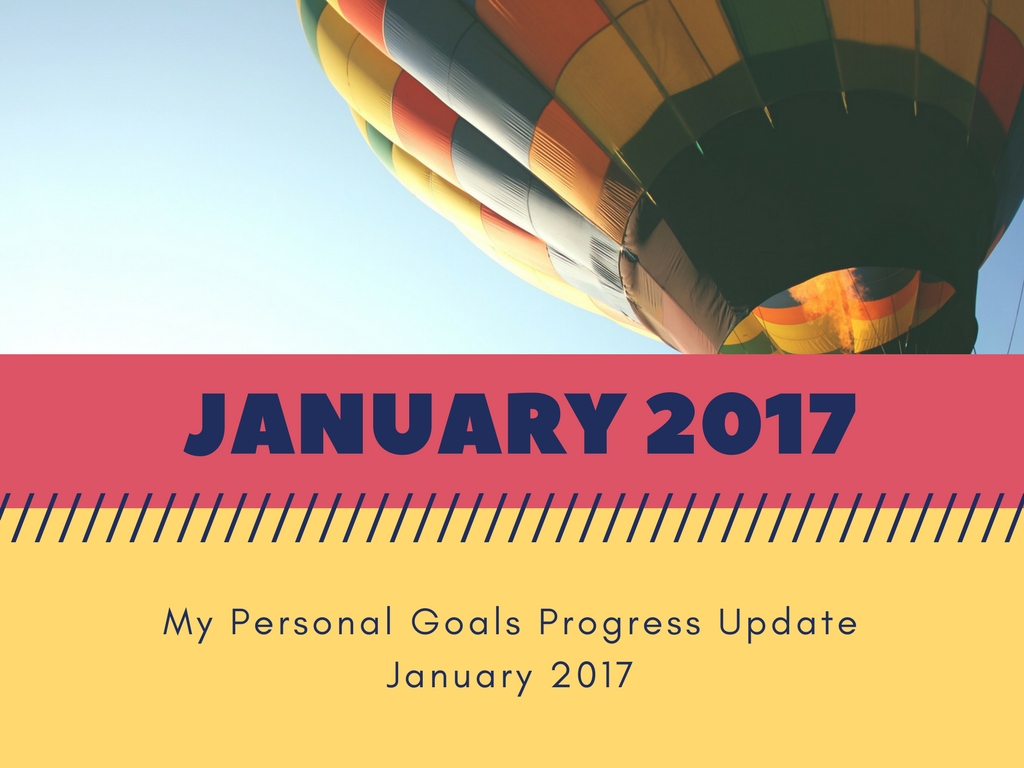 Today it's all about my personal goals progress for January 2017!  You can check out my detailed list of 2017 Goals here.  Writing publicly about my progress is one of the most effective methods of accountability I've found. And for those of you who've been reading my blog for a while will know, I had my greatest success in 2015 when I posted regularly about my progress (or lack of!). I'm hoping that 2017 will be at least equally successful, if not better!
Writing up my personal goals progress report is an important part of keeping me on track and accountable.  It's also a really useful method to review what is and isn't working.  Sometimes that will mean that some goals will change or be removed altogether.  But the great thing is that these are my goals, so I can change them as often as I like!  If you choose to write up or already have some personal goals then doing a regular review and write up is a great way to stay on track!
So here we go… 🙂
Fun and Travel
It can often be challenging to get out and about in the Winter weather, but we were blessed with a cold, but glorious day out exploring the West Wales coastline in early January. Taking the coastal path along the Gower Peninsula, we visited the ruins of Pennard Castle. Here are a few pictures and you can see more on my Facebook page.

We didn't schedule anything else for January (the weather's been pretty grim recently!), but have plans for two outings in February. Watch this space!
Health
Weight Loss and Fitness
I've made a small amount of progress this month in my weight loss goal, and have lost 2lbs. To be honest my weight has fluctuated quite a bit through the month, so a loss of 2lbs is a bonus!
As well as restricting calories, about half way through January I took up a 5k Challenge, using the 5K Runner App. The app gradually takes you from couch potato (yes, that's me!) to running 5k. So far it's been ok, but I'm looking forward to being able to run when it's light and when the weather is a bit warmer.
Achieve Your Best Life
Increase # of blogs published to six/month
Achieved this target in January:
1 – 2016 A Year of Mixed Results
2 – My 2017 Goals
3 – 7 Powerful Reasons YOU Should Be Setting Goals
4 – 5 Easy Tips to Stay on Track
5 – Be the Change and Improve Your Life
6 – Finish Strong and Make January Count (this works for all months btw 😉 )
Publish at least 1 vlog/month
I didn't achieve this in January because I just didn't pluck up enough courage to get in front of the camera! I definitely want to overcome this camera shyness and will be making more of an effort for February.
Increase numbers of subscribers to the AYBL
Subscriber numbers increased by just under 3% in January, following a concerted effort to 'spread the word'. Work continues in this area as it needs fairly constant attention.
Increase Social Media Presence
My progress here has been characterised by a lack of consistency in posting. Going forward I need to put together a planned program of activity so that posting becomes routine and regular.
Overhaul My Website
Not yet due.
Personal Growth
Reading
My goal here is to read for about 3 ½ hours per week. I haven't stuck rigidly to this timetable, but have managed to finish one book this month, which I thoroughly enjoyed.  Still Alice is a book and also available on DVD.  I loved the story and read it in a few days.
If you want to know more about the book, you can read my review.
Attend (virtually or in person) at least 1 course in support of my goals
I have signed up to and am currently following an online course to learn and better understand SEO (search engine optimisation). I'm finding the course extremely useful, if a little daunting with how much there is to learn. I'm expecting to be working through this course for the next three months or so, although there's no deadline for its completion.
As a result of this course, I'm revisiting my older blogs to try to improve their Google ranking, which should hopefully lead to more views and potential subscribers.
Commit to a Weekly and Monthly Review of Progress
I have managed to do a full review of my weekly progress on at least two of the weeks in January, with a 'superficial' review for the other weeks. When undertaking a review I ask myself the following questions:
• What are my achievements for this week?
• What didn't happen this week? Why?
• Lessons learnt and future actions?
I find this helps in streamlining activities, removing things that are proving to be of limited value and identifying what needs to change to get better results.
This blog is my monthly review 😉 .
Re-Introduce Mediation as part of my Daily Routine
I didn't really get back into a daily meditation practice until it was near the end of the month. But for that last week of the month, I managed 5 out of 7 days and definitely felt calmer and more grounded for it. Meditation is definitely one of those things that's easy to do, but easy not to do. I'm very aware of the health benefits of mediation so I aim to improve my practice rate through February.
Contribution
To Participate in a Fitness-Related Charity Event
Not due yet.
To Continue to Support the Two Charities I Currently Contribute To
Done for January. I have a regular monthly payment set up to each Charity, so hopefully this will be a straight forward goal for 2017!
Relationships
Maintain and Improve Contact with Family and Friends
• Family visits have occurred as and when planned.
• I met up with one of my friends for a lunchtime catch-up early in January.
Remember and Celebrate Birthdays and Anniversaries
Remembering birthdays and anniversaries is my Achilles heel, hence the reason I've included it in my list of goals as an area where I need to dedicate some focus. Unfortunately I wasn't altogether successful in January having missed one of the four birthdays I had wanted to acknowledge with at least a card. Three out of four 'ain't bad' as they say, but for the person missing the card, that's a 100% miss rate and not good enough!
Finances
Re-instate our net worth position (update the spreadsheet) and work to increase our net worth by at least 10%
No progress this month, so already behind with the plan. I'll need to make sure the update of the spreadsheet makes it to my weekly to-do list in February.
So what do you think, am I making enough progress?!  Have you written up your goals or considered writing a personal goals progress update?  I'd love to hear (read) what every one else is up to!