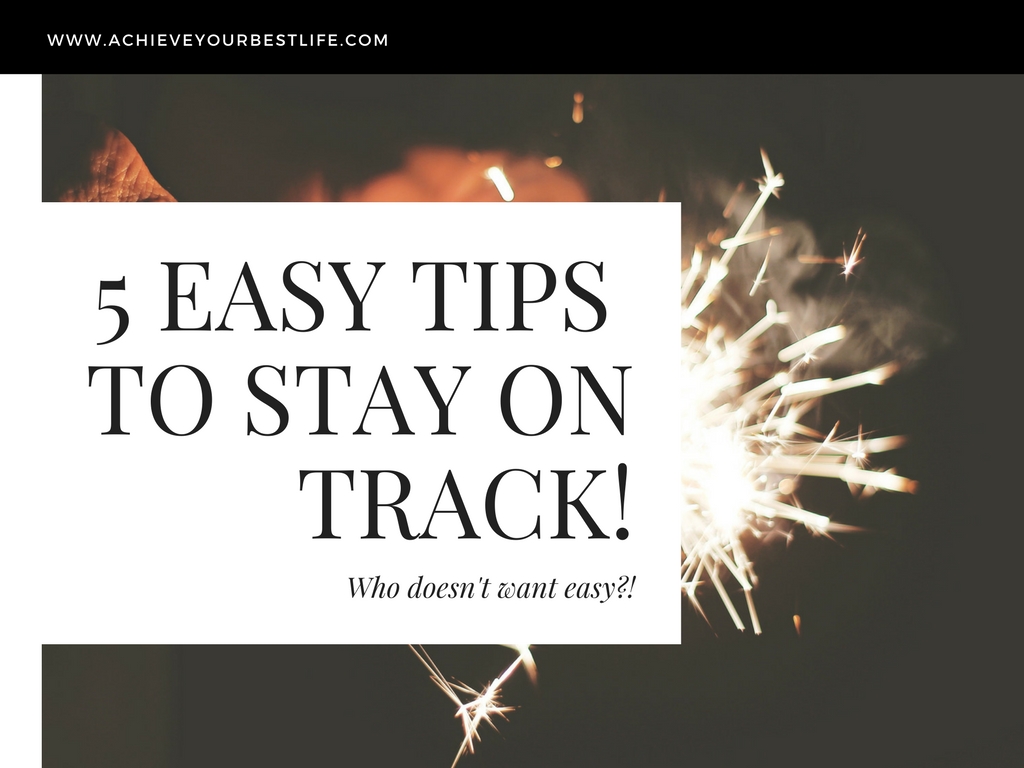 5 Easy Tips to Stay on Track
I'm not completely sure where the quote below comes from, although Gretchen Rubin has been associated with it (great source of inspiration, by the way!). But wherever it comes from, it's true! And anyway, who doesn't want 5 Easy Tips to Stay on Track?!
What you do every day matters more than what you do once in a while.
As I was mulling over my topic for today's blog post, I considered writing about how, when we're just a few weeks into a new year, our resolve to maintain our new year's resolutions (goals!) begins to disappear into the ether. Most of us will have reluctantly reverted to our busy lives, returning to work or the school run (or both), and our resolutions have had to make way for reality. Hmmph!!
But, of course, we still want those extra savings and the peace-of-mind/holiday/car they will fund or that fitness goal and the confidence and extra energy which will arrive as a by-product of our efforts. So how can we maintain the momentum?  The answer is in looking for things that can easily be incorporated into our lives and these 5 easy tips are most definitely that!
This idea is also neatly summed up in Aristotle's words:
We are what we repeatedly do; excellence then is not an act but a habit.
So how can we ensure we get the daily little things into our repertoire? Here are 5 easy tips to help you do just that.
Where Does It Fit?
It all seems so easy during the holiday periods. Time stretches out ahead of us like an open meadow, inviting us to run and frolic endlessly, but now that meadow has been fenced in with daily responsibilities and there's no time for running and frolicking!
But wait! Somewhere in your busy schedule you already do something that provides a window of opportunity and it can give you just enough time to fit in a gradual step-by-step approach to your dreams. Your job is to identify that space and then USE it.
Will it require effort? Yes. Will you hate it at first? Probably. Will it be worth it? Of course.
Here are some ideas to get you thinking:
Fitness Goals
• Do you do the school run? Walk it, gradually building up to a walk-run and culminating in running (the kids will love it!).
Relationship Goals
• Do you spend time on social media? Use that time to keep in/initiate contact with those you want to reach out to.
Savings Goals
• Automate the process and treat it as a bill. Next time you log on to your online banking or visit your bank, set up a regular payment to your savings account and let it take care of itself.
Let Something Go
We all know we're doing something that, well frankly, is a waste of time! I'm not going to suggest that endlessly watching tv, web-surfing or social media fall into this category because (a) I enjoy all of these (in moderation!) and (b) they can be a source of entertainment, learning and bonding.
But, putting these aside, what things are you doing that you know are just a waste of time and you don't really enjoy anyway? Here's a couple of my time-wasters that need eradicating:
• Spending too much time worrying (aka procrastinating) over things I haven't done instead of just getting them done. At the moment I have three 'difficult' letters I need to write that just aren't getting written. Getting these done will free up some much needed brain-space!
• Too much unwanted stuff clogging up my inbox which has been brought about by signing up to too many things and then not pruning! I then end up wasting time searching through stuff I don't need or even want. Must hit the Unsubscribe button!
Get An App
There as so many apps out there now and sometimes it can be hard to find the one that fits your needs well enough that you continue to use it. However, if your phone is an extension of your hand and you know you'll use an app regularly, this could be the way to go.
I currently use a couple of apps in support of my goals to either, (a) encourage and motivate me to do the task or (b) to monitor my progress. In some cases my app does both.
If you have a lot of apps on your phone, then I would suggest that the ones that are supporting your goals should be on your home page so that you see them often and are reminded of the task at hand.
Get A Checklist
Not a techno-geek? Then you can get all the benefits of an app by keeping a manual checklist. As I've mentioned previously, I've recently started using a Bullet Journal
to help me stay organised. I'm finding it very helpful to keep a checklist in my journal for tasks that I want to do regularly but often forget. I also find a manual checklist is great for seeing incremental progress.
If you're not sure where to start, try googling xxx checklist (xxx being the subject you're interested in). There are hundreds, even thousands of free checklists out there which can help you keep on track.
Here are a couple of checklists that you might find helpful (there are also Challenge Groups (see below) that support some of these.)
Want to Save for Christmas (or other special occasion), try the (there are lots of versions available) 52-Week Challenge
Want to Declutter, try Paula Eder's 52-Week Declutter Challenge (as you can see, this is a variation on the money challenge above)
Get A Buddy/Join A Challenge Group
I've frequently advocated the benefits of getting a buddy or accountability partner to help you stay on track with goals, but what if you can't find anyone to fill that role? Then how about joining a challenge group?
Do you want to write?  Here's a Facebook Group writing in 2017 – Write Every Day For A Year Challenge
Challenge Groups can act as accountability partners, motivators, sources of information and just general fun! As long as you have some kind of social media presence, then it's easy to join in and get going. I'm currently a member of a couple of groups including a finance group and a habit change accountability group. Obviously you can be active within the group and record your progress or you can dip in and out to get some motivation when you most need it.
The great thing about groups is that you will 'surround' yourself with likeminded people which will help to keep you on track to achieving your goal.  You may also enjoy an element of competition as you try to 'beat' others doing the same challenge!
So there you have it, 5 Easy Tips to Stay on Track!  These are easy and simple tips and are therefore easy to do, but easy not to do. The choice is yours whether you choose to implement these tips to help make your daily small actions congruent with your longer term goals or whether you choose to continue with your current unsupportive actions and veer even further off course!
Over to you!  Do you use any useful apps, checklists or challenge groups to help you achieve your goals?  Or have you let something go lately so you can fit in a more useful task?  Please add your experiences or tips in the comments to help us all achieve our goals!
5 Easy Tips to Stay of Track – Additional Resources