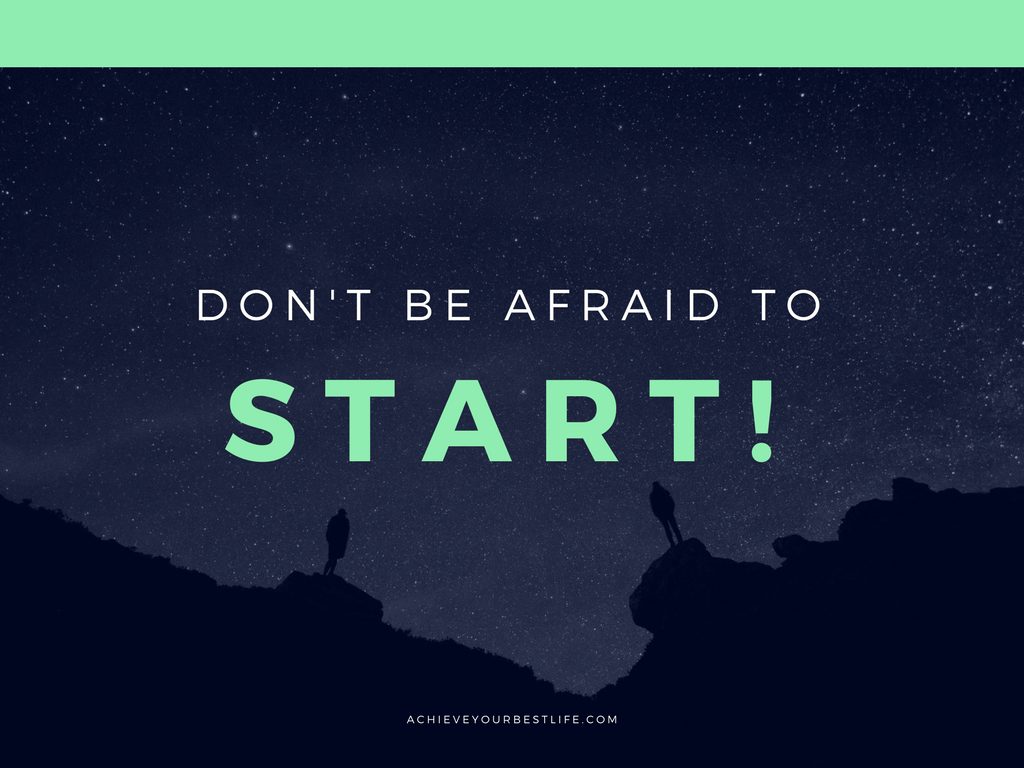 This post may contain affiliate links. Please read my disclosure for more info.
Don't be afraid to start just because you don't have the road map!
One of the biggest stumbling blocks to getting started on our goals is the need to know and understand how our goal will be achieved.  In other words, what are the steps that need to be taken in order to arrive at our destination?
It's one of those needs that is linked to a subconscious fear of failure.  After all, if we don't know what steps we need to take to achieve the success we desire, then the opposite may transpire and we will fail.  But, the given advice is counter-intuitive: we're advised by all successful people to just go for it anyway, despite not knowing how we'll get there.
But how on earth could we be expected to go for our goals if we don't know all the steps?  After all, if we've never travelled that journey before we could end up anywhere!  Well the answer to this part of the success equation can be relatively straight forward, because someone, somewhere, has already done what we're trying to do, so, the only thing we're required to do is to find and follow the road map laid down by those people.  So don't be afraid to start just because you're not sure of the way!
So where's the map I hear you ask!
Well, depending on your outlook, you could find this next response to be quite exciting or quite unhelpful, because the map won't become visible until you start moving!  So, by its very nature, the map is only available to those who are willing to make the commitment to move forward with their lives and make changes.  But there's more!  Even when the map is presented to you, it won't be complete; there will be a very large area in the middle which is fuzzy and greyed out, and for some, even the beginning will be a little hazy.
And there's a very good reason for this.  Everyone's journey to their goals will be different in some manner to other peoples journeys.  This is because we are all different and because certain circumstances will require different actions.  The fuzzy areas of the map are areas where you will be required to find your own answers, but the beauty of it is that you don't have to know those answers until such time as they are needed.  You definitely won't need them at the outset!
The route becomes clearer the further we go
But the thing I find most exciting about the fuzzy map, is that as we progress, the fuzziness diminishes.  As we learn more about our journey, and our desired destination becomes clearer, we are continually presented with new ideas and information.  It's as if there's a higher force throwing the answers into our path.
At times this will feel overwhelming as the amount of information that suddenly surfaces will pull us in different directions.  It's at times like these that we need to take an overview and remind ourselves of our true goal(s), and then step back into the fray using only the relevant information to take us on to the next stage of the journey.  But don't lose the other information, because it might just have appeared at the wrong time and may be needed at a later point of the journey.
Don't be afraid of setbacks
And don't forget that this information will be presented to you in many different and unlikely ways.  One of the most potentially catastrophic means of receiving information is in the form of a temporary setback.  Many people will give up on the way to their goals because they'll accept temporary setbacks as "signs" that they're doing the wrong thing, rather than looking for the lesson that's contained within the setback.  Everyone experiences setbacks at some stage, they are the little knocks that life gives you to make sure you're moving in the right direction.  These knocks are telling you to re-set our sail, you're off course.  So look for the lesson and make the adjustment.  Then move on.
Taking the first steps
So how do we know how, when or where to make our first step?  And what will our first step be?
Sometimes this will be clear to us and other times it won't, but, in just undertaking the act of starting, the next step will appear.  It could be as simple as reading a book, magazine or online forum that will identify the first (or next) step.  It could be a conversation with a friend, a boss, a colleague that triggers the thought-provoking action.  In any event, it doesn't matter what it is…just don't be afraid to START!  I assure you that by getting into motion, you will find your way.
Nothing is lost by trying
One final thought on this; don't be afraid to start just because you think it might be the wrong thing for you.  Until you try, you don't really know.  Nothing is lost by trying new things, it's all knowledge and experience that can be put towards your future success.
For example, you may want to be an entrepreneur, but don't know which niche to set up in – make a start with anything that sparks your interest.  If it's the wrong niche, you will work this out and you will then have a much clearer idea of the niche you really want to work in.  Allow yourself the luxury of potential 'failure' but think of it instead as research. 
Think of all your potential goals in this way and you will be less inclined to put off making that first step.  Good luck!
I hope this post will inspire you to take your first steps on a goal you may have been delaying starting.  Now is *always* the best time!  So don't be afraid to start!  Get those metaphorical running shoes on and get into action!

Check Out these Inspiriational Resources to help you get started!