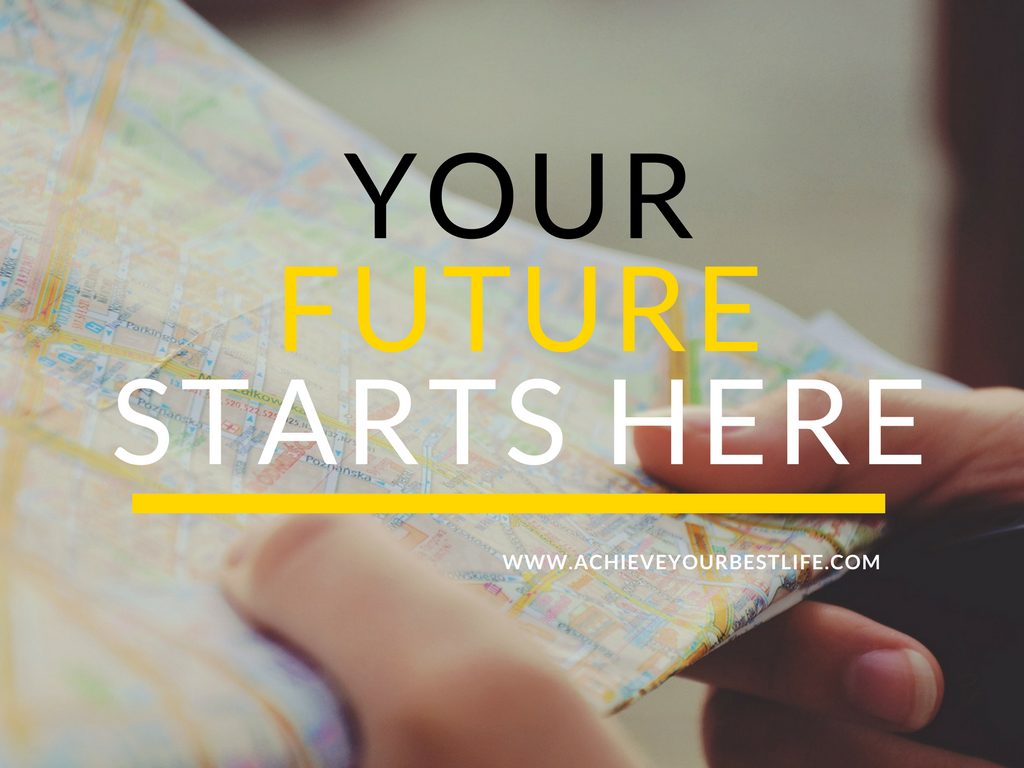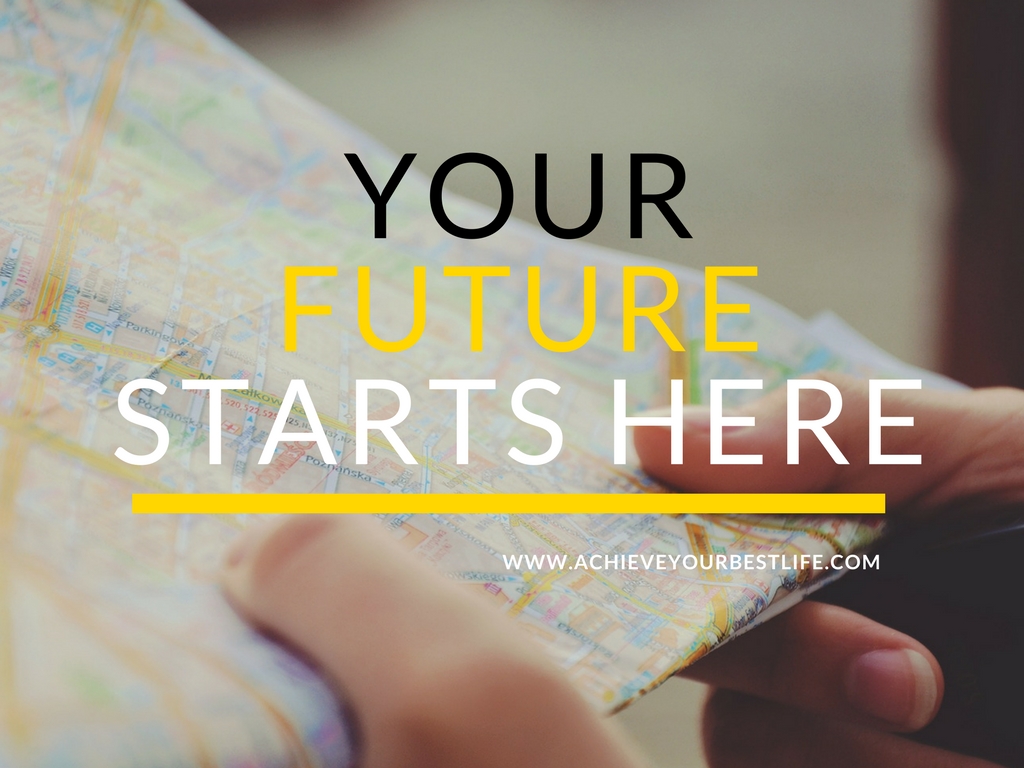 Your Future Starts Here!
I've recently noticed that I'm talking to myself more than usual. Not in the random-thoughts-passing-through-my-head kind of way, although I'm sure that is still happening. But rather, I'm consciously referring to myself, and, specifically my 'tomorrow-self'.
It seems to have happened since writing about the importance of not overloading our future selves with too many commitments by assuming that Me-in-the-future will be richer, stronger, more energetic etc! However, scientific studies supports this overly-optimistic assumption. On one level or another, we all believe that our future self will be able to pick up the tab for our current actions.  And fortunately or, in some cases, unfortunately that's true, because your future starts here!
What Have You Done?
If you're not convinced, think about your past and how it's now affecting your present. Here are some questions for you to consider along with my truths:
Are you as healthy as you thought you'd be?
I know I'm not, and to this day, I hate taking my daily blood pressure lowering tablet (even though I don't really know the cause of my high BP, maybe it's familial, maybe it's lifestyle or a combination of both). But if you check out my goals, you'll know that I'm actively trying to undo the actions of my past by exercising more and eating healthier. It would be easy to blame the aging process for this turn of events, but age didn't force me to eat rubbish or give up on regular exercise!
Are you financially stable?
My answer to this is: could be better. We're not about to fall off a cliff anytime soon, but I'm very aware that my past choices, had they been more considered, would have us further ahead than our current position. This is a very clear example of my younger self not really worrying about how Future Me was going to pick up the tab!
Do you have loving relationships?
Yay a positive! Relationships are very important to me, and whilst I could do more, I'm fully aware of the love of those around me, their importance in my life and the need to keep in touch and nurture.
Here are a few more questions to consider…
• Are you doing work you love?
• Do you say what you need to say, but also take responsibility for your actions?
• Are you being true to yourself, or, are you fulfilled?
Taking some time to think honestly about your answers to some or all of these questions can be enlightening, but also a little scary. But, as with any introspection, the insights are usually well worth the effort, especially when you remember that your future starts here…always!
Starting to Look Forward
So what have I been saying to myself?
It's pretty simple actually. I've been asking myself
'will you want or have time to do (this task) tomorrow?'
The answer is nearly always 'no' but I've mostly managed to push myself through my natural resistance and get the task done. Not always though, I must admit. Sometimes, current me is too tired or simply too stubborn to get on with the task, but at least there's an acknowledgement that my lethargy will have a repercussion tomorrow!
As you can see, this process centres around my 'to dos' at the moment and it helps me to remember the old Chinese proverb which says
Do it today, as tomorrow will probably be the busiest day of the week
This is often true in my experience and another great reason to consider the capacity for your future self to pick up wherever you've chosen to finish the day before. I don't know about you, but it's rare for 'tomorrow' to be a breeze and instead it usually offers up a selection of unexpected emergencies and dramas which somehow need to be accommodated with the mix of what was left over from yesterday along with today's to dos!
Do something today that your future self will thank you for
This is such a popular quote or meme that appears all over the internet, in books, on posters etc. And I guess, for very good reason. It's an apt reminder, although it seems somewhat twee! It's one of those sayings that's so easy to roll off the tongue and offer up as advice. But how would you actually apply this advice?
Even though I've offered my own personal experiences above, I'm not sure I actually go through the motions of thanking myself every day for things I did yesterday. However, I am hopeful that somewhere in my future I will be able to offer up a heartfelt "I'm so glad I saved that money or took up cycling!" or whatever.
I mostly know what I want my future to look like, and I'm taking steps to help make that a reality. Is that true for you also?
But like many people, I sometimes find it disheartening with the slow rate of progress. Sometimes frustration sets in and you begin to wonder if it's worth the effort. The answer to that question is quite personal. You know what sacrifices you're making now to make your future plans a reality. If you're losing momentum, re-assess, and if necessary, make your plan bigger and more exciting!
Your Future Starts Here – The Basics
But, let's get back to some basics for a moment. To really appreciate and apply the idea of doing something today that your future self will thank you for, you need to understand where you want to go.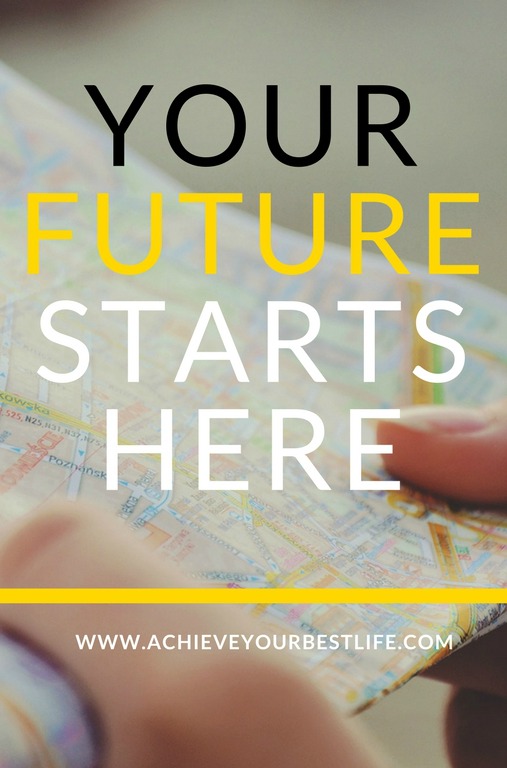 This can be short term (what can I do today that will make my tomorrow easier, more enjoyable, happier, less stressful etc) or longer term…
• Where do I want to holiday this year?
• How much money do I need to save for Christmas gifts?
• If I was looking towards retirement, at what age would be good for me (based on what I know now)?
• Shall I go for that run today?
• Chocolate or banana?
All of these choices, whether large or small, require some level of planning. From keeping the 'right' foods in your kitchen to assessing the kind of lifestyle you'd like to experience in retirement. Without a plan, even a loose one, you're less likely to move towards your preferred outcome.
So ask yourself, what do you want, how do you want to live, with whom etc? Remember that everything you do today is for your future. Good or bad, your future starts here as Today-Me is stacking up the consequences!  Are you ready to pick up that tab?