This post may contain affiliate links. Please read my disclosure for more info.
9 Things You Can Start Today to Improve Your Life
Taking a few easy steps to improve your life has got to be worth the effort!  So today, I've got 9 tips that, if put into action will improve your life not just in the short term, but, more importantly in the long term!  There's nothing to lose here, so let's get straight to it!
Stop Being Lazy!
Did I really just say that?! Afraid so! But let me justify it.
Being lazy doesn't have to mean that you zone out on the couch all day, watching tv and eating rubbish (although it could mean that!). But what I'm getting at is our tendency to avoid doing the difficult things. The things that bear little fruit in the short term, but will pay-off big time in the future.
They can be quick and easy (eat your fruit and veggies) or time-consuming and sometimes challenging (visit your elderly relatives and really engage with them).
Make a list and commit to doing the 'right' activities.
Make Reading A Priority
But not just any old books. Instead, read a book that will give you insights and practical help in dealing with a problem you're facing.
It's great to have some downtime and read some fiction, and as an avid reader, I love to lose myself in the lives of characters portrayed through a great piece of fiction. But why limit yourself? There are some amazing, thought-provoking, inspiring, motivational, helpful etc books out there, just waiting to be read by someone like you!
Open yourself up to a new genre and you open up a whole new world!
Get some inspiring reading ideas here 🙂 : 8 of My Favourite Books
Get Into Action!
It's great to read or watch or listen, but if you don't take action on your new learning, nothing will change! Kind of obvious, eh? But it's the taking action bit that's challenging for most people. There can be many reasons why we struggle to take action on the things we learn or just know we should be doing.
We may be afraid to 'put ourselves out there' and appear different, we may lack confidence in our abilities, we may start but not keep going, we might be put off by the opinions of others. All of these reasons are legitimate, but they're also the short step to mediocrity and will do little to nothing to improve your life.
Read more about getting into action: Maximise Personal Productivity
Put it Down for a While
If you've been grappling with a problem or a challenge for quite some time, but only making your worries grow, try putting is aside for a little while. "Allow" yourself some no-worry time. Go and do something that will absorb your mind. If it's peacefulness you need, head out into nature. If you need an activity to hold your mind captive, offer to look after someone's toddler for an afternoon!
Whilst you might not come back with the answer you're seeking, you will have given yourself a much needed break.
Related Post: 5 Tips to Help You Cope When You're Feeling Overwhelmed
Stretch Yourself!
As we get older we tend to become more sedentary. This generally results in us becoming less supple. If you've reached a point where you tend to groan as you climb out of the chair or feel achy when you get out of bed in the morning, then your body is asking for a bit of help!
If you're not quite ready to go the whole exercise route yet, then start with some regular stretching or yoga to increase the suppleness in your body.
I've been using this 5 minute routine and am already feeling the benefits 🙂 .
Don't Be a Victim!
This is a tough one, but geez, guys, man up to your choices! The upshot of this 'truth' is that if you always blame someone or something else for the results you receive in life, then you have no way to improve your life. You can't force others to behave in the way you want them to, so ultimately the buck stops with you.
This includes how you react to results too, by the way. If you didn't get what you wanted and have now given up because he or she didn't 'do the right thing', that's your fault too!
Of all these tips to improve your life, this is by far the most important.
Related Post: Getting Over Self Pity
Work on Your Happiness
Being happy doesn't just happen. Although we can experience happy episodes during our days and weeks, sporadic episodes can hide an underlying feeling of discontentment.
To work on your happiness, take some time to understand what actually makes you happy and attempt to incorporate more of these things into your day. To help get you started, download my free Happiness Checklist below. It's got 25 ideas to help get your creative juices flowing and by working a few of these into your daily regime, you should begin to feel your happiness tanks filling up!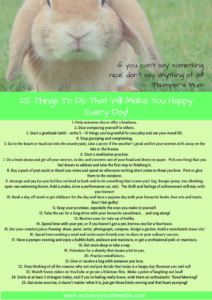 <<<click the image<<< So to make yourself happy everyday…
download my free "25 Things To Do That Will Make You Happy Everyday!" checklist.
There's sure to be something here that you can put into action today. It's an easy A4 pdf that you can print off and pin to your wall or fridge.
Use it as a quick boost when you need to turn the tide on a bad mood!
Be More Self-Reliant
It's good to have people around us, willing to offer a helping hand or a shoulder to cry on, but what happens when it doesn't feel appropriate or there's no one around? This is when self-reliance becomes important.
Knowing we have the strength and capacity to steer our own ship through the storms of life can be exceptionally empowering. Self-reliance is a skill we can learn, although it's not easy. Whilst we may have a modicum of self-reliance, it is often through trials and challenges that we learn the true extent of our self-reliance capabilities.
Related Post: The Benefits of Self-Resilience
Give Your Life the Gift of Direction
If I was to ask you what are you hoping to achieve today, this week or this year, would you be able to give me a straight answer? What about in the next 5 – 10 years?
It's so easy to let our daily circumstances lead us every-which-way. We react and respond to the stimuli and emergencies that arise, ending each day wondering what we actually achieved! If this resonates with you, it's time to get some goals!
Start small if it feels challenging or if you have a lot on your plate at the moment. Aim for a small win by the end of the day or end of the week. My advice would be to aim for something that will contribute to your self-care or happiness. From there, build it up.
If you're up for a big goal, then don't be restricted! State your goals and intentions. Write them down, go public and then get into action!
Related Post: Quick Methods to Identify Your Goals and Get Into Action
So, there it is, 9 steps you can start taking today to improve your life!  Of course, there are lots of other things you can do besides these, but making a start here will set you up for future success!  If you have any thoughts or tips to add, please leave a comment and share with everyone else!