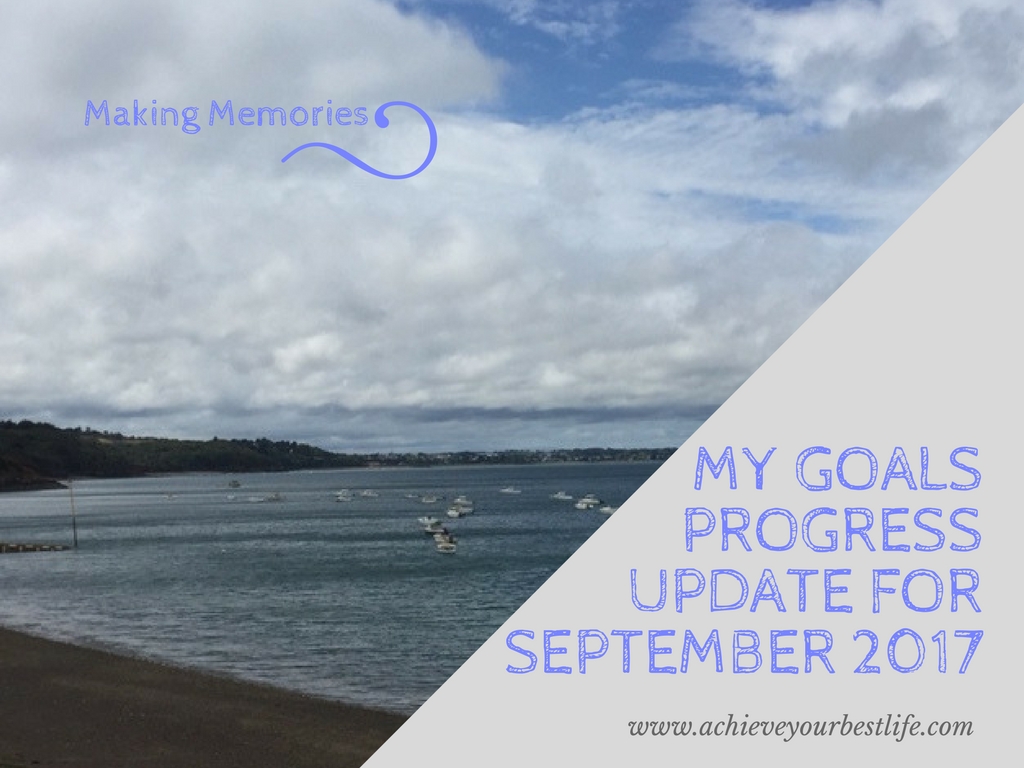 This post may contain affiliate links. Please read my disclosure for more info.
Here's my personal goals progress update for September 2017! You can check out my detailed list of 2017 Goals here. Writing publicly about my progress is one of the most effective methods of accountability I've found. Consequently, I'm aiming to produce a monthly update right through 2017.
Writing up my personal goals progress report is an important part of keeping me on track and accountable. It's also a really useful method to review what is and isn't working. Sometimes that will mean that some goals will change or be removed altogether. But the great thing is that these are my goals, so I can change them as often as I like! If you choose to write up or already have some personal goals then doing a regular review and write up is a great way to stay on track!
So here's my September update… 🙂
Goals In Progress
Fun and Travel
In September we took a last-minute break to Brittany in France!  We booked it about 10 days before we were due to travel, so it was a bit of a rush to get everything sorted in time!  But, it all worked out amazingly well.
The accommodation was lovely and well situated for exploring.  The weather, although overcast in the mornings, generally brightened up in the afternoons and we managed to get out every day and explore the area.  It really is a beautiful part of the world, and of course, the food was excellent!
We seemed to naturally settle into the French habit of taking leisurely 2-hour lunches which is something I've missed since getting back to reality!  Here are a few photos from our visit, and you can find a few more on my Facebook Page.
Health
Weight Loss and Fitness
I'm pleased to report that my weight loss has continued downwards..overall!  That said, it's been a bit of a rollercoaster month, with my weight fluctuating as I've attempted to get used to 'regular' eating once again.  Combine this with a week in France eating anything I fancied, and I'm surprised I even shifted anything!
So, what have a achieved?  Well, it's a meagre loss of 1/4 of a pound overall for the month!
I'm not going to beat myself up about the slow down.  The important thing right now is to keep moving in the right direction.  I'm also pleased that this is a milestone as it's the first full stone (14 pounds) gone!
Moving into October and my focus is already changing slightly towards improved fitness, but more on that next month!
Achieve Your Best Life
Increase # of blogs published to six/month
September marks the month with my lowest output, with just three blog posts.  This reflects our impromptu week away and the fact that I hadn't prepared far enough ahead to have a blog post 'ready to go'.  There's a lesson in here for me about getting ahead with my writing to allow for disruption to my usual routine.  Point taken.
Here are the posts:
1 – My Personal Goals Progress Update for August 2017
2 – How To Be Happy <——Most popular post of the month!
3 – Does Hard Work Pay Off In The End?
4 – 🙁
5 – 🙁
6 – 🙁
You can also access the 2017 Archive by month here for posts on motivation, success, productivity, wellbeing, finance, progress updates and more:
1 – January 2017 Archive
2 – February 2017 Archive
3 – March 2017 Archive
4 – April 2017 Archive
5 – May 2017 Archive
6 – June 2017 Archive
7 – July 2017 Archive
8 – August 2017
9 – September 2017
Publish at least 1 vlog/month
Nothing to report on this goal :(.
Increase numbers of subscribers to the AYBL
I've seen a small increase in my subscriber numbers this month..yay!  A BIG Welcome to my new subscribers!  I hope you enjoy exploring the blog!
And for any visitors who want to sign up, just click on the link (rabbit) below!
Free Downloadable Checklist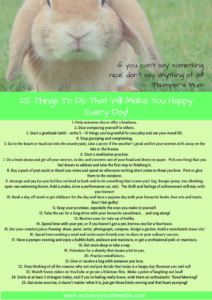 I'm excited to share my personal happy list with you today! Just pick 1 – 3 things from the list everyday to feel happier. Don't forget to vary the activities to suit your personal preferences, or, if you're feeling daring, step outside your comfort zone and just do everything on the list!
<<<click the image<<< So to make yourself happy everyday, download my free "25 Things To Do That Will Make You Happy Everyday!" checklist. There's sure to be something here that you can put into action today. It's an easy A4 pdf that you can print off and pin to your wall or fridge.
Use it as a quick boost when you need to turn the tide on a bad mood! And don't forget to come back and let us know how you're doing!
which will also give you free access to all my subscriber-only content!
Increase Social Media Presence
Well, some strange things have happened on my social media accounts this month, and in particular on Pinterest.  As you can see, my Pinterest followers have plummeted!  A few days before the end of September, my follower numbers had just crossed the 1,200 mark and I was feeling pretty pleased.  But, the next morning when I checked, I'd lost at least half of those followers and my numbers were at 679!  I was completely shocked.
I checked around with some of my blogger friends and was directed towards a blog post indicating that there were a few things not working in the Pinterest gubbins, and maybe that was the problem.  In any event, the upshot is that my numbers have significantly decreased, which is very disappointing.
There has been some recovery since the end of September, and as I write I have in excess of 800 followers again, but I'm still flummoxed by the number plunge 🙁 .
As far as Facebook and Twitter are concerned, I've been doing a bit of housecleaning and have removed some 'Likes' and Followers as the accounts seemed to be dormant.
Here are my summary results for the last quarter and my January starting point for comparison:

Hopefully numbers will continue to improve through October and I won't see such an unwelcome change again!
You can catch up with me on Like me on Facebook and/or Follow me on Twitter. If you're a Pinterest-er, you can follow me on Pinterest. I'd be very happy to see you there!
Overhaul My Website
I'm continuing to work in the background of my website to create new images, update some of the older content and re-categorising the content.  This is painstaking work but I believe it will improve the look and feel of my website for my users, making it more 'user-friendly'.  This is an ongoing task right now.
Personal Growth
Reading
My goal here is to read for about 3 ½ hours per week and I use this as a loose guide to make sure I am at least getting some reading done each week.
I've read two books this month, both by Steven Pressfield.  They are Do The Work and Turning Pro.
Both books are a quick read.  In particular, I read  Do the Work: Overcome Resistance and Get Out of Your Own Way
 in about two hours, whereas  Turning Pro: Tap Your Inner Power and Create Your Life's Work
 took about 3 hours to read.
They are both to-the-point and focus on the importance of overcoming resistance to get your most important work done.  There are some useful practical nuggets of wisdom in each book to encourage you to get on with your work.  Both books are motivational and aimed towards improved productivity.
I first read some of Steven Pressfield's work about five years ago when I read The War of Art: Break Through the Blocks and Win Your Inner Creative Battles
.  I loved this book and refer back to it often, so was keen to read more from this author.  For anyone who's keen to move their writing career forward, but experiences resistance, these are a really useful and motivating read.
Find These Steven Pressfield Books on Amazon
Commit to Weekly and Monthly Personal Goals Progress Reviews

I've been looking around the web this month at other peoples' weekly and monthly review habits.  It's been quite interesting to see that some people have taken quite a bit of time to make this process a habit and I was particularly interested in Chris Bowler's account of his efforts to instil a weekly review habit.  He talks about our tendency to make it a negative process by focusing on our to do lists and the things we haven't done.  That made perfect sense to me.
Chris then goes on to suggest a more positive format which doesn't seem too onerous for a weekly review.  Needless to say, I'm going to give it a try!  Watch this space :).
This monthly update is the 'formal' review of all my goals for the month.
Relationships
Maintain and Improve Contact with Family and Friends
• Family visits have gone to plan.
• Catch-ups in August… Evenings out (0); Lunchtime treats (0); Coffee catch-ups (1).  Not much going on in September!  October is already a lot busier though 🙂 .
Remember and Celebrate Birthdays and Anniversaries
Remembering birthdays and anniversaries is my Achilles heel, hence the reason I've included it in my list of goals as an area where I need to dedicate some focus.
Just one birthday for September, remembered 🙂 .
Finances
Re-instate our net worth position (update the spreadsheet) and work to increase our net worth by at least 10%
I've (finally!) started collating all the information I need to take this goal forward!
Completed/Automated Goals
Contribution
To Continue to Support the Two Charities I Currently Contribute To
Complete (Automated). I have a regular monthly payment set up to each Charity, so this will be a straight forward goal for 2017!
Personal Growth
Re-Introduce Meditation as part of my Daily Routine
Complete.  Thanks to The Miracle Morning, I've finally re-introduced a regular meditation practice into my daily routine. I'm already feeling the benefits of this practice and am able to stay focused for longer periods of time!
Attend (virtually or in person) at least 1 course in support of my goals
Complete.  I'm continuing to follow an online course to learn and better understand SEO (search engine optimisation) and am slowly revisiting and updating some of my older posts.
I am also working to up my knowledge of Pinterest, using an eBook I've purchased, Pinteresting Strategies.
Postponed/Cancelled Goals
Contribution
To Participate in a Fitness-Related Charity Event
Postponed.  This goal has been moved to 2018.  I've identified a charity walk that I'm interested in doing, but it won't be until next year.  It looks like details may be released around October, so I'll post more once I have information to share.
So there you have my personal goals progress update for September. The highlight of the month has to be our trip to France, the low was the horrendous drop in Pinterest numbers.  But hey, that's life.  Onward and upward as they say!
So over to you. How has your month been? Have you been busy working on your personal goals? Are you making progress on your goals? Do you need to make a few tweaks? Share your thoughts in the comments!