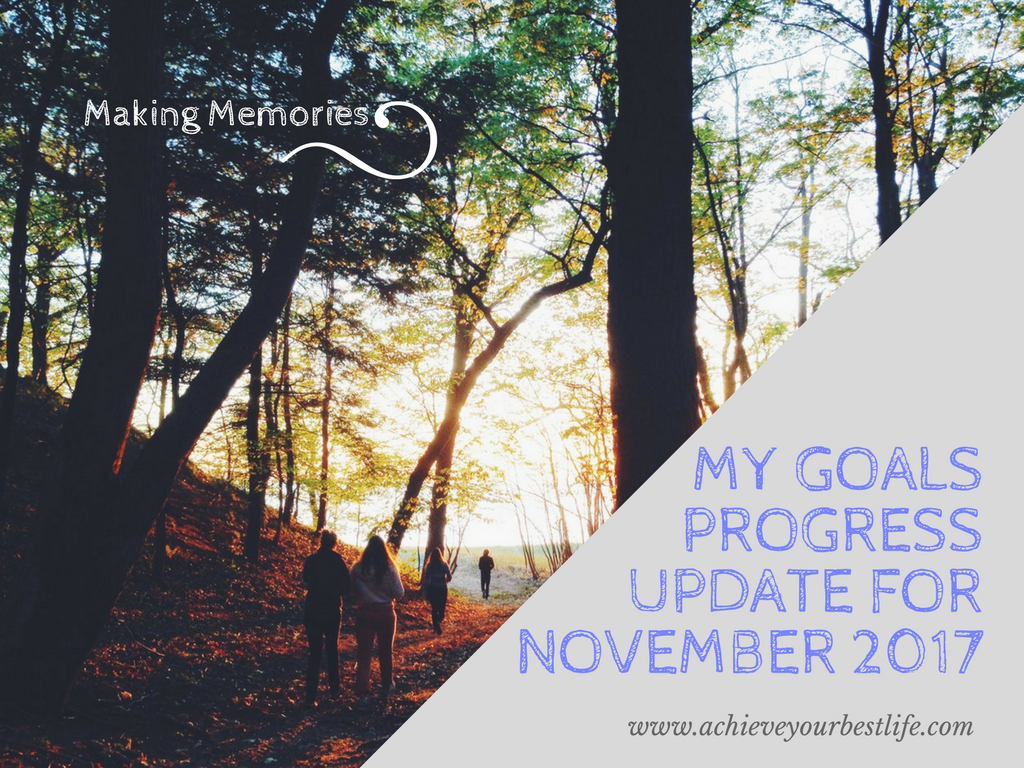 This post may contain affiliate links. Please read my disclosure for more info.
Here's my personal goals progress update for November 2017! You can check out my detailed list of 2017 Goals here. Writing publicly about my progress is one of the most effective methods of accountability I've found. Consequently, I'm aiming to produce a monthly update right through 2017.
Writing up my personal goals progress report is an important part of keeping me on track and accountable. It's also a really useful method to review what is and isn't working. Sometimes that will mean that some goals will change or be removed altogether. But the great thing is that these are my goals, so I can change them as often as I like! If you choose to write up or already have some personal goals then doing a regular review and write up is a great way to stay on track!
So here's my November update… 🙂
Goals In Progress
Fun and Travel
November has been a busy month for travel!  We started off early in the month with a short weekend break to London.  Even though it was early November, there were loads of people around and the shops were already looking festive 🙂 .  We managed to fit a in quite a bit of eating, walking and sightseeing as well as seeing a show in the West End.
At the end of November, we had tickets to see Rag n Bone Man in Brighton.  As you may know, I'm a huge fan!  After a wander around Brighton during the day in the cold we headed to the show in the evening.  Once again it was amazing (we saw him in Bristol in April).  The following day, we had planned to visit Chartwell (Winston Churchill's home, and on our list of goals for this year), but after considering the distance, we changed our plans and headed to Windsor instead for a bite to eat and a little exploring before heading back home.
Health
Weight Loss and Fitness
You will recall from my October update that being 'out on my own', i.e., having no real accountability, had led to a little weight gain.  So, to avoid succumbing to this trend, I've signed up with a local slimming club.
This has been a good move!
By the end of the month I had lost 3lbs and am feeling quite pleased with myself 🙂 .
I'm pleased with this good start as I'm currently negotiating the slippery slope towards Christmas!
Achieve Your Best Life
Increase # of blogs published to six/month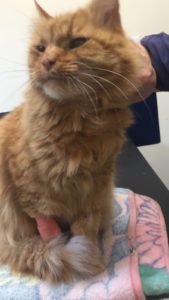 November has been a super-busy month!  But, the joy of taking two trips combined with a poorly fur-baby took its toll on my blog outputs with 'just' four posts this month.
However, as reported last month, I've now surpassed my previous 'personal best' of 48 blog posts published in a year (achieved in 2015) and up to the end of November I've reached a total of 53 blogs published!  This now equates to more than one per week – a result I'm very happy with!
Here are the posts:
1 – My Personal Goals Progress Update for October 2017  <——Most popular post of the month!
2 – How To Set Personal Boundaries
3 – Surround Yourself With People Who…
4 – How To Slow Down and Enjoy Life During Busy Periods
5 – 🙁
6 – 🙁
You can also access the 2017 Archive by month here for posts on motivation, success, productivity, wellbeing, finance, progress updates and more:
1 – January 2017 Archive
2 – February 2017 Archive
3 – March 2017 Archive
4 – April 2017 Archive
5 – May 2017 Archive
6 – June 2017 Archive
7 – July 2017 Archive
8 – August 2017
9 – September 2017
10 – October 2017
11 – November 2017
Publish at least 1 vlog/month
Once again I haven't got anything to add to this goal, although I'm finding myself strangely reluctant to consign it to the foot of this list in the Cancelled/Postponed area!  I guess I still have an ounce of two of determination that I will finish the year with a vlog flourish!!
Increase numbers of subscribers to the AYBL
No change this month.  I can feel a strategy review coming on for this area!
For any visitors who want to sign up, just click on the link (rabbit) below and get access to all my subscriber-only content and well as regular updates 🙂 .
Free Downloadable Checklist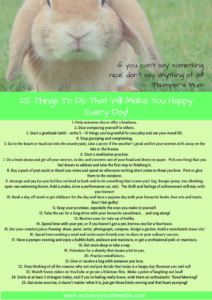 I'm excited to share my personal happy list with you today! Just pick 1 – 3 things from the list everyday to feel happier. Don't forget to vary the activities to suit your personal preferences, or, if you're feeling daring, step outside your comfort zone and just do everything on the list!
<<<click the image<<< So to make yourself happy everyday, download my free "25 Things To Do That Will Make You Happy Everyday!" checklist. There's sure to be something here that you can put into action today. It's an easy A4 pdf that you can print off and pin to your wall or fridge.
Use it as a quick boost when you need to turn the tide on a bad mood! And don't forget to come back and let us know how you're doing!
which will also give you free access to all my subscriber-only content!
Increase Social Media Presence
I've seen a small recovery in my Facebook followers numbers in November.  This is following some concerted effort in maintaining consistency in posting regular updates to my Page.
Twitter has fallen back to 120 followers, but Twitter isn't a main focus for me at the moment, so this small loss is to be expected.
Pinterest continues to recover since the loss of 100s of followers a couple of months ago.  As with Facebook, I've become more consistent in my pinning, so the upward trend is a fair reflection of this activity.
Here are my summary results for the last quarter and my January starting point for comparison: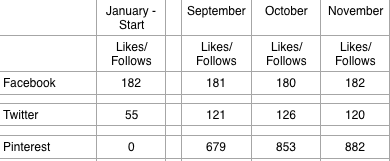 You can catch up with me on Like me on Facebook and/or Follow me on Twitter. If you're a Pinterest-er, you can follow me on Pinterest. Please come along and join the party!
Personal Growth
Reading
My goal here is to read for about 3 ½ hours per week and I use this as a loose guide to make sure I am at least getting some reading done each week.
This month I'm listening to She Means Business: Turn Your Ideas into Reality and Become a Wildly Successful Entrepreneur
by Carrie Green on Audible.  It's a book aimed at female entrepreneurs which discusses Carrie's journey and gives plenty of practical tips on setting up an online business.  Carrie reads the book herself and she has a lovely down-to-earth manner.  I'm really enjoying the book and have plenty of food for thought and action!
I've also downloaded THINK STRAIGHT: Change Your Thoughts, Change Your Life
 by Darius Foroux on my kindle and am about 75% of the way through it.  Darius discusses the way our thoughts can be a confusing jumble and what we can do about it to think more clearly.  This is an interesting read.
Find These Books and More on Amazon
Commit to Weekly and Monthly Personal Goals Progress Reviews

With the busy-ness of November, fitting weekly progress reviews in has been difficult, and frankly, aside from the odd short 'thinking' session, I've not managed to cover off a weekly written review.  I find this frustrating as it's too easy to drift along, or, more aptly put, get pushed along, when you don't take the time out to actually review what's working and what isn't, where progress is being made and/or delays are creeping in, etc.
As for most people, fitting things in during December will be a challenge, but I'm aiming to get at least two reviews carried out during the month.
Relationships
Maintain and Improve Contact with Family and Friends
• Family visits have gone to plan.
• Catch-ups in November… Evenings out (1); Lunchtime treats (2); Coffee catch-ups (0).  It's been a bit calmer on the social front in November.
Remember and Celebrate Birthdays and Anniversaries
Remembering birthdays and anniversaries is my Achilles heel, hence the reason I've included it in my list of goals as an area where I need to dedicate some focus.
Three birthdays in November, duly remembered 🙂 .
Completed/Automated Goals
Contribution
To Continue to Support the Two Charities I Currently Contribute To
Complete (Automated). I have a regular monthly payment set up to each Charity, so this will be a straight forward goal for 2017!
Personal Growth
Re-Introduce Meditation as part of my Daily Routine
Complete.  Thanks to The Miracle Morning, I've finally re-introduced a regular meditation practice into my daily routine. I'm already feeling the benefits of this practice and am able to stay focused for longer periods of time!
Attend (virtually or in person) at least 1 course in support of my goals
Complete.  I'm continuing to follow an online course to learn and better understand SEO (search engine optimisation) and am slowly revisiting and updating some of my older posts.
I am also working to up my knowledge of Pinterest, using an eBook I've purchased, Pinteresting Strategies.
Postponed/Cancelled Goals
Contribution
To Participate in a Fitness-Related Charity Event
Postponed.  This goal has been moved to 2018.  I've identified a charity walk that I'm interested in doing, but it won't be until next year.  It looks like details may be released around October, so I'll post more once I have information to share.
Achieve Your Best Life
Overhaul My Website
Postponed.  Whilst I'm continuing to work in the background of my website to create new images, update some of the older content and re-categorising the content, I haven't committed to a full overhaul this year.  With the year now drawing to a close, I'll revisit this plan in 2018 after spending some time thinking about the specifics of what I want to achieve over the Christmas holiday.
Finances
Re-instate our net worth position (update the spreadsheet) and work to increase our net worth by at least 10%
Postponed.  Progress in this area has been painfully slow, mainly because other things are taking priority.  It's an important area for development and regular follow-up, but at this late stage of the year, I'm moving it down the list and will re-focus on it (or a variation of it) in my 2018 goals.
So there you have my personal goals progress update for November. It's been a very busy month!
So over to you. How has your month been? Have you been busy working on your personal goals? Are you making progress on your goals? Do you need to make a few tweaks? Share your thoughts in the comments!