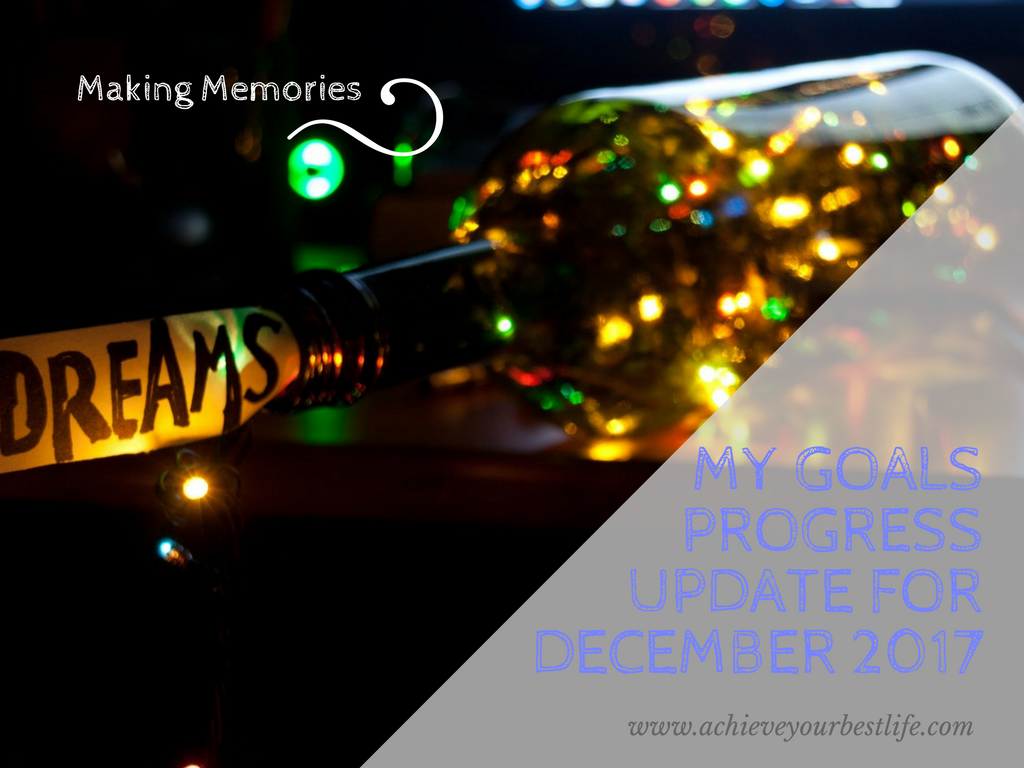 This post may contain affiliate links. Please read my disclosure for more info.
Here's my final personal goals progress update for 2017! You can check out my detailed list of 2017 Goals here. Writing publicly about my progress is one of the most effective methods of accountability I've found. Consequently, I'm aiming to produce a monthly update right through 2017.
Writing up my personal goals progress report is an important part of keeping me on track and accountable. It's also a really useful method to review what is and isn't working. Sometimes that will mean that some goals will change or be removed altogether. But the great thing is that these are my goals, so I can change them as often as I like! If you choose to write up or already have some personal goals then doing a regular review and write up is a great way to stay on track!
So here's my December and final update… 🙂
Fun and Travel
Wow!  What a fantastic year of travel we've had!  It makes me so happy when I look back over all the trips we've managed to fit in this year.  The places we've visited, the concerts and the experiences!  This is the list with a photo montage!
January – Gower Peninsula & Pennard Castle
February – Margam Castle
March – Lyme Park, Helmsley & Lincoln
April – Bristol
May – Eden Project & Lanhydrock House, Cornwall
June – Caernarfon Castle & Snowdonia
September – France
November – London, Brighton & Windsor

Health
Weight Loss and Fitness
Woohoo, another success!  Ok, I haven't quite made it to my target weight, but I'm very close.  At my heaviest this year I weighed 11 stone 5 pounds (159lbs).  I had reached this weight in June despite having started the year around half a stone lighter.  My weight had yo-yo'd up to this point, but I finally decided to commit to the challenge and just before Christmas my weight dropped below 10 stone for the first time in over three years!
I still want to lose another half stone and so the journey continues, but, I feel so much better in myself for having dropped nearly 1 1/2 stone!
Achieve Your Best Life
Increase # of blogs published to six/month
Just managed to fit in 6 blog posts this month, to finish up the year neatly!
This takes my total blog posts for 2017 to 59!!  That's my best-ever output in any year since starting Achieve Your Best Life, so I'm very pleased!
Here are the posts for December:
1 – My Personal Goals Progress Update for November 2017
2 – What Is A Good Goal?
3 – The Power of Saying Yes To Your Life
4 – How To Manage Time Effectively Over The Holidays. <——Most popular post of the month!
5 – 29 Books Read This Year
6 – My Final Personal Goals Update for 2017 (this post!)
You can also access the 2017 Archive by month here for posts on motivation, success, productivity, wellbeing, finance, progress updates and more:
1 – January 2017 Archive
2 – February 2017 Archive
3 – March 2017 Archive
4 – April 2017 Archive
5 – May 2017 Archive
6 – June 2017 Archive
7 – July 2017 Archive
8 – August 2017
9 – September 2017
10 – October 2017
11 – November 2017
12 – December 2017
Increase numbers of subscribers to the AYBL
No change since November.  Increase across the year = +16 new subscribers.
My efforts here have been intermittent and consequently my results have also been a bit hit-and-miss.  Obviously I'm a bit disappointed with the results, but I think it's a fair reflection of my limited efforts on this goal.
For any visitors who want to sign up, just click on the link (rabbit) below and get access to all my subscriber-only content and well as regular updates 🙂 .
Free Downloadable Checklist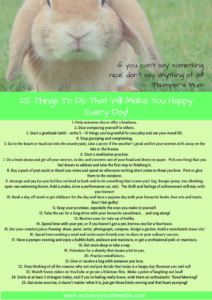 I'm excited to share my personal happy list with you today! Just pick 1 – 3 things from the list everyday to feel happier. Don't forget to vary the activities to suit your personal preferences, or, if you're feeling daring, step outside your comfort zone and just do everything on the list!
<<<click the image<<< So to make yourself happy everyday, download my free "25 Things To Do That Will Make You Happy Everyday!" checklist. There's sure to be something here that you can put into action today. It's an easy A4 pdf that you can print off and pin to your wall or fridge.
Use it as a quick boost when you need to turn the tide on a bad mood! And don't forget to come back and let us know how you're doing!
which will also give you free access to all my subscriber-only content!
Increase Social Media Presence
Well, Facebook has finished exactly where it started!!  I'm not sure this is the best metric for Facebook as engagement through the year has improved.  Guess I'll need to review that for 2018.
Twitter has remained static, which is ok as it's not my main focus.
Pinterest has increased slightly over November, but it's important to remember that this has been from a zero starting point, so I'm very happy with this result.
Here are my final summary results and my January starting point for comparison: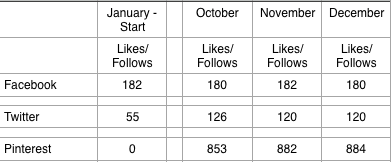 You can catch up with me on Like me on Facebook and/or Follow me on Twitter. If you're a Pinterest-er, you can follow me on Pinterest. Please come along and join the party!
Personal Growth
Reading
My goal here is to read for about 3 ½ hours per week and I use this as a loose guide to make sure I am at least getting some reading done each week.
I was quite surprised to find that when I collated all my reading information, I'd actually read (or am still reading) 29 books in 2017!  That's pretty good I think!
My list consists of my audible downloads (love this subscription!), the physical books I purchased plus the downloads to my kindle.
Here's the full list for you to peruse: 29 Books Read This Year!
Commit to Weekly and Monthly Personal Goals Progress Reviews

At the end of November I had committed to getting at least two reviews carried out, and I'm happy to report that I achieved this.
I'm conscious however that I still need to actively work on this goal as I go forward as it's something that easily drops off my to do list, which is a shame as there's so much value to be had from a quick review of the week and then putting new learnings and course corrections in place.
This will continue to be a high priority for me in 2018.
Relationships
Maintain and Improve Contact with Family and Friends
• Family visits didn't work out quite so well this month due to other commitments.
• Catch-ups in December & for the year… Evenings out (0) & (8); Lunchtime treats (1) & (14); Coffee catch-ups (1) & (9).
Remember and Celebrate Birthdays and Anniversaries
Remembering birthdays and anniversaries is my Achilles heel, hence the reason I've included it in my list of goals as an area where I need to dedicate some focus.
One birthday in December, duly remembered 🙂 .  All birthdays for the year remembered = 33 🙂 and missed 2 🙁 .
Completed/Automated Goals
Contribution
To Continue to Support the Two Charities I Currently Contribute To
Complete (Automated). I have a regular monthly payment set up to each Charity, so this has been a straight forward goal for 2017!
Personal Growth
Re-Introduce Meditation as part of my Daily Routine
Complete.  Thanks to The Miracle Morning, I've finally re-introduced a regular meditation practice into my daily routine. I'm already feeling the benefits of this practice and am able to stay focused for longer periods of time!
Attend (virtually or in person) at least 1 course in support of my goals
Complete.  I'm continuing to follow an online course to learn and better understand SEO (search engine optimisation) and am slowly revisiting and updating some of my older posts.
I am also working to up my knowledge of Pinterest, using an eBook I've purchased, Pinteresting Strategies.
Postponed/Cancelled Goals
Contribution
To Participate in a Fitness-Related Charity Event
Postponed.  This goal has been moved to 2018.  I've identified a charity walk that I'm interested in doing, but it won't be until next year.  It looks like details may be released around October, so I'll post more once I have information to share.
Achieve Your Best Life
Overhaul My Website
Postponed.  Whilst I'm continuing to work in the background of my website to create new images, update some of the older content and re-categorising the content, I haven't committed to a full overhaul this year.  With the year now drawing to a close, I'll revisit this plan in 2018 after spending some time thinking about the specifics of what I want to achieve over the Christmas holiday.
Publish at least 1 vlog/month
Postponed.  This has been one of my biggest disappointments for 2017.  I've really wanted to get in front of the camera, but this one is a huge challenge for me.  Must try harder next year!
Finances
Re-instate our net worth position (update the spreadsheet) and work to increase our net worth by at least 10%
Postponed.  Progress in this area has been painfully slow, mainly because other things are taking priority.  It's an important area for development and regular follow-up, but at this late stage of the year, I'm moving it down the list and will re-focus on it (or a variation of it) in my 2018 goals.
So there you have my personal goals progress update for December and 2017 in total. It's been a very busy year and I'm so happy with everything that I've managed to fit in during the year!  I love how my goals have allowed me to focus and get things moving in the right direction!
So over to you. How has your year been? I hope you've had a wonderfully successful year, with lots of fun experiences, contact with friends & family and of course, personal development!
I'll soon be setting my goals for 2018 and once again will record them on my website.  If your 2017 hasn't worked out quite as well as you'd hoped, why not set some goals with me too 😉 ?