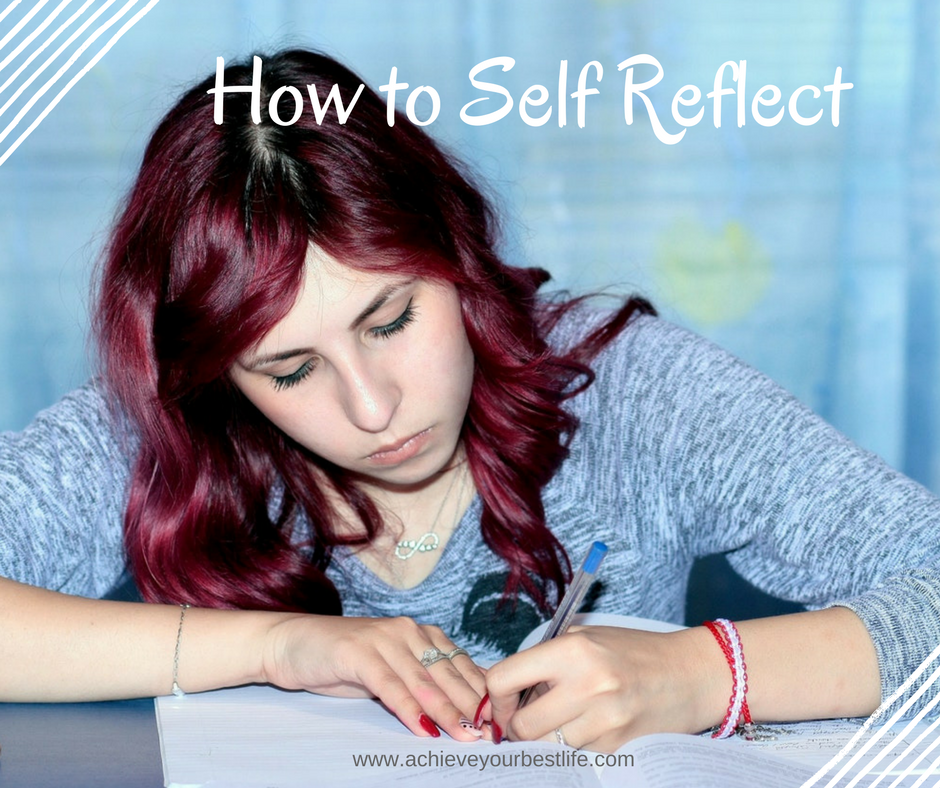 This post may contain affiliate links. Please read my disclosure for more info.
How To Self Reflect Effectively
How to self reflect may appear a little tricky, but actually, there are some easy methods you can use to make the most of self-reflection time.
I wrote about the benefits of taking time out of our routines to self reflect in the post '5 Valuable Reasons To Indulge In Self-Reflection'.  In that post I mentioned that I would do a follow-up post about how to self reflect and how I've been working this new task into my weekly and monthly routines.  It's also an opportunity for me to share my favourite tools and tips for self reflection.
How to self reflect is one of those concepts which, on the surface appears simple, but the reality can be quite different. From discovering thoughts and feelings which may have been buried, both positive and negative, to realising that there are a few 'lifehacks' you can put in place to make your life easier, more productive and happier.  But later you may also discover a frustrating trend that when you try to follow through on these insights, something holds you back and you get overwhelmed with the effort.
So, if the purpose of self-reflection is to gain greater personal insight and then find ways to effectively make the changes we want, we need an easy and practical way to capture the breakthroughs.  So today I'm going to look at the methods which will help us capture that important  information.
Use a Diary

No list of self-reflection techniques would be complete without including the ubiquitous diary. Some of you may already be devotees of a daily diary entry, where you may record the activities of your day, scribble a few doodles or jot down some things you want to remember to pick up from the shop tomorrow. All of these activities are useful and to some extent meaningful, but if this is the extent of the use of your diary, or you don't keep a diary then maybe it's time to really up the ante!
A diary can be a great place to self reflect.  It can capture our feelings and interpretation around an event or occurrence from our day.  We may write about what happened along with how we felt about it.  This can be a particularly catharctic process for dealing with big emotions or difficult feelings, a way to pour them out so that they're not constantly swirling around our heads.
Of course, a diary is also useful for capturing good and happy memories.  A recount of a good day, who was there and what happened is a great place to return to when we need a bit of a boost if we're feeling down.
Here are some Diaries & Journals to get started, click for more info or to buy

But to make these memoirs even more effective, why not ask the question 'why?'.  Why did this make me sad?  Why was I angry?  Why was that day particularly happy?  The aim is to be able to grow, to learn from our daily activities so that we can understand our circumstances and triggers better.  In doing so, we may identify trends to our behaviour and notice, for example, that an argument with our teenager is always preceeded by a particular escalation route.  Using this information, it might then be possible to change our behaviour and thereby avoid the slammed doors!
Similarly, if a day was particularly happy, analyse why!  We shouldn't leave happiness to chance, so look for the people, places and circumstances that create happiness in your world and try to re-create an approximation of these patterns for future events.
Happiness is not something you postpone for the future; it is something you design for the present.  Jim Rohn.
Your diary habit can be a very effective way of effective and useful self reflection.
Go For a Walk
Walking is one of my favourite pastimes, although if I'm honest, I probably don't do enough walking (and, on reflection(!), I intend to improve on this). Getting out into the fresh air, and whenever possible, out into nature, allows our minds to think more clearly and creatively. There is strong evidence to support the view that walking increases the flow of blood to the brain, improving memory and brain health.  So a little bit of pleasant aerobic exercise will increase our ability to think rationally and creatively.
Often, if you have a problem that you're grappling with and can't seem to find a solution, going for a walk will provide the answer. It's as if having the openness of the sky all around allows our brains to expand and so more solutions come to us.
Dealing with problems in this way is a form of self-reflection since we are looking for ways in which we can improve (ie, solve the problem).
Walking to solve a problem will also help alleviate the worry cycle as the aerobic exercise will help to deplete the amount of cortisol in our bloodstream.  Cortisol, the 'fight or flight' hormone is released into our bloodstream when we feel stress (worry) and prepares us to take action (fight or flight).
However, if we don't need to physically run away from a stampeding herd of elephants, then the cortisol continues to swirl around our bodies, potentially harming our physical and mental wellbeing.  By taking a walk, we 'use up' the cortisol by taking some physical action thus allowing our brains to settle back into a more reflective and problem-solving mode.
You can read more about the effects of cortisol, its effect on our wellbeing and ways to deal with it in this interesting post from Psychology Today – Cortsiol: Why "The Stress Hormone" is Public Enemy Number No. 1
Use The Daily Greatness Journal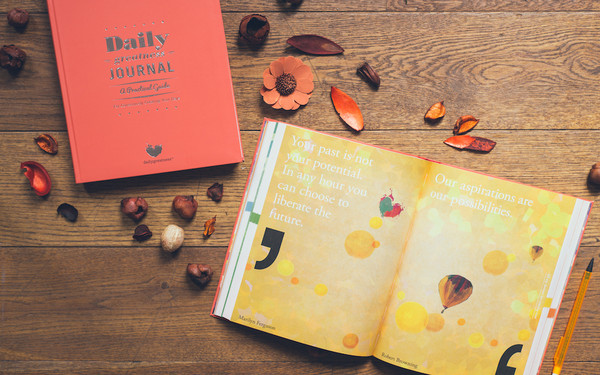 One of my favourite methods of self-reflection is to record my thoughts in a journal which helps to guide my thinking. To this end, I have been using The Daily Greatness Journal for a few months with some very interesting results.
The journal itself has a page for each day of the year along with weekly and quarterly review points where you're able to consolidate your reflections for the preceding period. Each daily page poses some questions for you to answer to help guide your day in a positive direction. In this way, The Daily Greatness Journal differs from a 'free-flow' diary which would allow un-hindered writing at length. For me, this is a better option as although I like the idea of using a diary, I've never really been able to stick with it for a long period of time as I tended to get bored with my own mundane entries!
Since starting to use The Daily Greatness Journal, here are some of the useful things that I've discovered about myself:
• My energy peaks and troughs
I'm often frustrated by the way my energy levels seem to sabotage my efforts. One day I can be fully energised and making spectacular headway on the job at hand, but the next day, my energy levels plummet and it's all I can do keep up with the routine work of the day. Using my journal, I've been able to analyse my energy levels over a few months (I simply use a score out of 1o) and now know better when I can tackle my best or most challenging work and when I need to rein my expectations in so as not to feel frustrated with slower progress.
• The importance of looking after myself too, and in particular how wearing it can be to ignore this need
This is linked to my energy cycles. I sometimes(!) over-commit myself, particularly when my energy levels are high. Consequently, and because I don't like to let people down, I sometimes find that I 'forget' to look after myself. I 'forget' to read or take a walk or just slow down. My good habits begin to falter and my willpower is depleted. Quite often I don't realise this is happening until I get snappy and irritable – not a good way to be!
• My struggles with keeping focused and tricks to help with this
It's easy for me to be distracted! Shiny-Object-Syndrome has nothing on me! Consequently it's been important for me to recognise this tendency and find ways to deal with it. I now have a list of 'tricks' I can use when I'm feeling easily distracted, from standing up and moving to using the '5-minute rule' (just do it for 5 minutes, then you can stop if you want, generally once started, I can keep going).
Related Post: Getting Out Of Your Own Way
• Noticing when I've done well and the importance of celebrating my achievements
I've always been in too much of a hurry to get on to the next thing to take time to acknowledge my achievements. I'm now mindful of this tendency and take time to enjoy the moment when I've completed a task I'm happy with. This can be as simple as 'basking in the glow' or something more physical, like treating myself to something new.
Daydream
I'm sure we all daydream to some extent, but by and large, we let these reflections go without paying heed to whatever our mind has been mulling over. Sometimes this is because we don't even realise that we're daydreaming and just come back to consciousness naturally, or sometimes it's because we are jerked back to reality either by a sudden unwelcome thought (argh, I need to pay the gas bill!) or by someone else calling to us to 'wake up!'.
In both these cases, we're unlikely to consciously remember what we were thinking of or whether there were any useful insights.
But what if there were some useful insights buried in the daydream that we've missed? Considering that there are thousands and thousands of books on the market which examine the purpose and meaning of sleeping dreams, then isn't it reasonable to assume that our waking dreams might also serve some useful purpose?
In order to 'tune in' to our capacity for daydreaming (we can't force it), we need to be doing something very routine or something we find easy and monotonous.  This allows our 'working brain' to have some excess capacity, allowing our mind to wander.  For example, think about when you've had an uneventful drive to work.  Do you sometimes arrive and suddenly realise that you can't remember the journey at all?  Similarly, whilst brushing your teeth, your mind will wander as the task at hand is simple and repetitive.
For me, the best place and time for daydreams and 'a-ha' moments is in the shower.  My breakthroughs at these times are famous as it's not unusual for me to comment that I had a 'shower moment' and can now see my way forward on something that has been vexing me.
So why not use this 'resource' more effectively and instead of just dismissing your daydreams, make a note of the main thoughts and then reflect on them, perhaps a few days later, looking for trends or things that seem to cross your mind frequently? What is the meaning? What is your subconscious or intuition trying to tell you?
Talk to a Trusted Friend
For most of us, meet-ups with friends are part of our normal, everyday routine. But to what extent are these meet-ups useful for exploring the deeper recesses of our awareness? Exploring our hidden thoughts with a friend would require a great deal of trust and empathy to ensure that the process felt safe and comfortable.  However, where this can be achieved, there is potential for growth, improved self-awareness and support for making any changes which we may feel are worthwhile or even necessary.
Some of the Benefits of Talking
• Talking through a problem or concern may help you clarify your thoughts
• Someone who is independent of the issue may be able to offer a new perspective
• The adage 'a problem shared is a problem halved' may hold some truth in this situation, since a problem left to ruminate in our heads often becomes bigger than it actually is
Where there is a need for deeper delving and support, therapy or counselling might be the way to achieve a level of self-reflection which on a personal and individual level might not be achievable. However, I don't feel qualified to comment on this area to any great degree as it's not my area of expertise. However, where needed, I believe therapy or counselling can provide valuable insights.
Talking then, when used thoughtfully, can be a form of self reflection.  It's an opportunity to let our thoughts surface, and, where appropriate, get feedback that may help us move past an issue that is troubling us.
In Conclusion
There's no doubt that learning and cultivating the skill of slowing down and reflecting is healthy and beneficial. For example, how many times have you returned from a relaxing holiday vowing to not let work take over your life, or to take up a new hobby or to spend more time with your loved ones? This was your inner voice finally surfacing the things that mean the most to you or the things which will have a positive impact on your life. In the short term we heed these 'revelations', but, all too soon we return to our habitual behaviours and the busyness is allowed to crowd in once again.
All of these methods of reflection are interlinked and essentially at their core require that we slow down and actually listen to whatever we're trying to tell ourselves. But, in order to do this, we need to stop and listen, which, as ever in our frenetic world, is simple but not easy. Using a formal method, like those noted above, to slow down and hear our inner voice is a skill which we must mindfully choose to cultivate and can reap incredible results.  So why not make self-reflection a regular part of your routine and see where it takes you?
Free Downloadable Checklist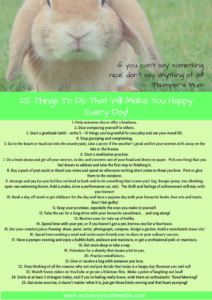 Want to feel Happy Every Day? Check out my "25 Things To Do Now That Will Make You Feel Happy Every Day!" checklist. It's a free A4 pdf that you can pin to your wall or fridge door as a reminder to do something that makes you happy!
<<<<< click the rabbit now for your free download and get happier today!